I am so sorry. This did not go through for some reason. All homecoming shirts are $10 each. Thanks for checking with me about prices and THANKS for all of the support for our students.

From Mrs. Larman: I am ready for sizes on the homecoming t-shirts. Some have already sent me sizes. We will have youth sizes (S-XL) and adult (S-4X). Please text me size(s) along with your name. For example: Mrs. Larman—1 Adult Large, 1 Youth XL. All I was doing at the game last Thursday was making tally marks so I could get the screen prints ordered. You may pay in cash, Cash App me at $wlarman or pay me with a check—make checks payable to Wray Larman since I am going to be doing the purchasing. My cell phone is (405)612-0467. Or you can message me on Facebook (Louemma Larman). Thanks for all of your support for STUCO.

Yesterday, I had the privilege of helping a gentleman experience his school years here at Coyle from 1950-1956. He took pictures of the panels and looked at the old yearbooks. However, in all of his reminiscing, we discovered that the yearbooks for the years 1953 and 1955 are missing pictures on some of the pages. I just assumed these books were complete. I pulled the DVD we had made a free years back and sure enough they were missing at that time. If you have a yearbook from either of these years, please allow us to make a copy of it so we can have a complete yearbook. Thanks for your help.

Mrs. Larman needs t-shirt orders by Monday.

Coyle HS STUCO is selling t-shirts for Football Homecoming and Pink Out Shirts for October. All Mrs. Larman needs is a count for the homecoming shirts. In other words if you want five, message me and say I want 5 shirts. I will contact you later about sizes. On the Pink Out Shirts, I need size and quantity. Homecoming shirts will be $10-15 depending on the size of shirt. All Pink Out shirts will be $25. Sizes are adult S to adult 5X. My cell phone number is 405-612-0467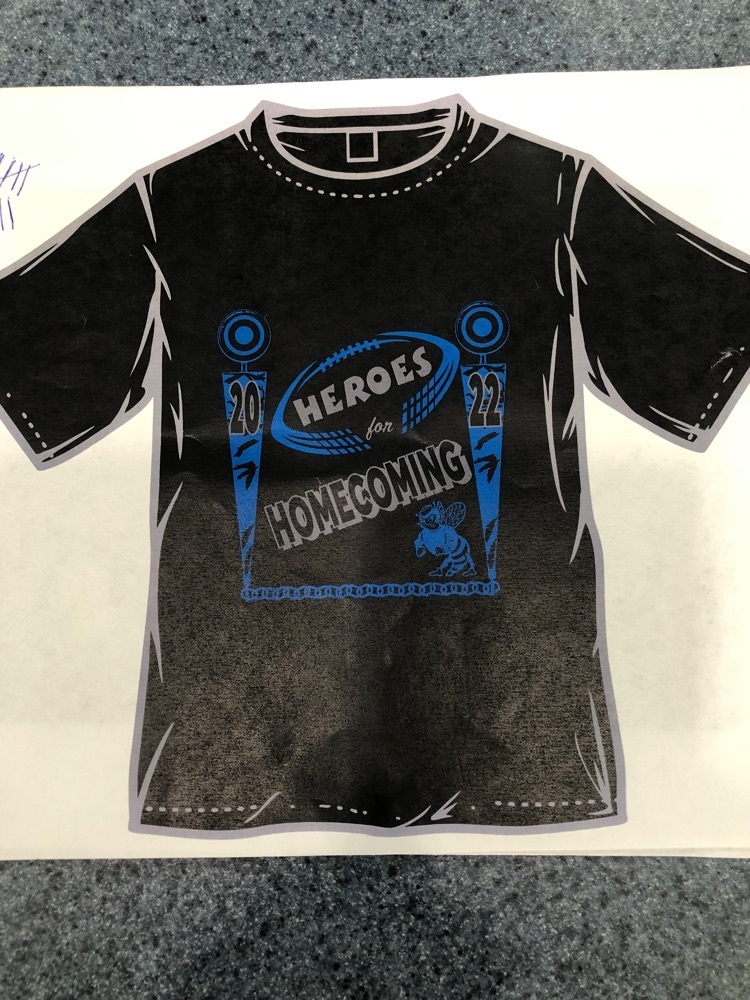 The High School Football game scheduled for this Thursday will be played at HOME. Game time is 7:00pm.

FFA meat sale orders are here in the Ag building, I will be here until 8pm this evening, please come by and get your meat orders as we are very limited on freezer space. You can call the ag building at (405)-466-2242 ext:1330 Thank you, Mr.Dunn

JUST A REMINDER THAT TONIGHT IS THE ALL-SCHOOL CARNIVAL FROM 6:00-8:00 PM. ALL PROCEEDS SUPPORT THE STUDENTS AT COYLE PUBLIC SCHOOLS.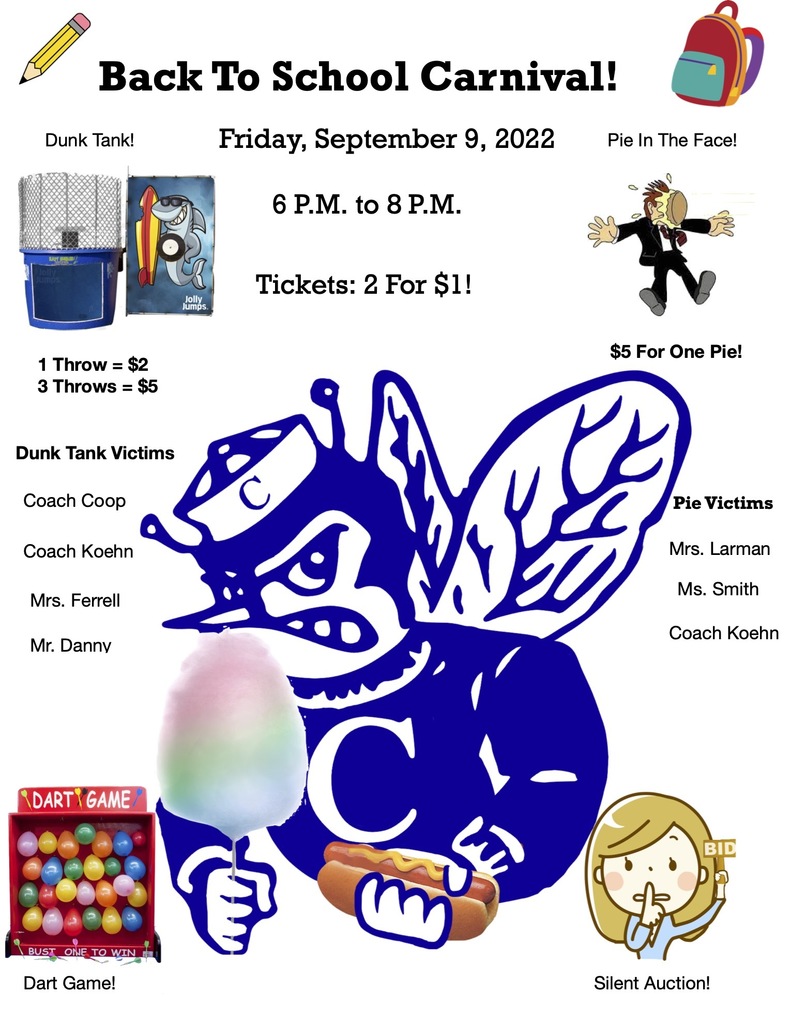 FROM MRS. RITTER: Our Provision II grant for free student meals expired at the end of last school year. In order to regain Provision II status, and provide free breakfast and lunch, we must have 100% of our free/reduced applications returned. Even if you feel you will not qualify, we must have this form completed. Students of families who have not completed this form should bring it home today. Please feel it out completely and return it ASAP.

NO SOFTBALL GAMES TODAY. THE JH AND HS TEAMS WILL SCRIMMAGE EACH OTHER AFTER SCHOOL TODAY.

Meat orders will be delivered Monday or Tuesday next week, you will need to pick it up the day it is delivered. FREEZER SPACE IS EXTREMELY LIMITED!!

SCHOOL CARNIVAL -- FRIDAY, SEPTEMBER 9 -- 6:00PM-8:00PM LOCATION--ON CRAWFORD STREET BETWEEN THE HIGH SCHOOL AND ELEMENTARY BUILDING ALL FUNDS RAISED WILL SUPPORT COYLE SCHOOLS!!!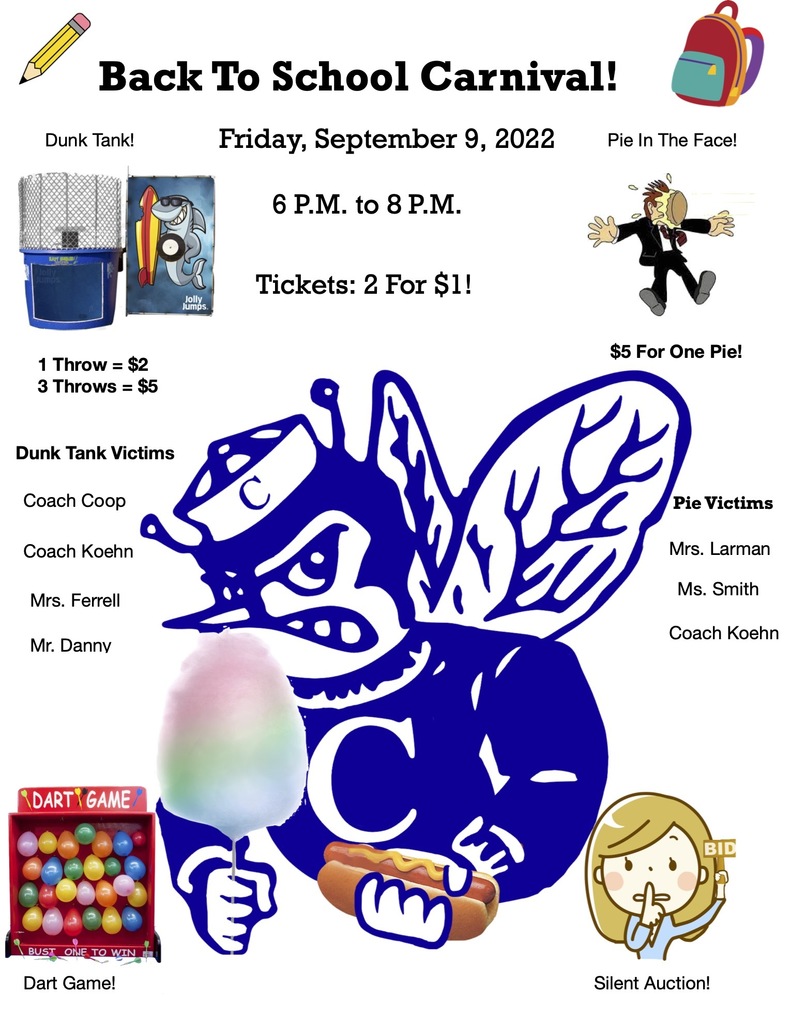 JUST A REMINDER THAT WITH LABOR DAY BEING ON MONDAY, WE WILL NOT BE IN SCHOOL ON MONDAY. HOWEVER, WE WILL HAVE SCHOOL ON FRIDAY, SEPTEMBER 9 TO MAKEUP THAT DAY.

The Dover Softball High School Festival has been cancelled for September 1 and 2.

THE SOFTBALL GAMES SCHEDULED FOR HOME TODAY HAVE BEEN MOVED TO WELLSTON @4:30 PM. JUNIOR HIGH WILL PLAY FIRST FOLLOWED BY THE HIGH SCHOOL.

ALL softball games scheduled for tonight are cancelled because of the rain.

BLUEJACKETS WITH THE WIN tonight 62-6 over Fox. Congratulations on the win gentlemen!! Next week, the Bluejackets are at Yale. Kickoff is at 7:00pm. The LADY BLUEJACKETS had the win today over OCA @Edmond!! Way to go Ladies.

Bluejacket Athletic Season Passes for 2022-2023 will be available to order at the Home Football Game this evening in the Concession Stand. Prices are: Family Pass $200.00 (Family members names will be on each pass) Adult Pass: $75.00 Students K-12: $50.00 College Students (Must provide copy of current college ID): $50.00 Passes must be paid in full before they will be printed. They will be available for pickup next week or can be sent home with your student(s).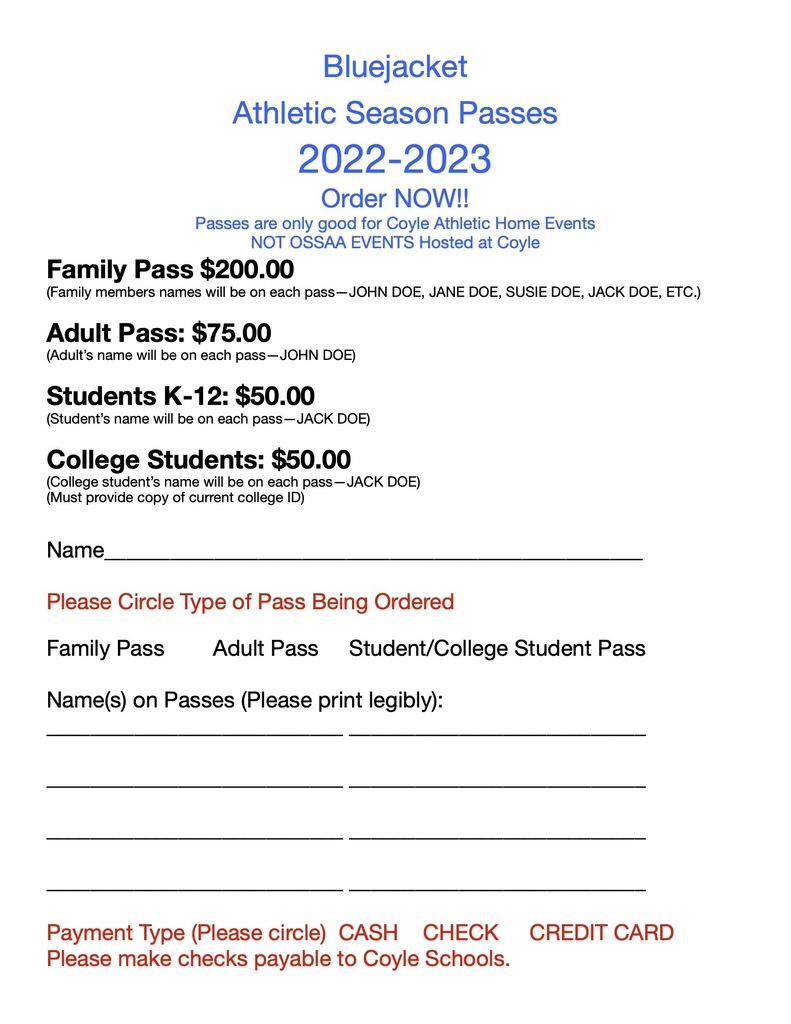 Junior High Softball games scheduled for this afternoon and tomorrow have been cancelled. High school will play one game this afternoon at home starting at 4:30 pm. Tomorrow the high school softball team will play two games at OCA-Edmond. They will leave at 3:00pm. Games start at 4:30pm.

Just a reminder, the due date for the 5K Race (t-shirts) is Sept. 4. Please see the message posted on Thursday, August 18 about information needed.