There will be academic bowl practice form 6/7 grade today after school. We end practice at 5 pm.
Middle School Student Council will be hosting a Middle School Spring Dance on Friday March 10, 2023 from 6:30-8:30 pm in the cafeteria. Cookies and Water will be served. Admission cost per student will be $5 each. The theme is Alice in Wonderland. Colors for the dance are pastels: green, pink, blue, yellow and purple. If you have questions please email
hmallow@coyle.k12.ok.us

Coyle School is in session today.

I will take pictures of the students who make up the homecoming court for Basketball Homecoming onThursday morning, Jan. 26 at 9:15am. I will furnish shirts for the students so that they all match. Girls will need to have their hair and makeup ready to go.

AT THIS TIME, SCHOOL WILL BE IN SESSION TOMORROW. WITH THE WINTER WEATHER COMING IN TOMORROW, EVERYONE NEEDS TO CHECK THE SCHOOL APP/WEBSITE FOR INFORMATION REGARDING ANY SCHOOL CLOSURE. PLEASE WATCH FOR ANY CHANGES ON WEDNESDAY.

JUST A REMINDER BASKETBALL HOMECOMING WILL BE THIS FRIDAY, JANUARY 27 AT 6:00PM PRIOR TO THE GIRLS' BASKETBALL GAME. THE WINTER FORMAL/HOMECOMING DANCE WILL BE SATURDAY, JANUARY 28 AT 7:00 PM IN THE OLD GYM. THE DANCE IS FOR COYLE STUDENTS ONLY. ADMISSION IS $3 FOR INDIVIDUAL STUDENTS AND $5 FOR COUPLES.

Just a reminder—The deadline to order baseball apparel is February 13.

Sudden Change of schedule for tonight's HS Basketball games @ Oilton. (01-13-23) Girls will play first now at 6:30pm Boys will play at 8pm.
NOTICE… HighSchool Basketball tomorrow night @Oilton (1/13/23) Due to Oilton's homecoming festivities, the BOYS will play first at 6:30pm— LADIES will follow at 8pm.
Congratulations to the Coyle Jr. High Academic Team for placing 3rd at the district academic contest today at Pioneer-Pleasant Vale. They did an awesome job representing Coyle schools. MVP of the Coyle team was Jules Mallow. They will compete at regional academics February 25th in Drummond.

High School STUCO is selling spirit buttons. The plain button will be $5; one with ribbons and charms is $15. You may have one child per picture, or you may do a family picture if you have multiple children playing; i.e. a 5th grader, a 7th grader, and a sophomore. If you have your own picture, you may email it to me (
wlarman@coyle.k12.ok.us
). I will take individual pictures of basketball players (grades 5-12) next week. If Little Dribblers have pictures, we will make buttons for them also. See Mrs. Larman to get order form, or print off the attached picture of the form. Elementary may return theirs to Mrs. Gayla. High School may give theirs to Mrs. Larman.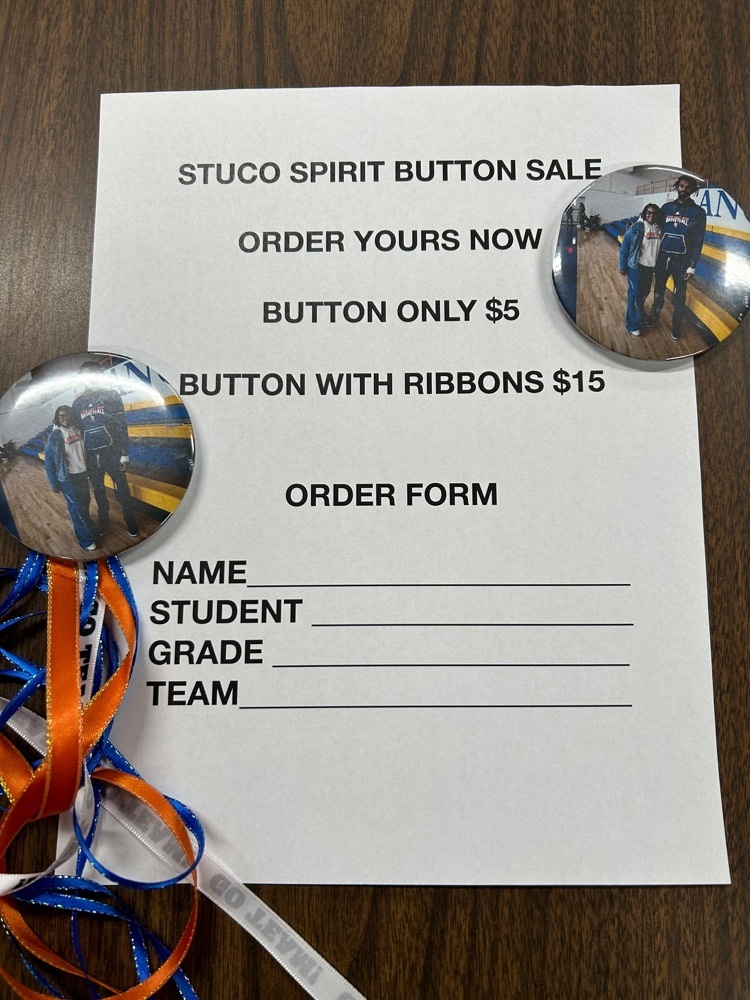 School will not be in session on Monday, January 16 in observance of MLK Day. The Coyle Basketball Tournament will be Thursday, January 19; Friday, January 20 and Saturday, January 21. SCHOOL WILL BE IN SESSION ON FRIDAY, JANUARY 20.
Reminder! There is Elem/JH Basketball tomorrow night at Coyle vs. Agra. (01-12-2023) This game was not originally on the schedule but, added as a make up. 5th/6th Girls @4:30pm 5th/6th Boys @5:30pm 7th/8th Girls @6:30pm 7th/8th Boys @7:30pm Come support your Bluejackets!

Here are the dress up days for basketball homecoming week, Jan. 23-26.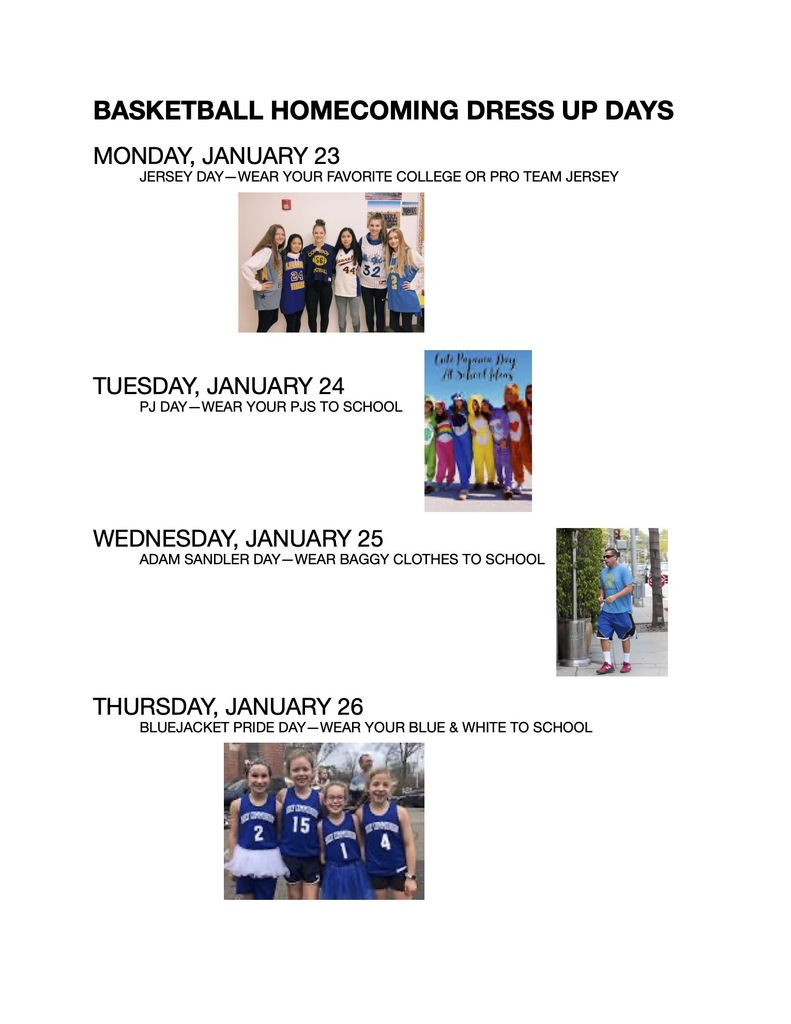 Here are the brackets for the Coyle Tournament for January 19-21.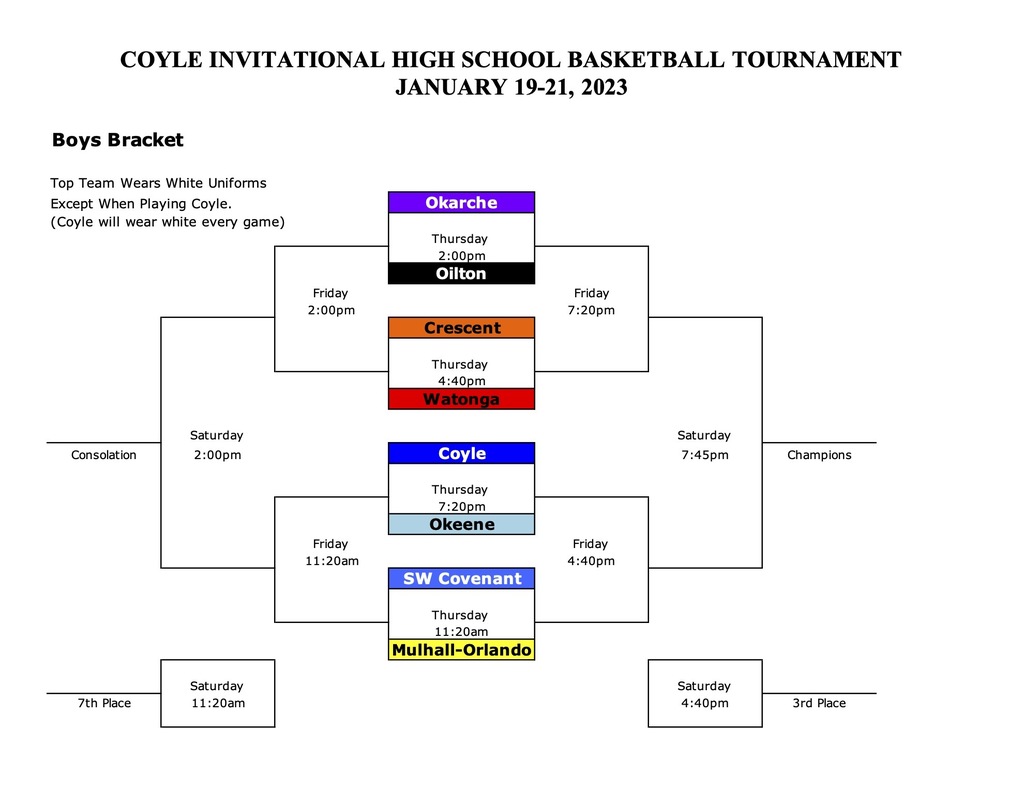 CONGRATULATIONS to the Lady Bluejackets and the Bluejackets on their wins in the M-O Tournament. The Ladies placed second and the gentlemen placed third.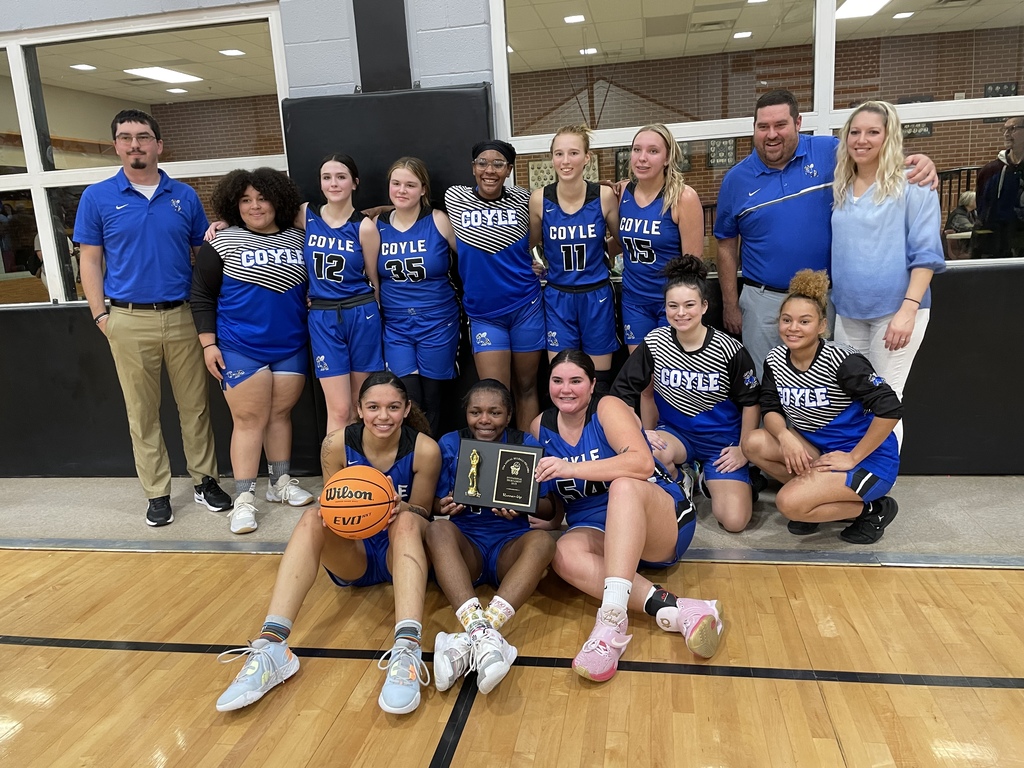 Yesterday order forms were sent out with Coyle FFA members with incorrect prices, below are the correct prices on items I apologize for the inconvenience. New Order Forms will go out today. Blue and Gold Sausage: $9.50 Blue and Gold Bacon: $21.00 Blue and Gold Chicken: $29.00 All T&D product prices were correct. Thank you!
The 6/7 grade Academic Bowl team is going to Agra Thursday for the District meet. Please have your students wear Coyle gear. We will leave around 3:15. We will return to the school afterwards. Wish them luck!!! If you have questions email
hmallow@coyle.k12.ok.us
. We are still practicing Wednesday after school.

HERE ARE THE BRACKETS FOR THE MULHALL-ORLANDO TOURNAMENT FOR THIS WEEKEND.