M-O Baseball Tournament Bracket is attached.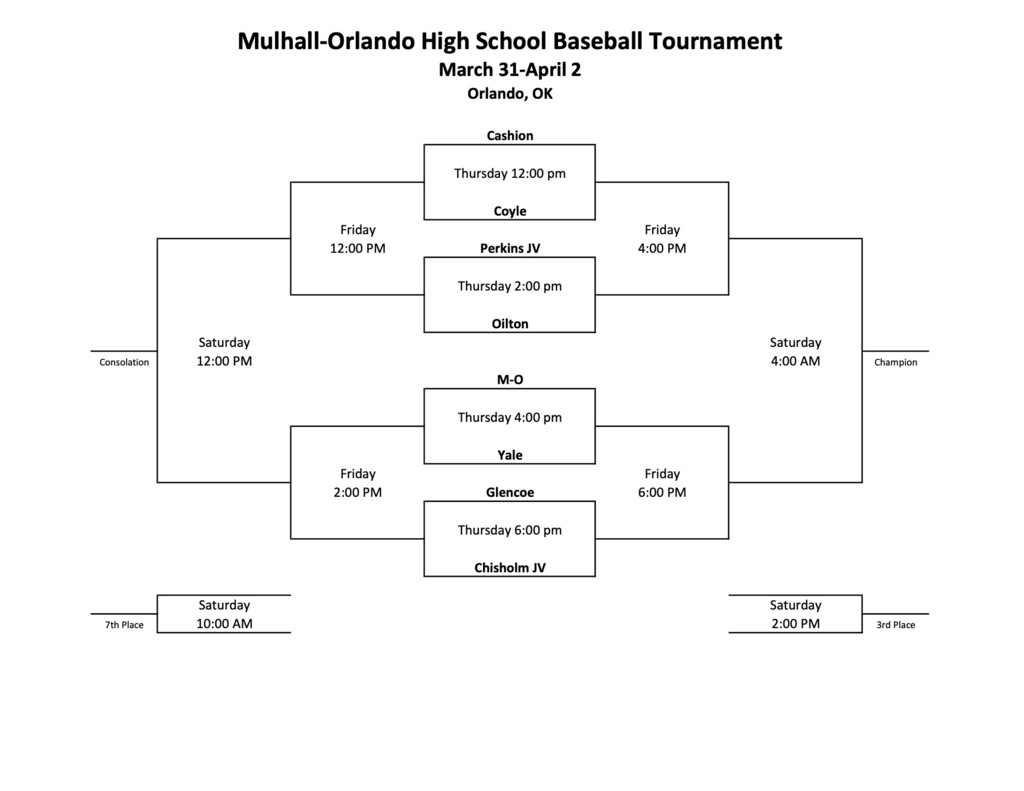 Because of the weather, high school baseball and softball games scheduled for today, Tuesday, March 22 have been canceled.
BASEBALL and SOFTBALL GAMES ARE CANCELED TODAY. Tuesday- March 22, 2022

BECAUSE OF THE WEATHER, SOFTBALL AND BASEBALL GAMES SCHEDULED FOR TODAY, MONDAY 21 HAVE BEEN CANCELLED.
Baseball game today in Oilton is @2pm. We will play two five inning games. (3/14/22)
JH Baseball games for the Ripley Tournament are canceled tomorrow. (3-11-22) They will try and find a make-up date.

THE OBI BLOOD DRIVE SPONSORED FOR TOMORROW, TUESDAY, MARCH 8 NEEDS MORE DONORS. IF YOU PLAN TO DONATE BLOOD, PLEASE EMAIL MRS. LARMAN
wlarman@coyle.k12.ok.us
At this time, it may be cancelled as we do not have enough donors.

THE HIGH SCHOOL BASEBALL GAME FOR TODAY, MONDAY, MARCH 7 HAS BEEN CANCELLED.
HS BASEBALL GAMES TODAY ARE CANCELED. 03/07/2022

PARENTS AND STUDENTS!!!! JUST A REMINDER, WE WILL BE IN SCHOOL TOMORROW, FRIDAY, MARCH 4. SEE YOU BRIGHT AND EARLY IN THE MORNING.

OBI BLOOD DRIVE--Tuesday, March 8--9:00am--1:00pm. Sign up at obi.org or see Mrs. Larman to schedule.

Definitely too much on my mind this evening—the cost of admission to the dance on Saturday evening is $5 per student. Looking forward to seeing everyone!!!

CORRECTION ON P-T CONFERENCES!!! They are on Tuesday, March 8 and Wednesday, March 9. Sorry for the confusion.

High School STUCO is sponsoring an " End of Winter Formal" this Saturday, March 5 from 7:00pm -10:00pm in the school cafeteria. We realize this is late notice, but we wanted to make sure we would not be in the state basketball tournament this weekend. This is open to Coyle students in grades 8-12 only. Students must be passing all classes, not be in ISI or suspended, and must attend school on Friday. Any students not meeting these qualifications will be turned away at the door. Mrs. Larman and Mr. Weathers will be there to chaperone.

Parent-Teacher Conferences will be held Monday, March 7 and Tuesday, March 8 from 4:00pm-7:00pm each evening. Teachers in grades PK-4th will contact parents about conference times for their respective classes. Grades 5-12 will be come-and-go at the parents' convenience each evening.

From the Superintendent: I know that most of you are already aware that there is a NEW way to pickup car riding students. For the safety of our students, we are asking you to line up in the driving lane to pick up students that are car riders. This is to prevent the conflicts that have been happening with individuals just stopping in the street to pick up students. We are forming one line that moves up and leaves when your children are in your car. If you want to park and walk over to the school to pick up your students, you must park in our parking lots and walk over to the school. Thank you for your patience. Mr. Zink

Please see the attached Ripley JH Baseball Tournament bracket for games and times.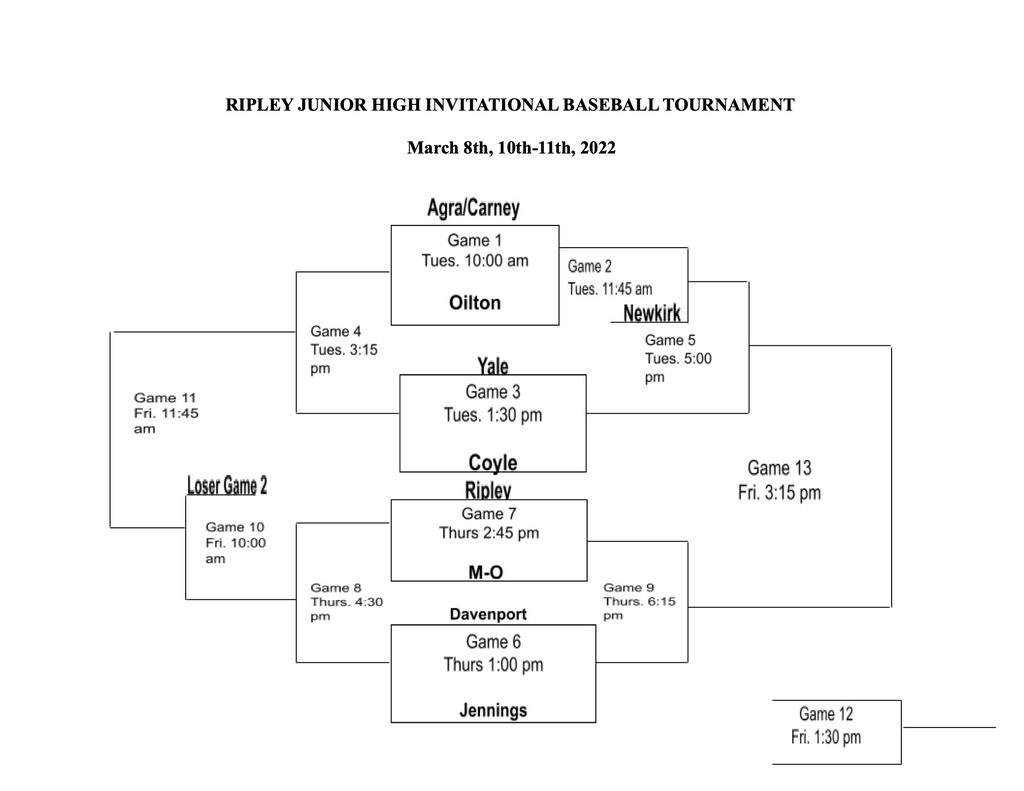 The Coyle Bluejackets will play the Earlsboro Wildcats tomorrow evening (Saturday, February 26) at 5:30pm in the first round of Class B Area II playoffs at Stroud at the Route 66 Colesium. Come and support our Bluejackets!!!!

THE OSSAA JUST ANNOUNCED THAT DUE TO CONTINUED INCLEMENT WEATHER, ADDITIONAL ADJUSTMENTS HAVE BEEN MADE TO THE AREA BASKETBALL TOURNAMENTS. ALL TICKETS ALREADY PURCHASED WILL BE HONORED. THE FIRST ROUND OF THE CLASS B AREA TOURNAMENTS WILL BE PLAYED ON SATURDAY, FEBRUARY 26. SITES WILL REMAIN THE SAME. THIS MEANS COYLE WILL STILL PLAY AT STROUD. THE GAME TIME WILL BE ANNOUNCED AS SOON AS MR. WEATHERS RECEIVES IT.