I sent the wrong email address for the Sophomore Class Fundraiser. The correct email for Ashlee is
akelley@coyle.k12.ok.us

The Sophomore Class is selling sugar scrubs for Mother's Day gifts or just for your pleasure. They have samples you may smell; if they have the ingredients, they will make the scent you desire. Please see Ashlee Kelley, Lindsay Ray, Gracie Balsiger, Gracey McBane or Winter Davis to order. Small jars (4 ounces) are $5; large jars (8 ounces) are $10. You may email Ashlee Kelley for more information and to order them.
akellee@coyle.k12.ok.us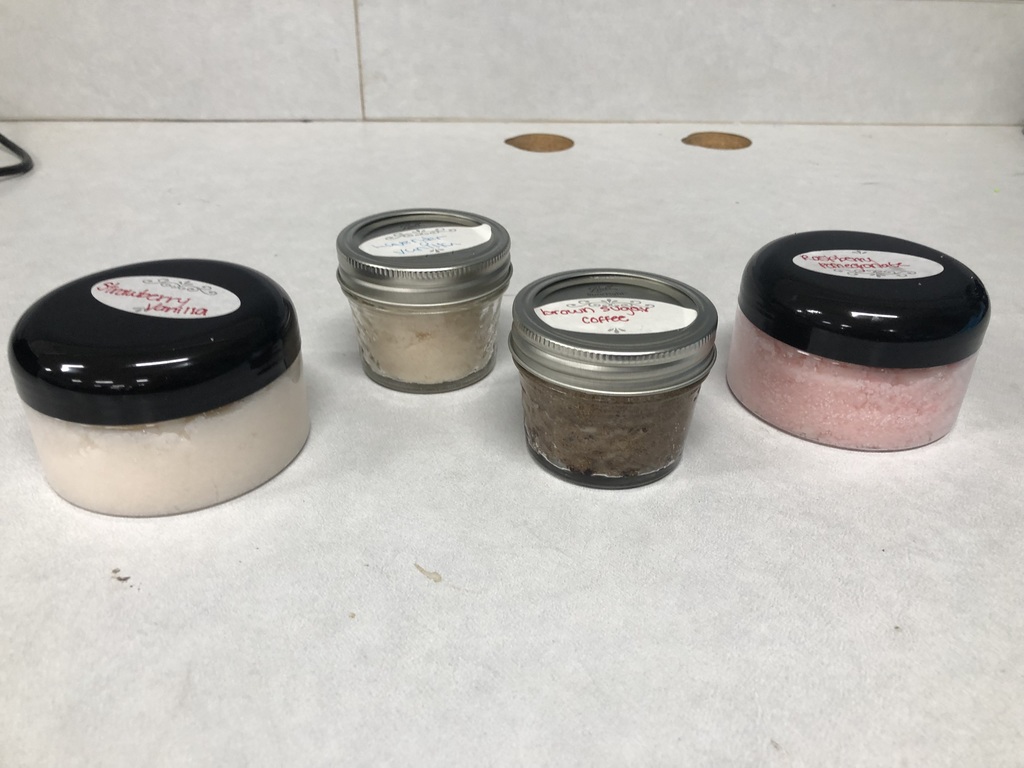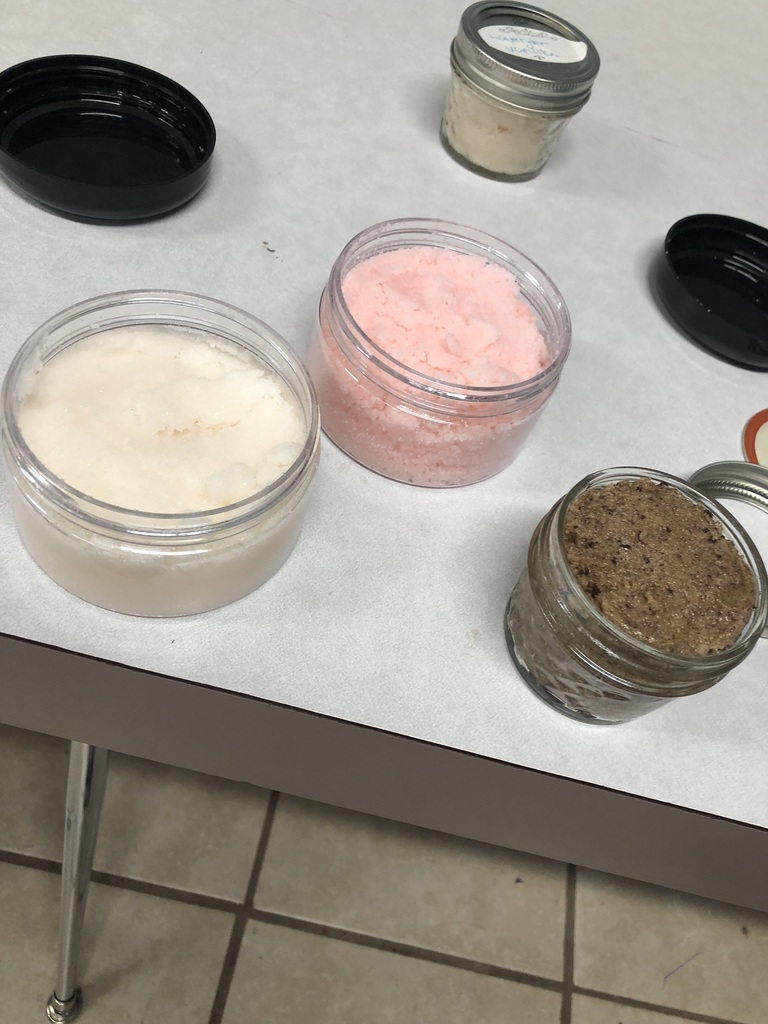 Parents, Coyle Schools is looking to build a new elementary wing in the near future to replace out of date classrooms. Please email Mr. Zink your concerns, suggestions, and/or any comments. His email is
tzink@coyle.k12.ok.us

Attention High School Athletes and Parents the Athletic Director, Mr. Shane Weathers invites all of you to the Athletic Banquet that is going to be held on Monday, May 2 at 7:00pm in the New Gym. The meal will be provided.

ATTENTION---BLUEJACKET BUZZ HAS BEEN MOVED TO THE OLD GYM WITH THE WEATHER THIS MORNING!!!!!

The Coyle Volunteer Fire Department is having its Spaghetti Fundraiser Dinner on May 7. See flyer for more information.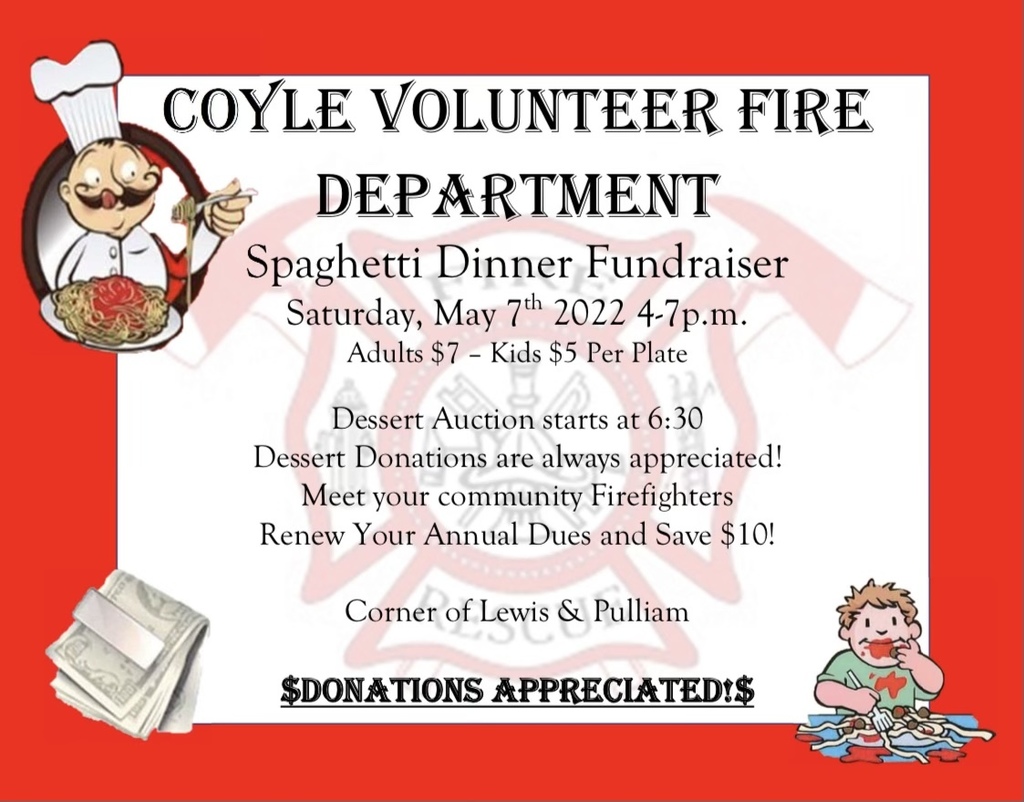 EVENTS AT COYLE SCHOOLS: TOMORROW, THURSDAY, APRIL28--BLUEJACKET BUZZ--9:00AM COYLE NEW GYM FFA BANQUET, FRIDAY, APRIL 29 @ 6:00PM COYLE NEW GYM JR/SR PROM, SATURDAY, APRIL 30 @ 8:00PM STILLWATER COMMUNITY CENTER, STILLWATER, OK ALL SPORTS BANQUET, MONDAY, MAY 2 @ 7:00PM COYLE NEW GYM SENIOR BACCALAUREATE, SUNDAY, MAY 8 @ 7:00PM COYLE NEW GYM JH/HS AWARDS ASSEMBLY, MONDAY, MAY 9 @ 1:00PM COYLE NEW GYM SENIOR COMMENCEMENT, TUESDAY, MAY 10 @ 7:00PM COYLE NEW GYM
Some of the 5th grade did their part to Celebrate Earth day and cleaned up the grounds around the school today!! Look at all the trash they found!! Good job everyone who pitched in!! Happy Earth Day 🌍♻️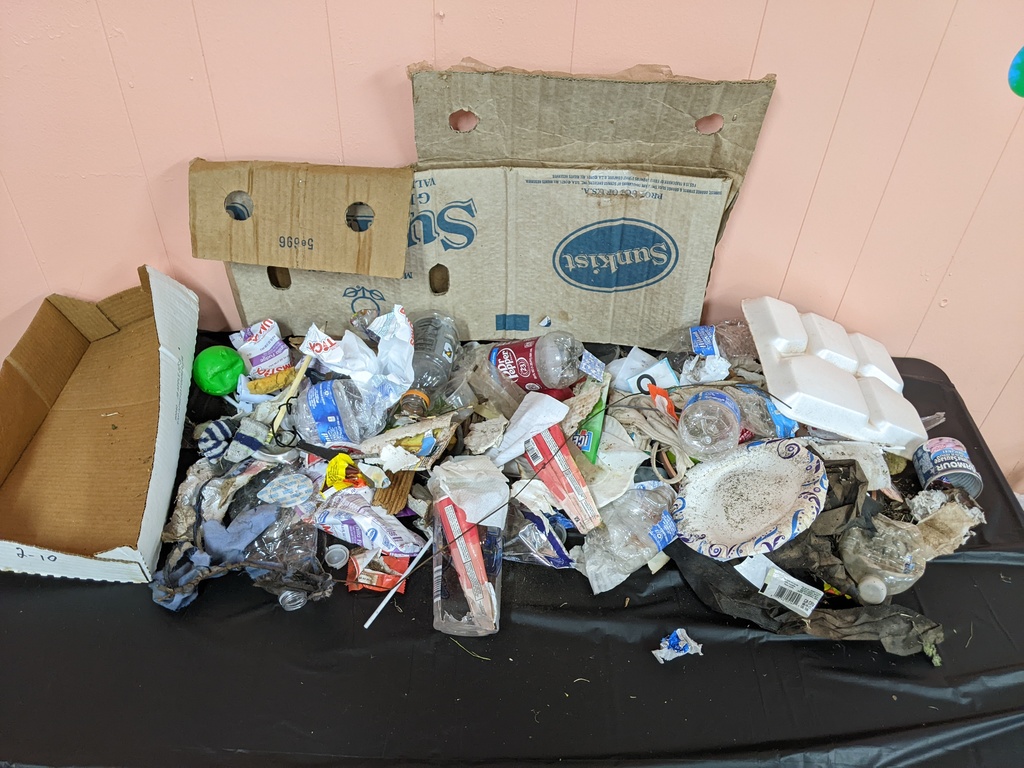 Bluejackets District Baseball Update: Lost first game 0-12 vs. M-O Won second game 16-3 vs. Oilton. Playing tonight @8pm if M-O wins.

Images posted do not come through on text messages. You will have to go to the Live Feed or the school Facebook page to see them.

The Elementary Track Meet scheduled for tomorrow Wednesday, April 20 has been canceled.

Just a reminder that we will be in school this Friday, April 22. Buses will run as normal.

Coyle, Langston, & Meridian PTA Talent Show Information for this Friday, April 22 at 7:00 pm in the new gym.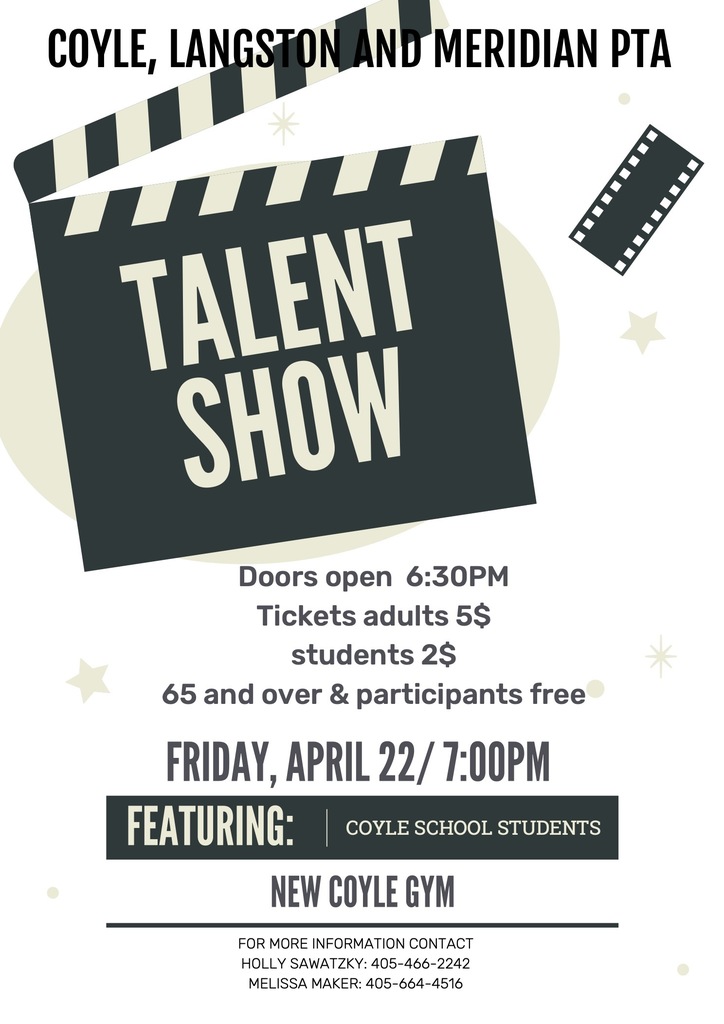 Location of High School Softball District Tournament on Thursday, April 21.

The plant sale will open up again Tuesday - Friday, from 8:30 am - 4pm each day. ( Please Check in with either the High School office or Elementary Office) Payment must be cash or check only. Please park in the Ag Buidling/ Baseball parking lot and walk to the Greenhouse. THe Greenhouse is locaed between the Cafeteria and Pre-K/ Kindegarten building. Thank you, Mr.Dunn
JH BASEBALL is canceled today @Prue.
Baseball Districts Schedule @Orlando, OK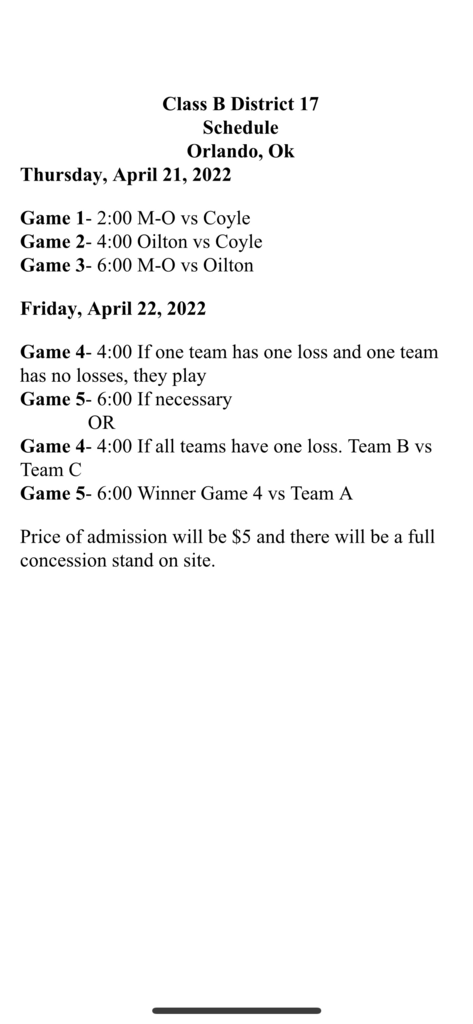 Our website is back up and running. We have had it tweaked a bit. Now when you click on the Athletics icon, you will have access to our athletic schedules. You can also click on the events icon, and add events to the calendars on your phones or computers.

Our school website is down momentarily. We are in the process of making improvements to it. I will notify you when we are back up and running.

Just a reminder, we will be in school next Friday, April 22. Buses will run as normal.