Even though our pink out shirts did not make it because of Hurricane Ian, we want to encourage fans to wear PINK this Friday night to observe PINK OUT. We have several in our community who are battling or who have survived breast cancer. Let's ALL wear pink and show we support them.

Please see the attached brackets for the Ripley Tournament next week for 5/6 Grade Basketball.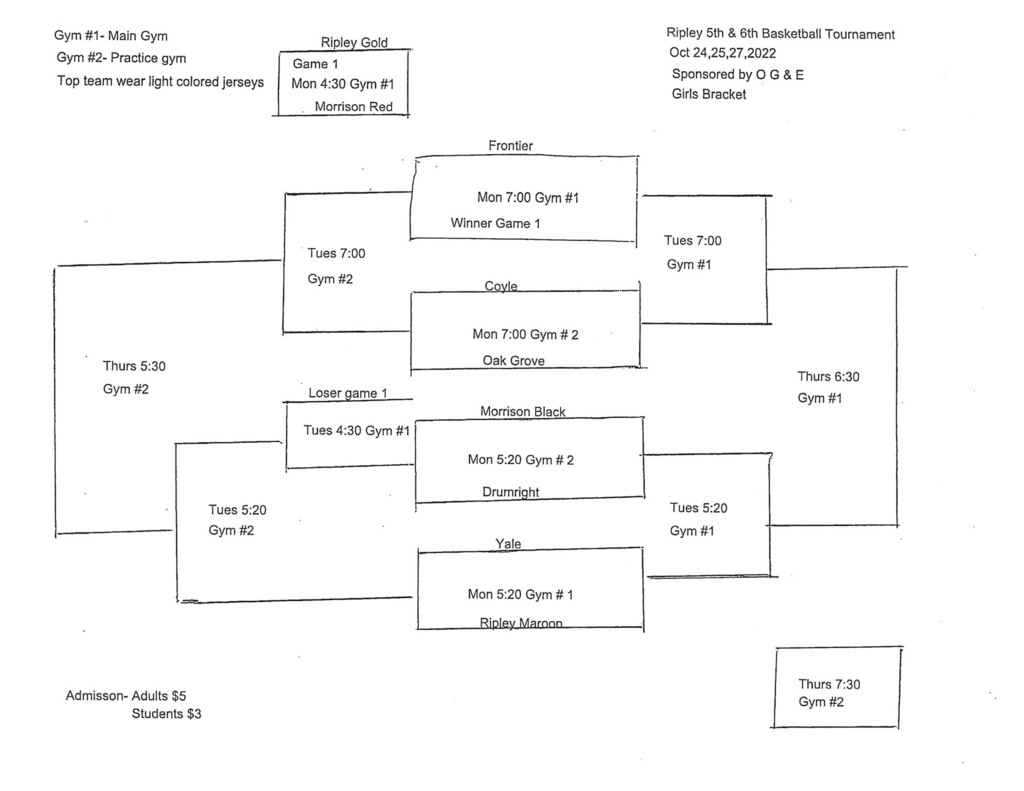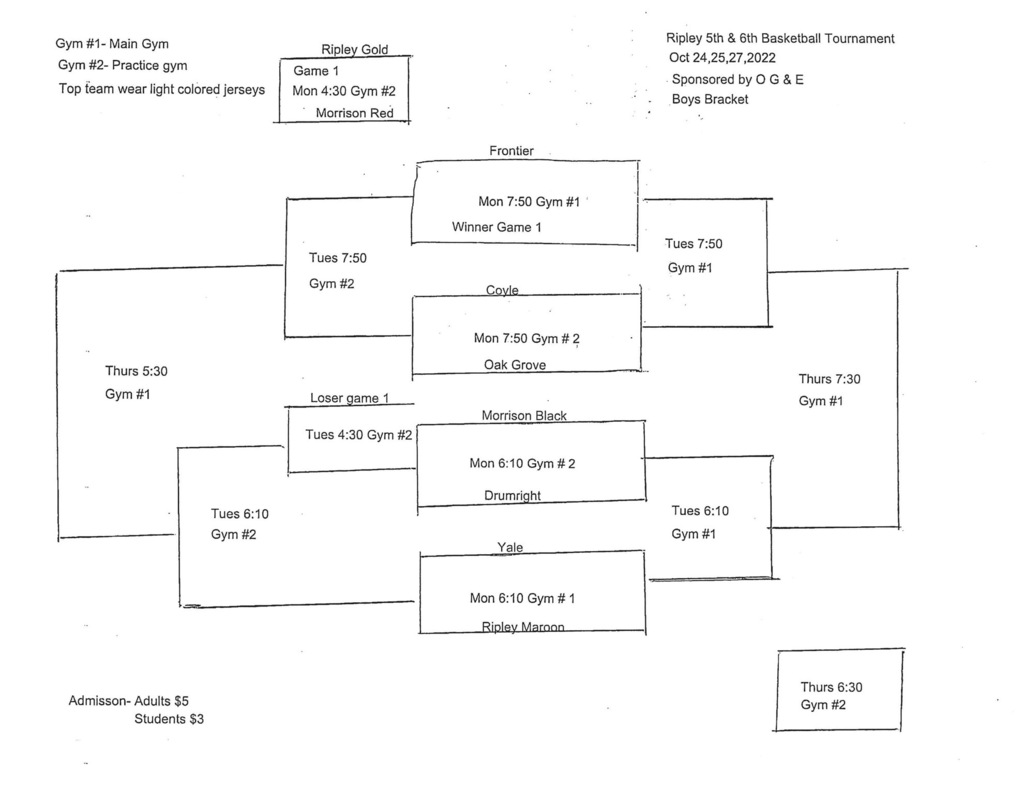 Mrs. Larman will be refunding Pink Out T-shirt money at the game tonight. We apologize for not being able to have the shirts for you. See Mrs. Larman in the concession stand as she will be the cashier tonight to pick up your refund.

Tomorrow night the "Little Bluejackets Football" team will be honored at half-time. The "Little Bluejackets" will get in free wearing their jerseys. Parents and family members will have to pay. Admission for Adults is $5 and Students are $3.

From Mrs. Larman: I received notification yesterday that the company I ordered the pink out shirts from was not going to be able to fill our order due to problems as a result of Hurricane Ian. They said they were refunding our money. Then, 30 minutes later, I received an email stating they were being shipped. If the money is refunded, I will be returning all funds to the people who have paid for theirs on Monday. If the shirts should eventually show up, you will have free shirts if they refund the money. This has been so crazy. I apologize for all of the confusion.

The High School Football Game for next week is on Friday, October 21. Kickoff is at 7:00pm. Sorry for any confusion.

Events for the week: Parent-Teacher Conferences—Monday & Tuesday 4:00-7:00PM School Board Meeting—Monday 7:00PM School Picture Day—All Grades—Tuesday Fall Break—Thursday & Friday Home Football Game—Thursday 7:00PM Corn Hole Tournament—Saturday 9:30AM Coyle Alumni Reunion—Saturday 3:00PM CSF BBQ Dinner & Pie Auction—Saturday 5:30PM

PLEASE SEE THE FOLLOWING LETTER FROM MR. ZINK REGARDING STUDENTS WHO RIDE SCHOOL BUSES.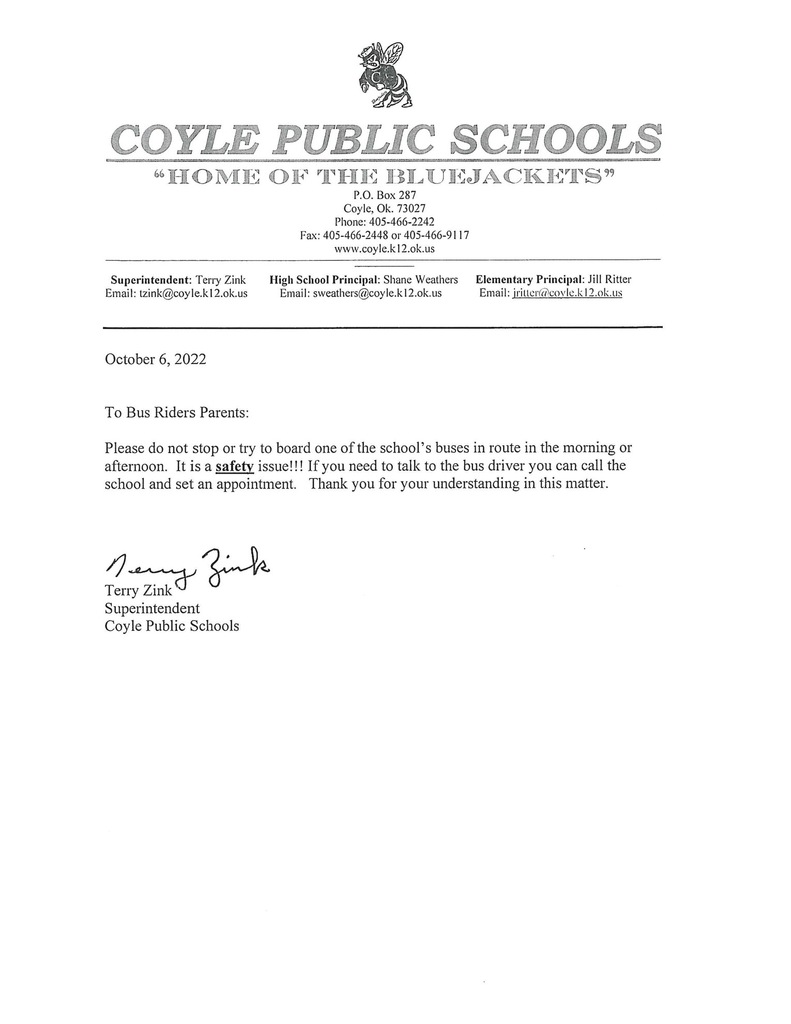 COYLE PUBLIC SCHOOLS IS LOOKING FOR AN ADDITIONAL SECOND GRADE TEACHER. INTERESTED PARTIES NEED TO CONTACT JILL RITTER, ELEMENTARY PRINCIPAL. PLEASE EMAIL TEACHING CREDENTIALS AND RESUME TO
JRITTER@COYLE.K12.OK.US
ALTERNATIVE CERTIFIED APPLICANTS WILL BE CONSIDERED.

This week will be the end of the 1st 9 Weeks. Parent-Teacher Conferences will be next Monday, Oct. 10 and Tuesday, Oct. 11 from 4:00-7:00PM each evening. Also School Picture Day will be next Tuesday from 9:00AM-3:00PM. Seniors will take pictures first followed by Prekindergarten and up. Picture fliers will be sent home this week. Extra fliers will be available in the offices. Also the 5th and 6th Grade Basketball teams are playing in the Ripley Elementary Festival. See attached image for more details.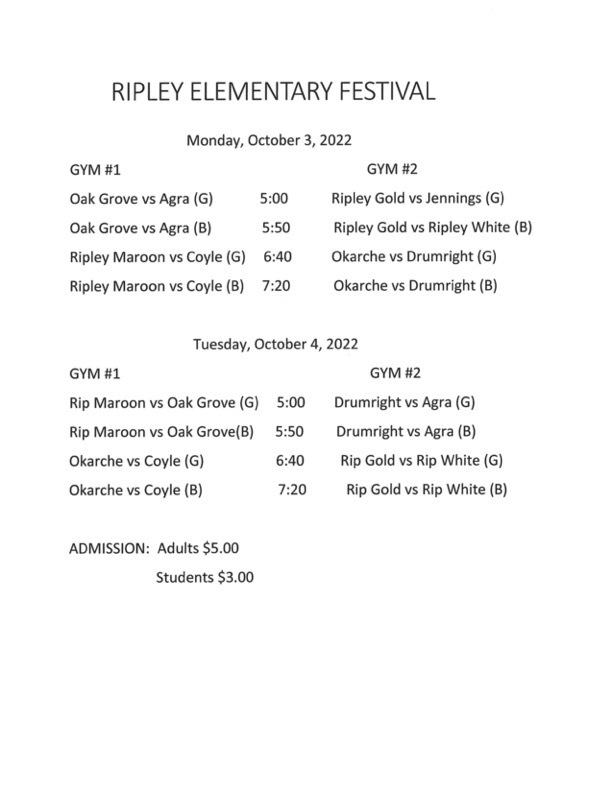 The Coyle Bluejackets beat the South Coffeyville Lions 50-0 tonight to WIN their 2022 Football Homecoming Game!!! Great job gentlemen. We are proud of you. Hope to post some of the homecoming ceremony tomorrow. My phone is dead this evening. THANKS TO EVERYONE WHO HELPED MAKE THIS WEEK A SUCCESS!!
We have added a 5/6 Grade Ripley Basketball Festival next Monday and Tuesday OCT. 3rd and 4th. A team dropped out and we were added. Please work with us as we have a JH. Football game @Coyle Monday night as well. Basketball games will be played at Ripley. We will leave the school Monday at 5:40pm.

ELEMENTARY BLUEJACKET BUZZ WILL BE THURSDAY, SEPTEMBER 29 (TOMORROW) AT 9:00 AM IN THE NEW GYM.

Wednesday, September 28--SEE YOU AT THE POLE 2022--Come meet with the Coyle FCA members in the morning at 7:30am in the front of the Elementary School at the Flag Pole. This is a time for students, teachers, parents, community members, etc. to come together to talk and pray over the school and the school year.

This Wednesday, Sept. 28 is the annual Fall Blood Drive sponsored by the HS STUCO. At this time, we only have 8 people signed up to donate blood. They will be here from 9:00am to 1:00pm in the School Library. Please contact Mrs. Larman or go online to obi.org to sign up. Thanks!

Just a reminder, Bluejacket Football Homecoming 2022 will be this Friday, September 30. Homecoming ceremonies will start at 6:30pm. Kickoff will be at 7:00pm. Come support the Bluejackets as they take on the South Coffeyville Lions.

We hope we have found the problem with why parents and patrons were unable to call into the school. If you were using the numbers listed on our APP, you were experiencing difficulties as those numbers did not work. I have corrected that problem. Everyone should just dial 405-466-2242. Then press 1 for the Elementary, 2 for the High School, or 3 for the Superintendent's Office. We only have 3 lines; so at times, each secretary may be on the phone at the same time. This happens more often than people may think. If this happens to you, PLEASE leave a voice mail as they check those constantly.

FOOTBALL HOMECOMING SPIRT WEEK IS NEXT WEEK. HERE ARE THE DRESS UP DAYS. OUR THEME THIS YEAR IS HEROES FOR HOMECOMING.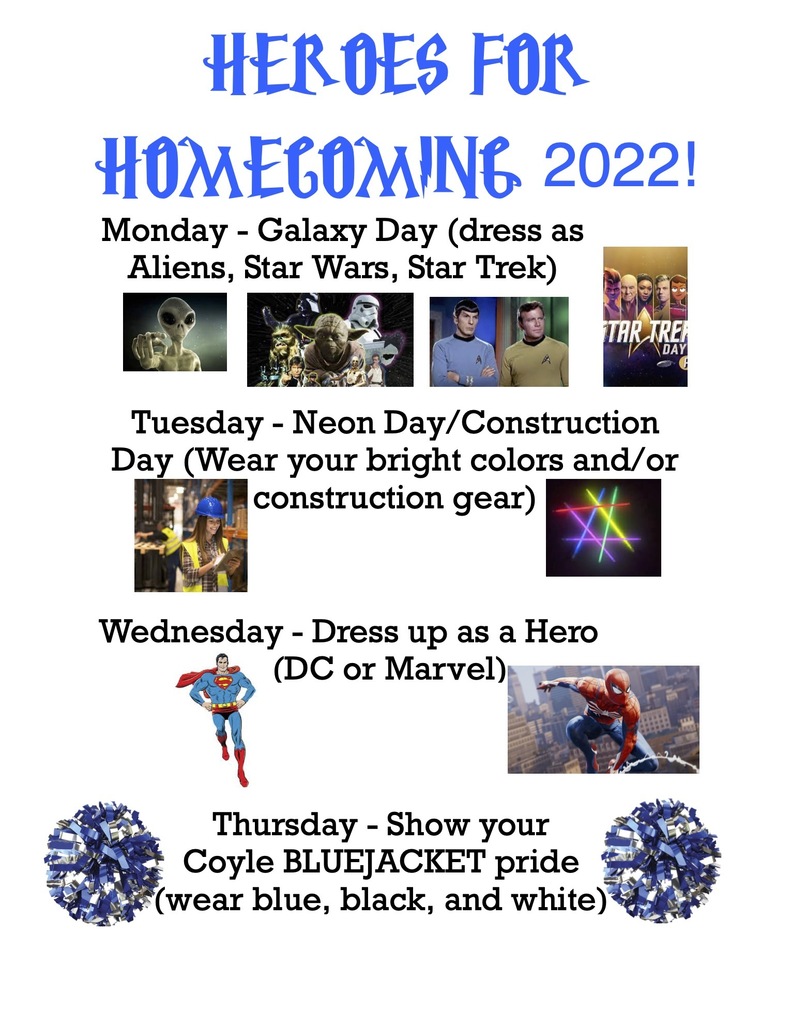 A BIG Thank You to everyone who ordered Homecoming T-Shirts to support STUCO and our Bluejackets at Homecoming. We sold 135 shirts!!

The high school STUCO is sponsoring the annual fall blood drive on Wednesday, September 9:00 am to 1:00 pm. You may sign up online; however, please message Mrs. Larman to let her know so we can make sure we meet our goal of having at least 15 people sign up. This year's theme is Bedlam Battle. You will receive either an OU or OSU t-shirt for donating blood. Sign up is located at obi.org Thanks for helping to save a life!!