Coyle Public Schools will start classes on Thursday, August 11. If you have not enrolled your student(s), please contact Mrs. Holly in the High School Office. 405-466-2242 X1305 Students cannot attend school until they are enrolled.

Coyle Public Schools will be closed tomorrow, August 8, so that ALL staff may participate in Professional Development in OKC. The school will open at 8:00AM on Tuesday morning August 9–Meet Your Teacher Night is also Tuesday evening from 5:30 PM to 7:00PM.

Got this from a friend and wanted to share: Hey our organization is giving away free school supplies at the park in Langston until 1pm. I don't know if Coyle has a page, but y'all and the community are more than welcome to come.

MEET YOUR TEACHER NIGHT is scheduled for Tuesday, August 9 from 5:30pm to 7:00pm. High School Students will pick up their class schedules at this time. FREE Backpacks will be available for all students at this time. PTA will be selling school T-shirts for students, parents, etc. in the elementary entrance. Prices will be $10 for sizes up to XL. 2X-4X will be $12. Danny Moorman will be in the Conference Room to meet with new bus riders and parents.

Athletic Schedules are available in the Document Folder (Live Feed and Web Site) under Athletics. Please remember that these schedules may change. We will do our best to keep you informed about any changes.

I forgot that photos do not show on text messages. Here is the information you will need for questions on P-EBT cards. For those who had P-EBT questions, here's the email address I used:
Barbara.Shelby@okdhs.org
You will NEED: your child's State Testing ID number. You can get that from the school. I emailed my children's counselor. But you can probably call. It took a few days for Ms. Shelby to reply and I'm assuming it will likely be the case again since so please be patient.

If you think you have P-EBT money available or if you have questions, please follow the instructions in the photo.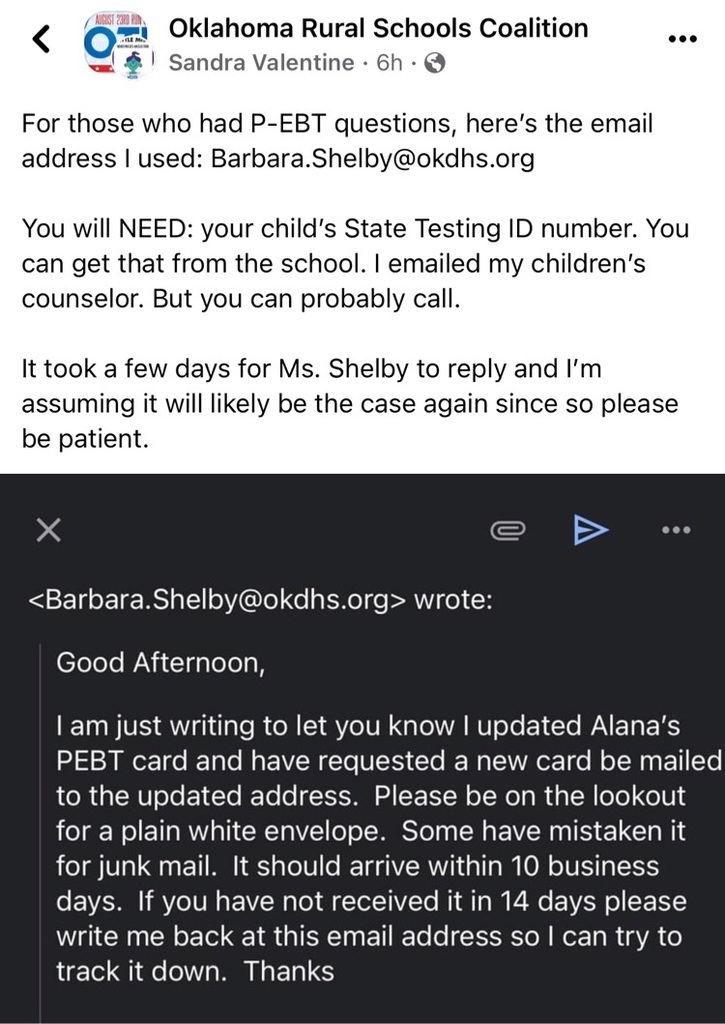 COYLE SCHOOL IS HIRING NOW!!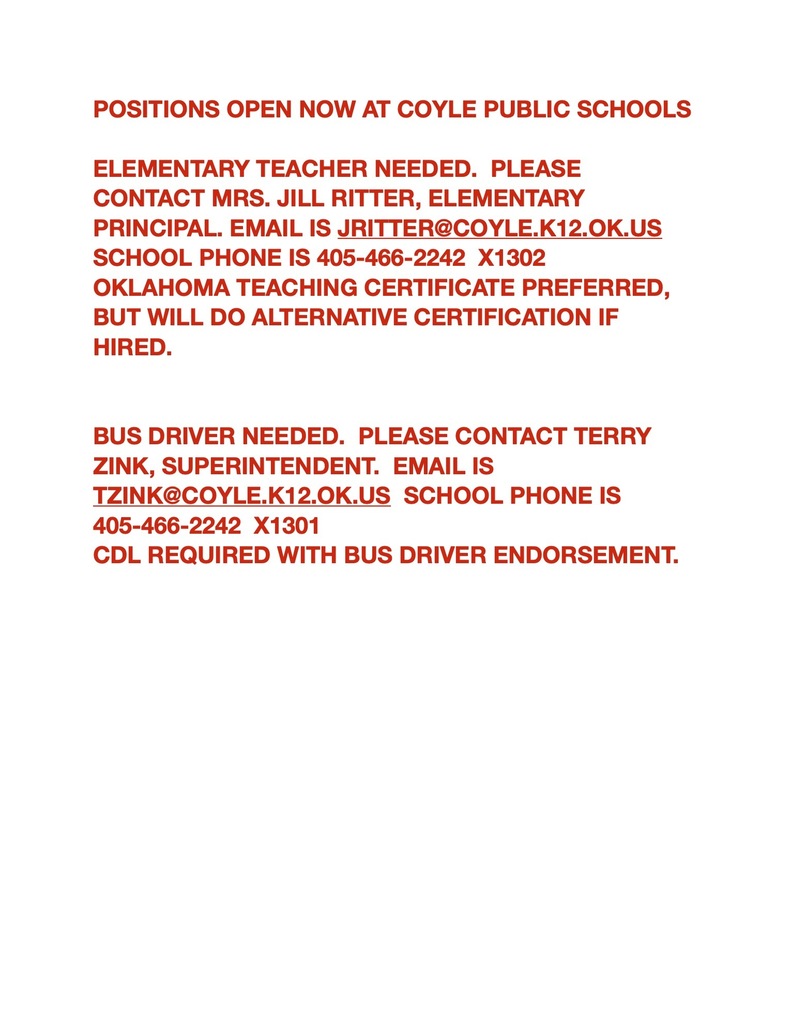 COYLE NEEDS BUS DRIVER!!


The high school will be closed this week so the floors can be done before school starts. Ms. Holly will be gone on vacation until Thursday. She will monitor Facebook and Wengage. But she will not be able to access phone messages. Please message her on the school Facebook page if you need help.

Please come out tonight to the Coyle Langston Meridian PTA meeting to help get our school year off to a great start. We will meet at 6:00pm in the school cafeteria.

The School Calendar for 2022-2023 has been posted on the school website under Menu. It is attached here and on Facebook. The school will furnish basic school supplies (paper, pencils/pens, crayons/markers, binders, etc.) again this year for students in grades PK-12. FREE backpacks will be available for all students this year. These will be available at "Meet Your Teacher Night" on Tuesday, August 9 from 5:30-7:00 pm outside of Mrs. Ritter's office and Mr. Weathers' office.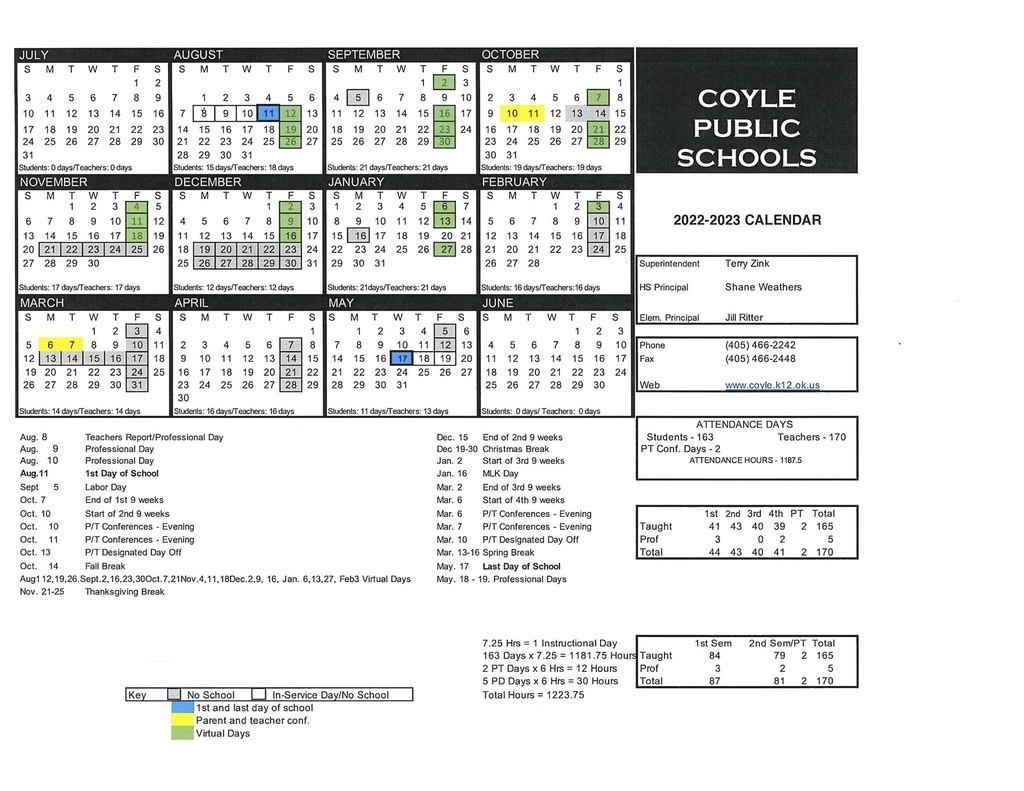 Livestock Judging practice will be at 7pm Tuesday - Thursday this week, we will meet at the Ag Building every day. We will be evaluating classes outside or in barns please dress accordingly, there will be ice water and snacks in a cooler everywhere we go for practice. It is highly recommended that students who whish to judge livestock this spring attend practices.

Livestock judging practice will begin Monday evening at 7pm. We will meet at the Agricultural Classroom by the baseball field. If you are planning on judging at Big 3 you need to be at practice. We will be practicing outside and in barns, dress accordingly and I will have water in a cooler for the students. Thank you, Mr. Dunn

Mrs. Larman will post the Revised NEW School Calendar after the board meeting next week. Please check the App and website on Tuesday afternoon. Please ignore any calendars you may have seen.

JUST A REMINDER TO ENROLL YOUR STUDENTS USING OUR ONLINE ENROLLMENT.

Coyle Public Schools will be closed on Monday in observance of the 4th of July. Everyone have a safe and enjoyable holiday. Please remember to support the Coyle Athletics Fireworks Stand on Highway 51 at Smokin' Joes BBQ. Enjoy some bbq also—they have great food!!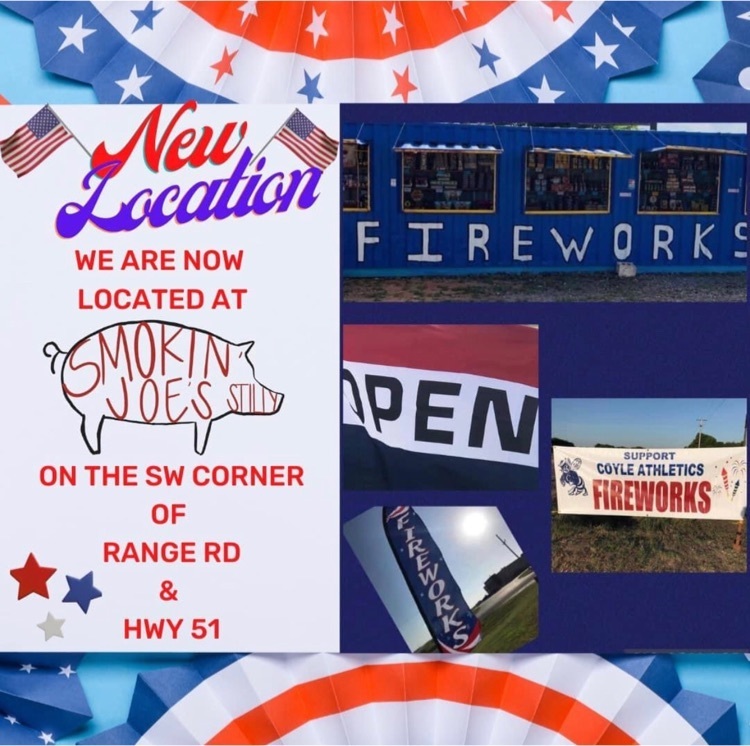 Just a reminder!!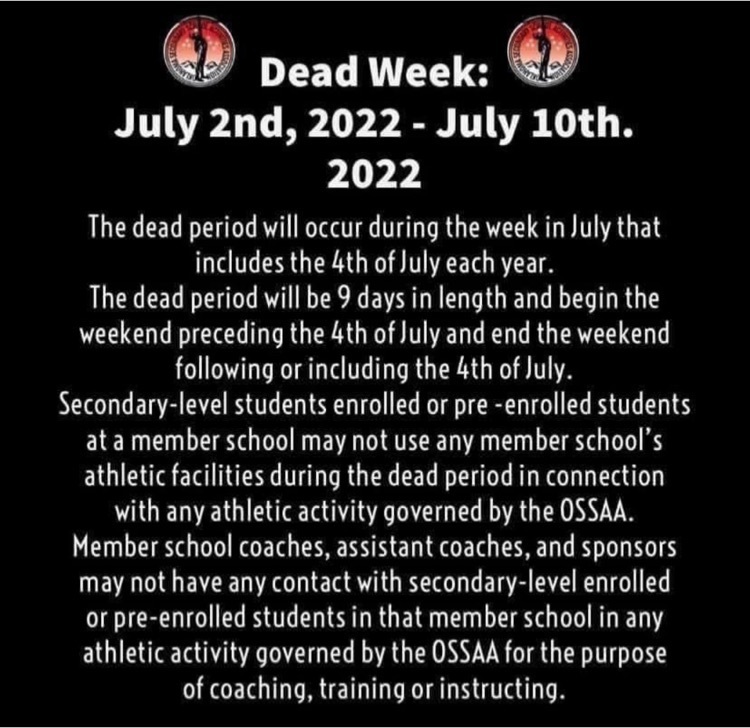 CONGRATULATIONS TO ADONICA SUMLIN, COYLE GRADUATE 2016. SHE HAS BEEN NAMED AS A 2022 FELLOWS STUDENT BY THE JOHN PAUL STEVENS FOUNDATION. ADONICA IS STUDYING LAW IN New Orleans, LA.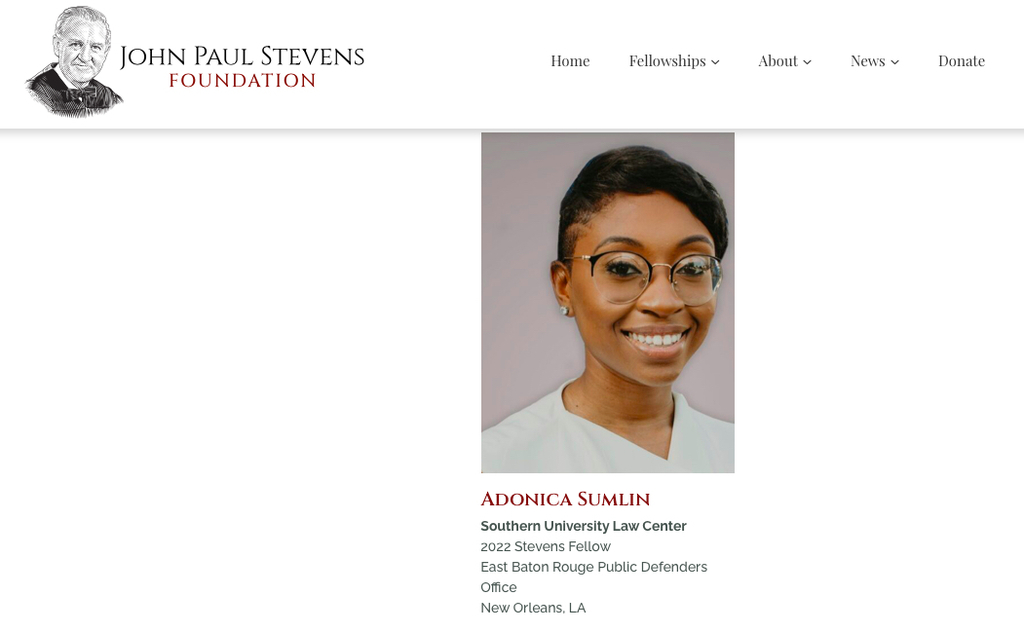 COYLE LITTLE LEAGUE FOOTBALL: Will have a sign up/ team meeting in the Coyle New Gym Saturday, July 9th from 9am - 11am. This is for kids going into grades 1st - 6th. Hope to see you there!