JH Basketball on Thursday (12-1-22) @Ripley. Girls play at 7pm Boys play at 8pm We will leave the new gym @5:45pm. Let go jackets!

HERE IS THE JV HS GIRLS AND BOYS BASKETBALL SCHEDULE.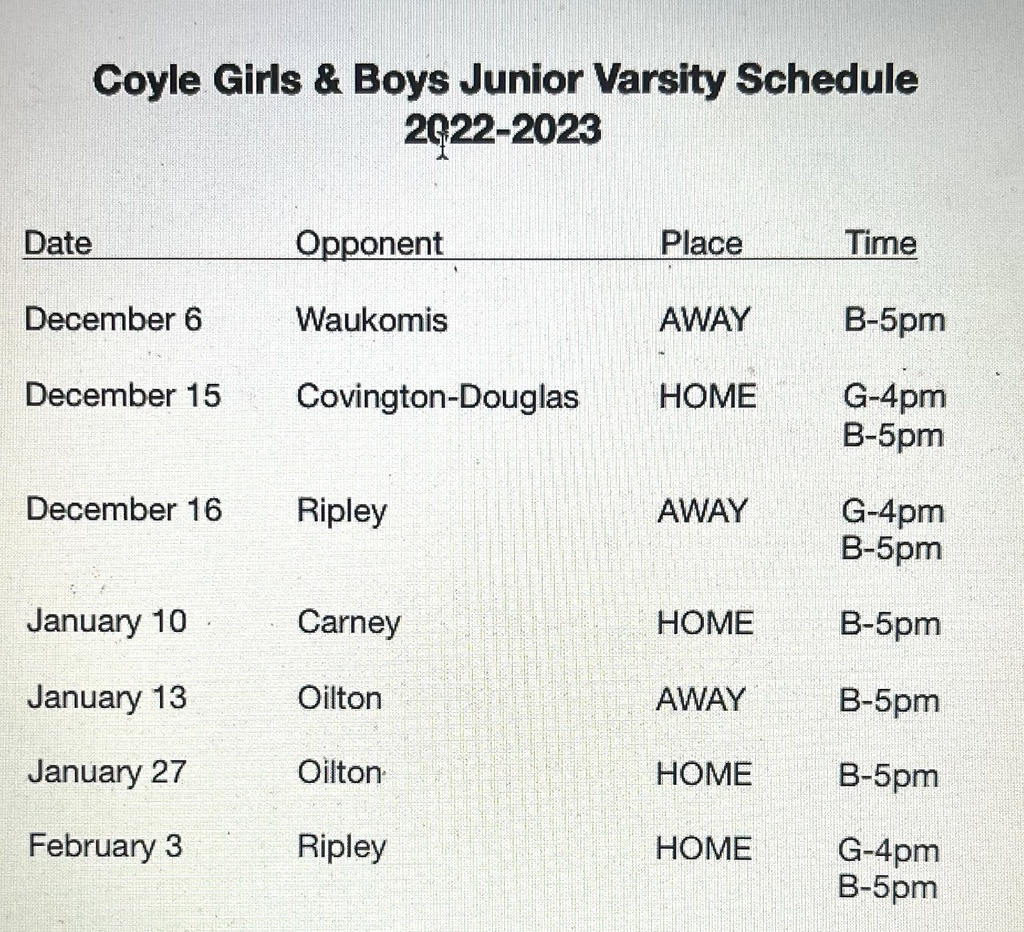 COYLE BLUEJACKET BASKETBALL APPAREL ORDER FORMS ARE AVAILABLE IN THE HIGH SCHOOL AND ELEMENTARY OFFICES.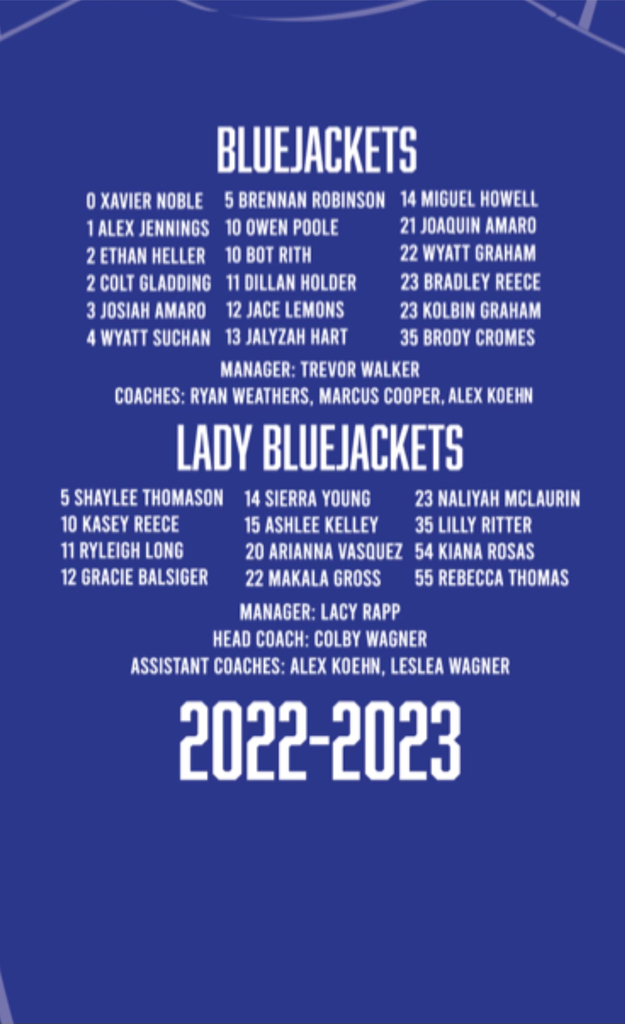 Brackets are attached for the Junior High Basketball Tournament at Ripley scheduled for Nov. 28 -Dec. 3.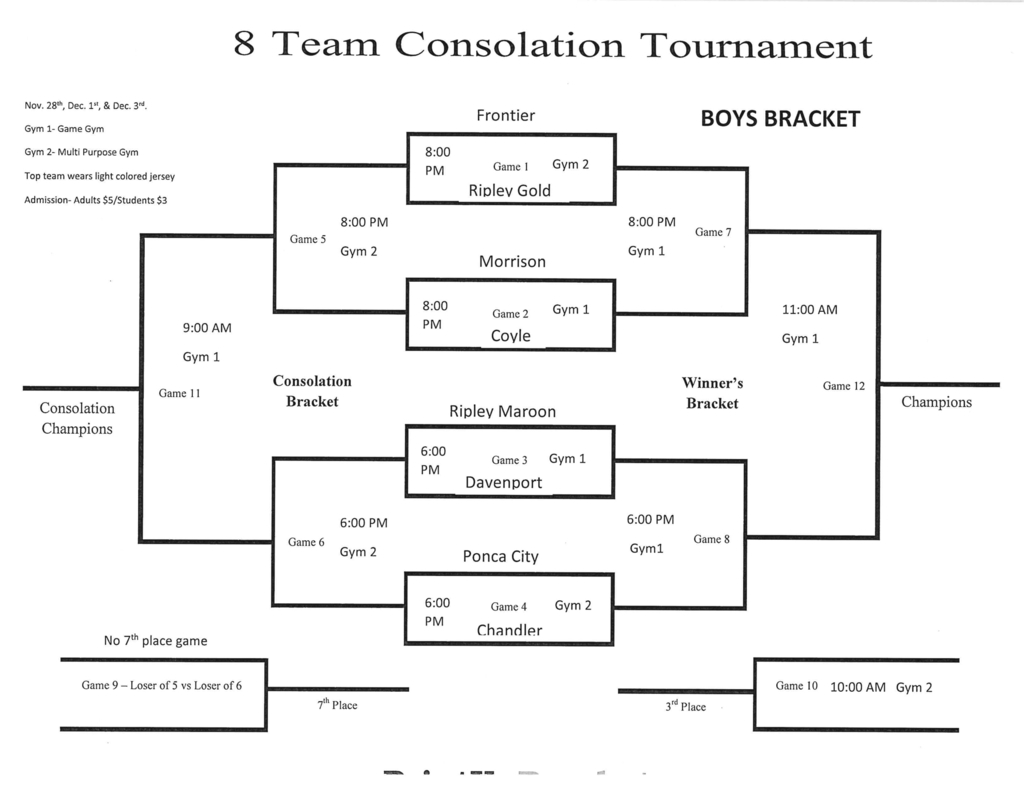 The JH Boys and Girls will be back at 9:30pm tonight.

DRESS UP DAYS FOR DECEMBER 12-15 FOR GRADES 8-12. AS WE HAVE A DIVERSE STUDENT BODY, STUDENTS MAY WEAR CLOTHES FOR THE HOLIDAYS THAT THEIR FAMILY CELEBRATES IN DECEMBER-- MONDAY, DEC. 12--HOLIDAY PJ DAY TUESDAY, DEC. 13--GRINCH DAY WEDNESDAY, DEC. 14--UGLY HOLIDAY SWEATER THURSDAY--DEC. 15--ELF DAY

Just a reminder that tomorrow is Dress Up Day for BEDLAM for Grades PK-12 . Wear OSU or OU!! Show your support!!

PICTURE RETAKE DAY WILL BE TUESDAY, NOV. 29. IF STUDENTS NEED A RETAKE, THEY NEED TO BRING EITHER THEIR PURCHASED PACKAGE OR THEIR PICTURE PROOF FOR THE PHOTOGRAPHERS. YOU MAY CONTACT MRS. LARMAN FOR MORE INFORMATION.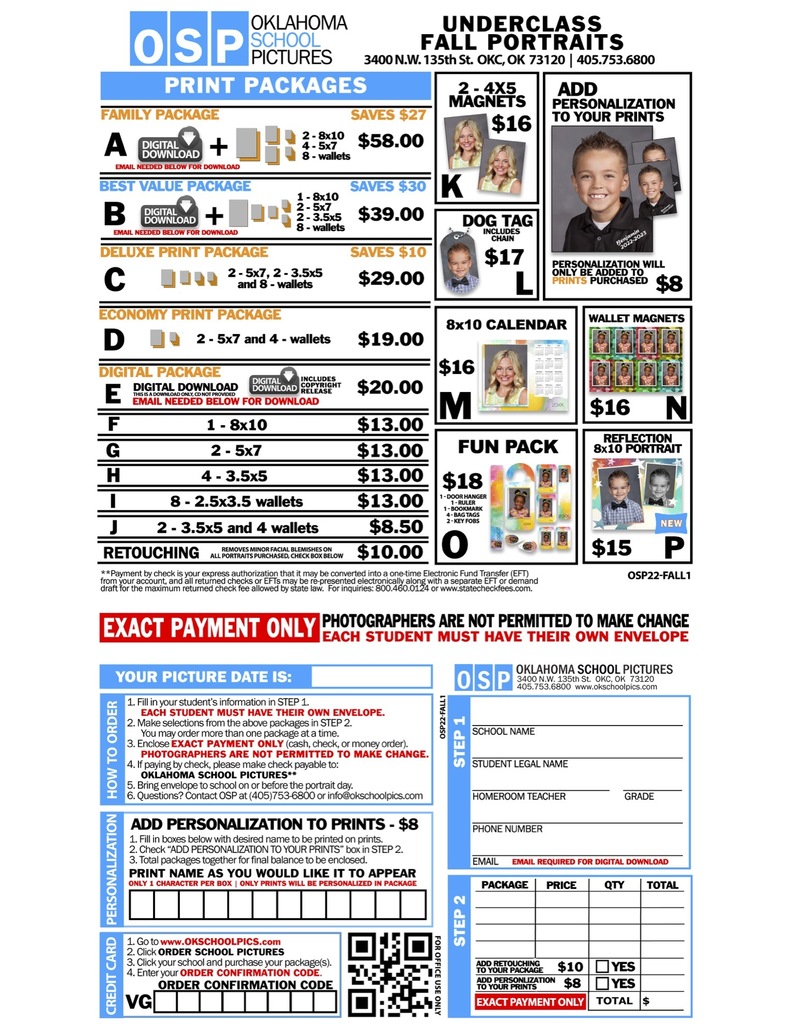 Coyle Winners of the Veteran's Day Contest with Ms. Conner, English Teacher; Joaquin Amaro, First Place; Maryanne Meredith, Second Place; Gracey McBane, Third Place; and Ms. Horton, the Essay Contest Coordinator.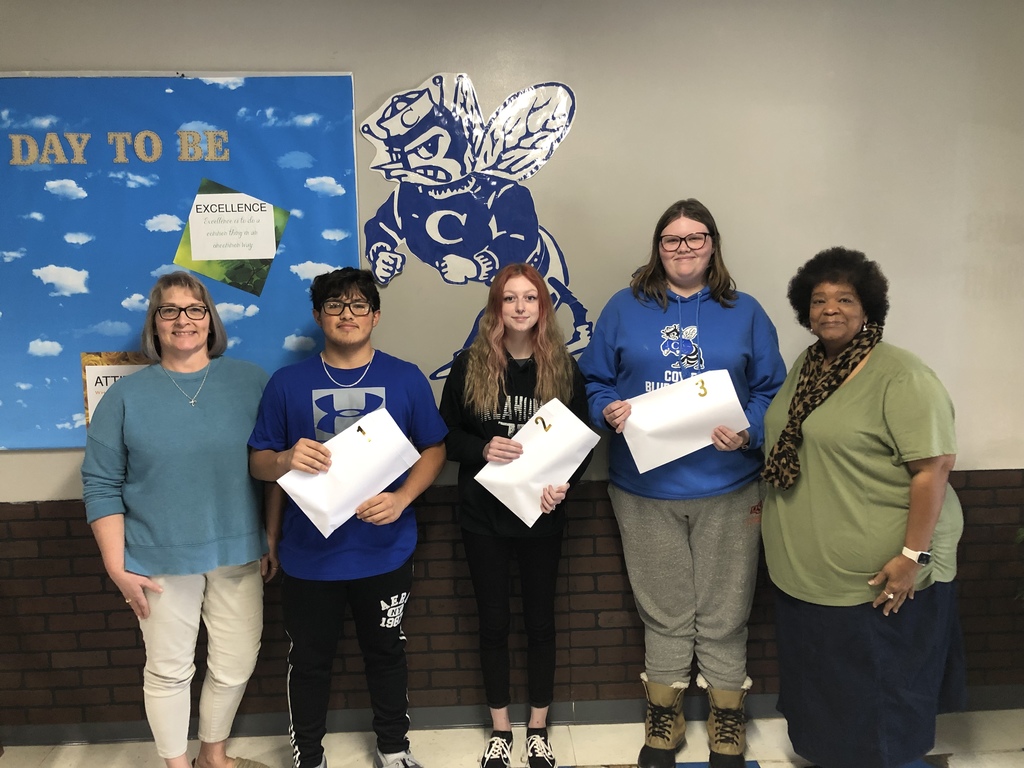 FFA members there will be Livestock Judging practice this Tuesday at 6:45am in the Ag classroom.

Coyle Langston Meridian PTA President Holly Sawatzky accepts a check from Julie Gimmel with Logan County on behalf of the Oklahoma Blood Institute for going above our fall quota for the blood drive. Thanks to all who made this happen. Your donation saves lives.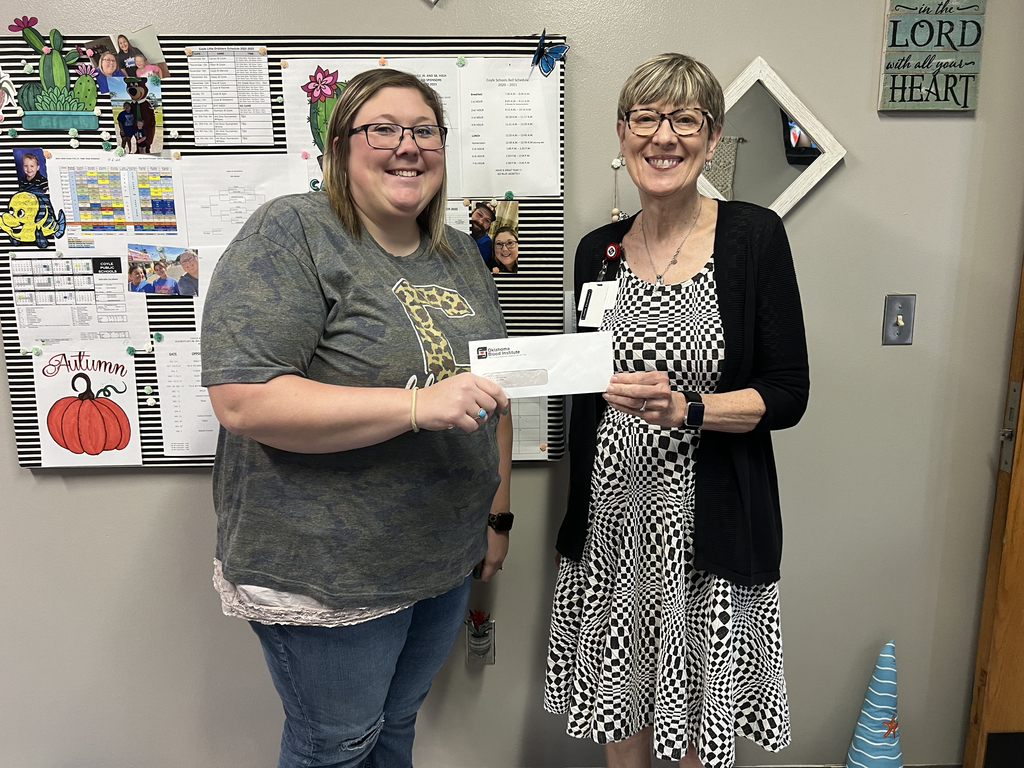 CONGRATULATIONS TO OUR ENGLISH TEACHER TONI CONNER AND HER STUDENTS!!!! WE RECEIVED THE FOLLOWING AWARD INFORMATION TODAY: I am THRILLED to inform you of the winners of our 2022 Essay and Art Contests. CONGRATULATIONS TO COYLE HIGH SCHOOL -- AND SPECIAL COMMENDATIONS TO THE ESSAY CONTEST WINNERS: Joaquin Amaro - 1st Place 11th Grade, Coyle High School Maryanna Meredith - 2nd Place 11th Grade, Coyle High School Gracie McBane - 3rd Place 11th Grade, Coyle High School Much appreciation for your support! Looking forward to even greater participation at all school levels next year!! Alberta Mayberry, Coordinator Langston Community Veterans Appreciation Committee Wm Conrad Veterans Memorial Gardens
The JH Basketball Yale Festival is the week in Yale. The times are posted for Monday and Thursday. Saturday game times are TBA. Come support your Bluejackets!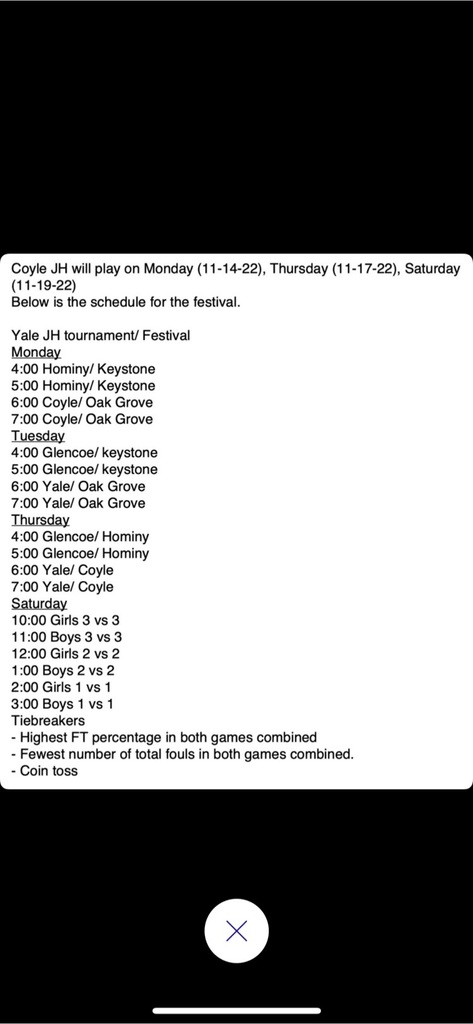 The JH Boys play @3pm today in the Dover Tournament. We will meet at the Coyle gym @1pm.
LITTLE DRIBBLERS games are @COYLE this Saturday (11-12-22). 3rd girls @9am, 3rd boys @10am, 4th girls @11am, 4th boys @12pm. Cash and Card accepted at gate and concession. Adults $3–All kids FREE! VETERANS ARE ALSO FREE. Thank you for your service! 🇺🇸 GO JACKETS! 🏀
The JH Boys will be back to the new gym @10pm tonight for parents to pick their child up. Thank you

Next Thursday, November 17, Grades 8-12 will have a Dress-Up Bedlam Day. Students are to dress up in OU or OSU clothes. Go Pokes!! For Sooner Fans--well??
Academic Bowl team practice is this afternoon. 4-5 p.m. in Mrs. Mallows room. 6th and 7th graders are welcome. They need transportation home after.

Congratulations to the High School Football Team!! They are headed to Thackerville this Friday to play in Round One of the Class C Football Playoffs. From the Athletic Department at Thackerville: •Friday is Veteran's Day-- In honor of this day, the member schools of the OSSAA will recognize and thank those men and women in our great state and across this country that served in the Armed Forces in recognition of Veteran's Day 2022 by allowing the veteran and one guest to attend the game FREE this Friday. This is only for Veteran's Day. •Thackerville will have a Veterans Recognition Ceremony, so any veterans from Coyle are welcome to take part in this ceremony on the field. •One Veteran from Coyle may join us for the coin toss if one is present at the game. Please Contact Coach Cooper if you would like to do this. You MUST be at Thackerville by 6:30pm to do this. •There will be only one gate to come through Friday night; however, there will be one line for online tickets and passes, and one line for cash only tickets. Cash price to attend the game will be $10. Online tickets are $7.00 at
https://gofan.co/app/events/774401?schoolId=OSSAA
The JH Basketball games are running behind. We should be back to Coyle around 7:30pm.