JH BOYS OILTON BASKETBALL CAMP SCHEDULE. June 8th & 9th Please be at the gym @9:45am Thursday and 2:30pm Friday. @Oilton High School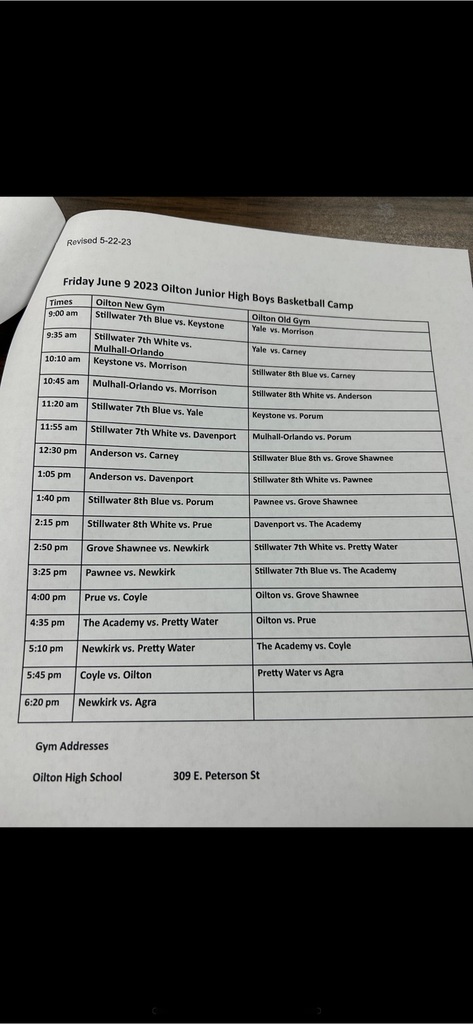 REMINDER: Little Dribblers Basketball Camp begins tomorrow!! June 5th-7th (Monday-Wednesday) at the Coyle New Gym. Future 2nd - 4th Graders (8am-10am) Future 5th - 8th Graders (10am-12pm) If you didn't sign up in time, we would still love to have you. See you tomorrow! #GoBluejackets
Summer HS Baseball Schedule 2023 All games will be played in June. There are six games scheduled for this summer. Let me know as soon as you can which games you will not be able to make. June - 15th @ Yale 5:00 pm 16th @ Pioneer Festival (2 games) time to be determined 23rd @ Oilton 4:00 pm * 27th v Watonga 5:00 pm * * 30th v Okeene 5:00 pm * * Home Games If you have any questions or concerns feel free to text or call me! Coach Koehn (580)-741-0248

There will NOT be Driver's Ed tomorrow. Class will resume on Tuesday, May 30 at 9:00am.
Remember enrollment for the 2023-2024 school year is open. Wengage by Sylogist is now available in the APP store! Once downloaded, open the app and choose your tenant school- Coyle. then you can use your Wengage login and have access just like you would on the website. To enroll your student on the app, login and go to student records portal. If you need Wengage login info please call the high school office, message the Coyle Facebook page, email
hsawatzky10@coyle.k12.ok.us
or visit the high school office to enroll in person between 8A.M.-12P.M. Monday-Thursday. If a different time is needed please call to make an appointment. Our offices will be closed Monday May 29th for Memorial Day, Monday June 19th for Juneteenth, and Monday July 3rd, Tuesday July 4th for Independence Day. Thank you and have a great summer!!

Students will need to bring their lunches while they are in Driver's Ed or Credit Recovery Classes. Sorry we forgot to post that bit of information.

Just a reminder that Driver's Ed starts in the morning at 9:00am. It will end at 3:00pm. Students who have to do credit recovery must be at the high school in the morning at 9:00am also in Mrs. Larman's room to complete their credits.
BUS #1 has broke down, bus 2 is picking up the remainder of the children and finishing that route before dropping off the rest of bus 1. Students will be late getting dropped off please be patient.

Just a reminder—the Senior Class of 2023 will have their Baccalaureate tomorrow evening at 7:00pm in the new gym. On Thursday morning, the Elementary will have the last Bluejacket Buzz for the year at 9:00am in the new gym. In addition to class awards, those students in Grades 2-7 who had all "A"s for the First Semester will receive the Superintendent's Honor Roll Award. Those students in grades 2-7 who had all "A"s and "B"s will receive the Principal's Honor Roll Award. Then, on Friday evening, the Senior Class of 2023 invites everyone to come be a part of their Commencement Ceremony at 7:00pm in the new gym.
Attached are Coyle Basketball Camp Sign-Ups for the ELEM/JH. DATES: JUNE 5th, 6th, 7th (2023) FUTURE 2nd-4th Graders 8am-10am FUTURE 5th-8th Graders 10am-12pm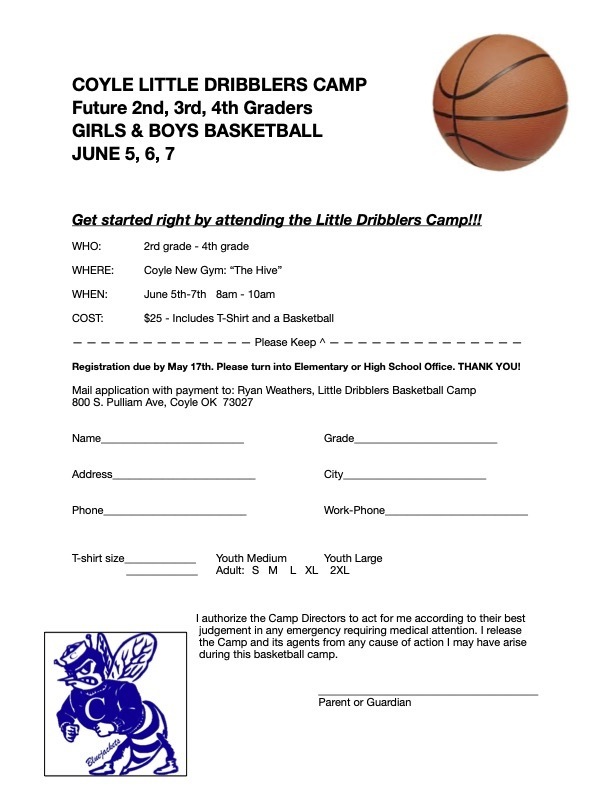 REMINDER: SPORTS PHYSICALS ARE TOMORROW!!! (5/10/2023) THEY ARE FREE! This includes all athletes: Future 5th-12th Graders! Go Bluejackets!
Elementary (pre k - 4th) will be having a track and field day at school Tuesday May 16th. Please send your student in clothes appropriate to play outside along with sunscreen, water bottle, and hat if necessary. There will also be concessions available if you'd like to send the student with money to purchase items.

SENIORS are finished (for the most part) with the state mandated ICAP graduation requirements. I am working with the stragglers. PARENTS OF STUDENTS IN GRADES 11-9 STILL NEED TO create an account from the email that your students emailed you or view your students Portfolio on their laptops. Please submit your online approval or send me a screenshot showing you did it or handwrite a note saying you viewed it with the date and your signature. Thanks. THIS IS REQUIRED EVERY YEAR!! Mrs. Larman

Bailey Oldham represented the Coyle FFA Chapter on April 27 as she presented her Agriscience Project at the State Agriscience Fair. Bailey was Coyle FFA's first agriscience fair participant. Congratulations Bailey on a job well done!!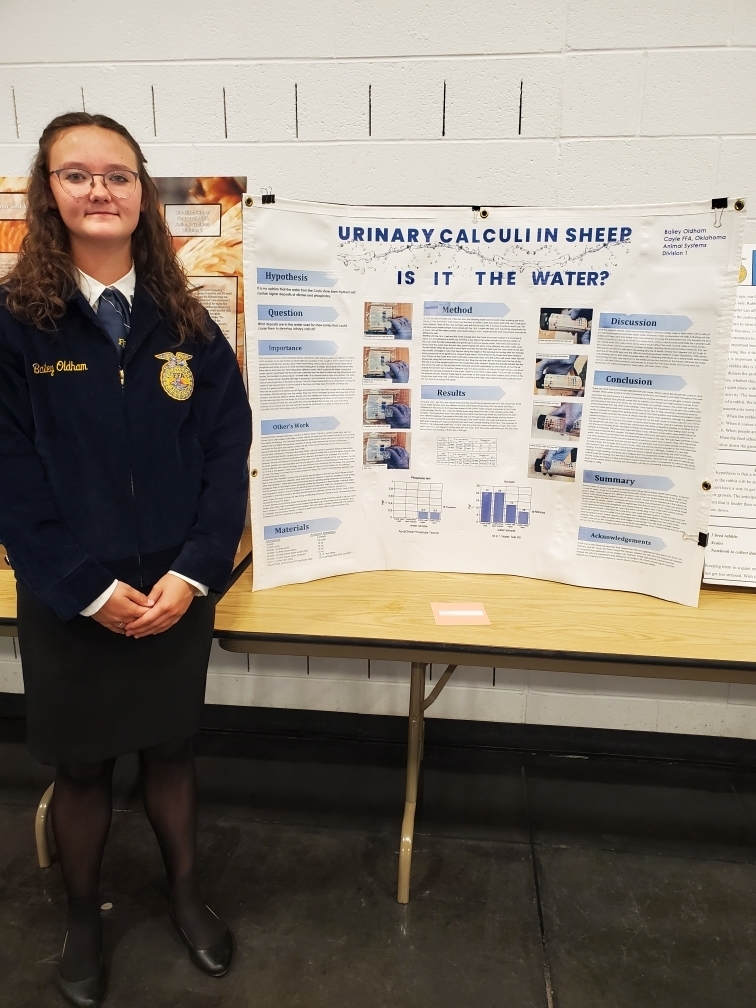 PARENTS THE HIGH SCHOOL FACULTY AND STUDENTS WILL BE IN THE NEW GYM THIS AFTERNOON FOR THE AWARDS ASSEMBLY STARTING AT 1:00PM. PLEASE CALL MRS. GAYLA IN THE ELEMENTARY IF YOU NEED TO CHECK A STUDENT OUT. SHE WILL CONTACT MRS. LARMAN IN THE NEW GYM.

PARENTS STUDENTS IN GRADES 9-12 ARE COMPLETING THEIR STATE MANDATED REQUIREMENTS FOR ICAP FOR GRADUATION. THEY WILL BE INVITING YOU TO APPROVE THEIR INFORMATION. IF YOU CANNOT GET EMAIL, PLEASE WRITE A NOTE TO MRS. LARMAN STATING THAT YOU APPROVE WHAT THEY HAVE ENTERED.

Congratulations to Brody Cromes, Damien Lamb-King, and Brandt Pross for being named to the 2023 Oklahoma Eight Man Football Coaches Association All-Star Players Team.

LETTERS ARE GOING HOME TODAY WITH INFORMATION FOR PK AND 6TH GRADE STUDENTS ON IMMUNIZATION REQUIREMENTS FOR NEXT SCHOOL YEAR (2023-2024). CHECK TO SEE IF YOUR CHILD BROUGHT IT HOME. PLEASE CALL MS. GAYLA IF YOU HAVE QUESTIONS. 405-466-2242

JUST A REMINDER, THE TITLE VI MEETING WILL BE TOMORROW, WEDNESDAY, MAY 3 AT 6:00PM SO THAT THE TRIBAL REPRESENTATIVES MAY BE HERE. THERE WILL BE AN OPEN PUBLIC MEETING ON MAY 3 PRIOR TO THE TITLE VI MEETING. IT WILL BE HELD AT 5:30PM. BOTH MEETINGS WILL BE HELD IN THE HIGH SCHOOL IN MRS. LARMAN'S CLASSROOM.

The Coyle Langston Meridian PTA Talent Show was entertaining for the 200+ people in attendance. The winners of the Judges' Division were First Place—Mrs. Jennings's First Grade Class performing "Ghostbusters"; Second Place—Makai Smith (2nd Grade) dancing to "Made You Look"; and Third Place—Mrs. Nemecek's Fourth Grade Class and Mrs. Mead's Third Grade Class performing "Count on Me." The People's Choice Awards went to Mrs. Gibbs's and Mrs. Zink's Second Grade performing "Sunroof" for First Place; Mrs. Jennings's First Grade Class performing "Ghostbusters" for Second Place; and AnnaJo Brown (2nd Grade) singing "Girl on Fire" for Third Place..