HIGH SCHOOL SOFTBALL AT LAHOMA FOR THE CIMARRON TOURNAMENT ON THURSDAY, MARCH 23. FIRST GAME WILL BE AT 11:20AM. IF THEY WIN, THEY WILL PLAY AT 2:00PM THAT AFTERNOON. IF THEY LOSE, THEY WILL PLAY AT 3:20PM THAT AFTERNOON.

ENROLLMENT IS NOW OPEN FOR NEXT SCHOOL YEAR, 2023-2024. YOU MAY ALSO ACCESS THIS FILE ON THE SCHOOL WEBSITE UNDER ADMINISTRATION. G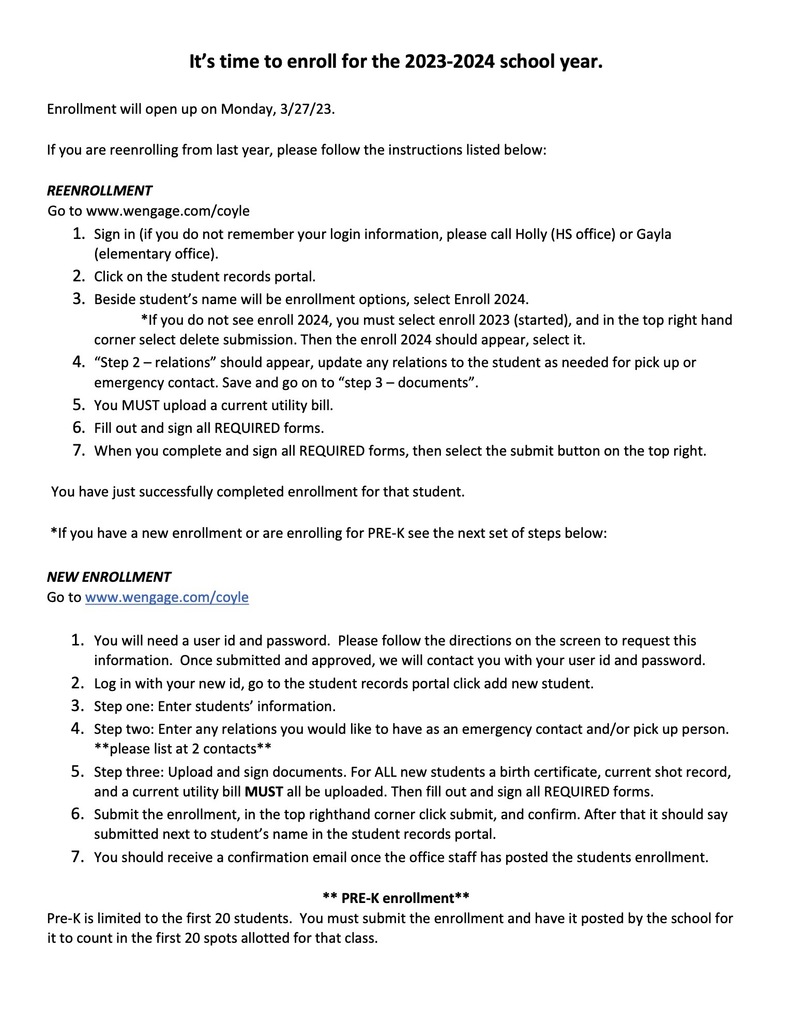 THE HS BASEBALL GAME AGAINST STROTHER TOMORROW, TUESDAY, MARCH 14, WILL BE PLAYED AT 2:30pm AT STROTHER HIGH SCHOOL. The JV will play first followed by the VARSITY.
Reminder: the Middle School dance begins at 6:30 this evening and ends at 8:30. Only 5th, 6th and 7th graders are permitted. The dress code has been posted in a previous feed. There will be cookies and water. There will be a photo booth opportunity and pictures will be sent over Spring break. Admission is $5 per student. If you have other questions, please email
hmallow@coyle.k12.ok.us

The Junior Class wants to say THANK YOU for everyone's support during our Sugar Scrub Sale and our Walking Taco Sale. We raised over $1,200 to help with the Junior-Senior Prom.

ALL BASEBALL GAMES FOR TODAY (JH & HS) ARE CANCELLED.

THE JUNIOR HIGH SOFTBALL GAME SCHEDULED FOR TODAY AT GARBER HAS BEEN CANCELLED.

PARENTS YOU MAY NOW GO TO OKSCHOOLS.COM AND ORDER CLASS GROUP PICTURES ONLINE. SORRY ABOUT THIS INCONVENIENCE. I HAD TO ARGUE WITH THEM THAT THIS WAS NOT AVAILABLE. HERE ARE THE STEPS: 1. GO TO Okschoolpics.com 2. AT THE TOP CHOOSE Order school photos 3. THEN CHOOSE Events 4. THEN CHOOSE Coyle 5. FROM HERE ENTER THE INFORMATION REQUESTED. SORRY AGAIN FOR THE INCONVENIENCE, BUT WE DID GET THEM TO REALIZE THEY HAD NOT MADE THIS AN OPTION FOR ONLINE ORDERING.

Congratulations to Coyle FFA member, Regan Price for placing first in his division at the Northwest District Livestock Show in Agriculture Mechanics. Regan also won first place in Showmanship in his division. Great job Regan. Go to the School Facebook page to see pictures.

Today, March 2, is the last day to place an order for a sugar scrub from the Junior Class. Next week, the Junior Class will have their Walking Taco Meal on Thursday, March 9 for teachers, staff, and students in grades 8-12. All orders for Walking Tacos must be placed and paid for by Wednesday, March 8.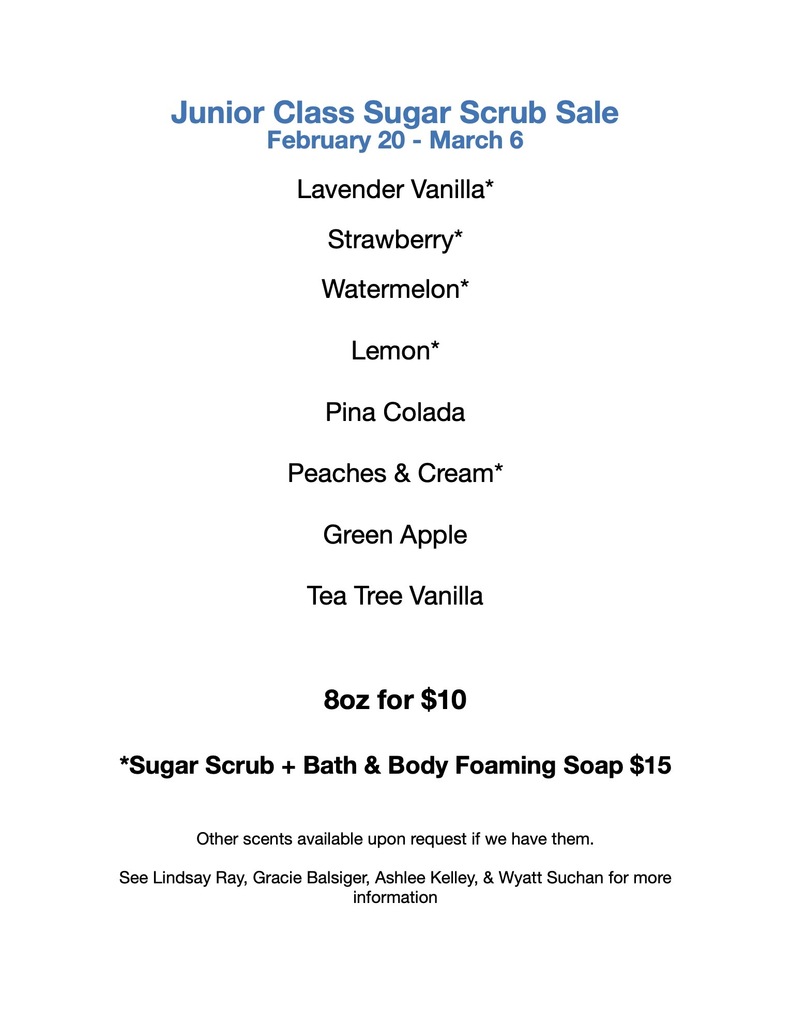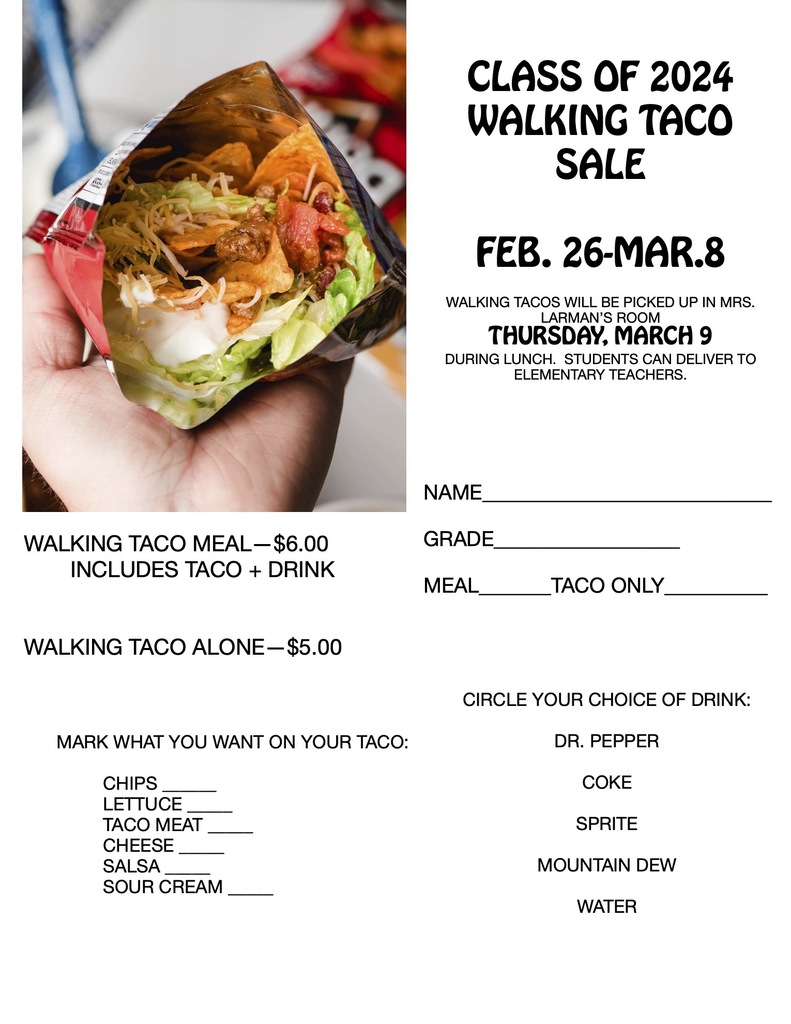 Times for Bray-Doyle Festival Friday 2:00 pm against Bray-Doyle Friday 4:00 pm against Springer Saturday 12:00 pm against Washington JV Saturday 2:00 pm against Elmore City

THE JUNIOR HIGH SOFTBALL TOURNAMENT SCHEDULED FOR TOMORROW AT OILTON HAS BEEN CANCELLED.

LATE picture orders and payments must be turned into Mrs. Gayla in Elementary Office before noon on Tuesday, March 7.

Correction on the Junior High Softball Tournament. The Junior High SoftballTeam will play in the Oilton Jr. High Softball Tournament on March 3!!

Reminders for this week: Tomorrow, Wednesday, March 1 will be Spring Class Group Picture Day. We will start at 9:00 am with Prekindergarten followed by the other grades. The STUCO OBI Blood Drive will also be tomorrow in the School Library from 9:00am to 1:00pm. The 3rd Nine Weeks ends this Thursday, March 2. Spring Parent-Teacher Conferences will be next week on Monday, March 6 and Tuesday, March 7 from 4:00-7:00pm each night. We have several 4-H and FFA students participating in the Northwest District Junior Livestock Show at Enid this week. The Junior High SoftballTeam will play in the Oilton Jr. High Softball Tournament on March 3. The High School Baseball Team will be playing in the Bray-Doyle Baseball Tournament on March 3-4. On March 6, they will play their first home baseball game starting at 4:30pm against Yale. The Jr. High and High School Softball teams will play at M-O on March 6. Games start at 4:00pm. Their first game at home will be March 27 against Yale.

The West Side Safe Room at the new gym will be open tonight in case of bad weather.
Parents of Middle School, here is the dress code for the dance on March 10: • No spaghetti straps • No bare midriffs • No bare backs • No plunging necklines • No shorts • No skirts above the knee • No sheer or see-through clothing • No tight-fitting clothing • No clothing with offensive words, slogans, or images • No hats • Dresses must be fingertip length or longer • Tops must have at least one shoulder covered • Pants must be worn at the waist, not below Additionally, students have been reminded that they do not need a date to attend the dance. All students are invited, included and encouraged to attend.

JUST A REMINDER THAT SPRING CLASS PICTURE DAY WILL BE NEXT WEDNESDAY, MARCH 1 IN THE OLD GYM. THE STUCO BLOOD DRIVE WILL ALSO BE THAT WEDNESDAY. IT WILL BE IN THE SCHOOL LIBRARY.

JUNIOR HIGH SOFTBALL WILL HAVE A ONE-DAY SOFTBALL TOURNAMENT AT OILTON ON MARCH 3. JUNIOR HIGH SOFTBALL GIRLS WILL RECEIVE MORE INFORMATION TO BRING HOME .

The Senior Class of 2023 is having a Senior Burger Day this Thursday, Feb. 23 for students in grades 8-12 only plus teachers and staff. The meal is $6.00, and the burger only is $4.00. See attached flier for information on how to order.