6th and 7th graders interested in Academic Bowl team, we are having practice from 4-5.p.m this Wednesday in Mrs. Mallows classroom. Those wanting to join need to attend and parents are responsible for transporting their students home after practice. Email
hmallow@coyle.k12.ok.us
for more information.
LITTLE DRIBBLERS games are @Coyle tomorrow (11-5-22). 3rd girls @9am 3rd boys @10am 4th girls @11am 4th boys @12pm Gate Admission: Adults $3, All kids Free! Cash and card accepted at gate and concession. GO JACKETS!!!

Just a reminder that Senior Night is tonight at 6:30pm. We will honor senior softball girls and senior football boys. Parents need to be at the field by 6:15pm so we can line up and start at 6:30pm. Kickoff will be at 7:00pm for the game.

This week's football game scheduled for Friday night, November 4 has been changed to Thursday night, November 3 due to inclement weather coming in this weekend. Senior Night for Softball and Football Seniors will be at 6:30PM followed by Kickoff at 7:00PM. Please come and support the Bluejackets.

Congratulations to the 5th & 6th Grade Girls Basketball Team. They won Consolation at the Ripley Tournament this evening. The Boys were the Runner-ups in the tournament. Congratulations to both teams for doing great!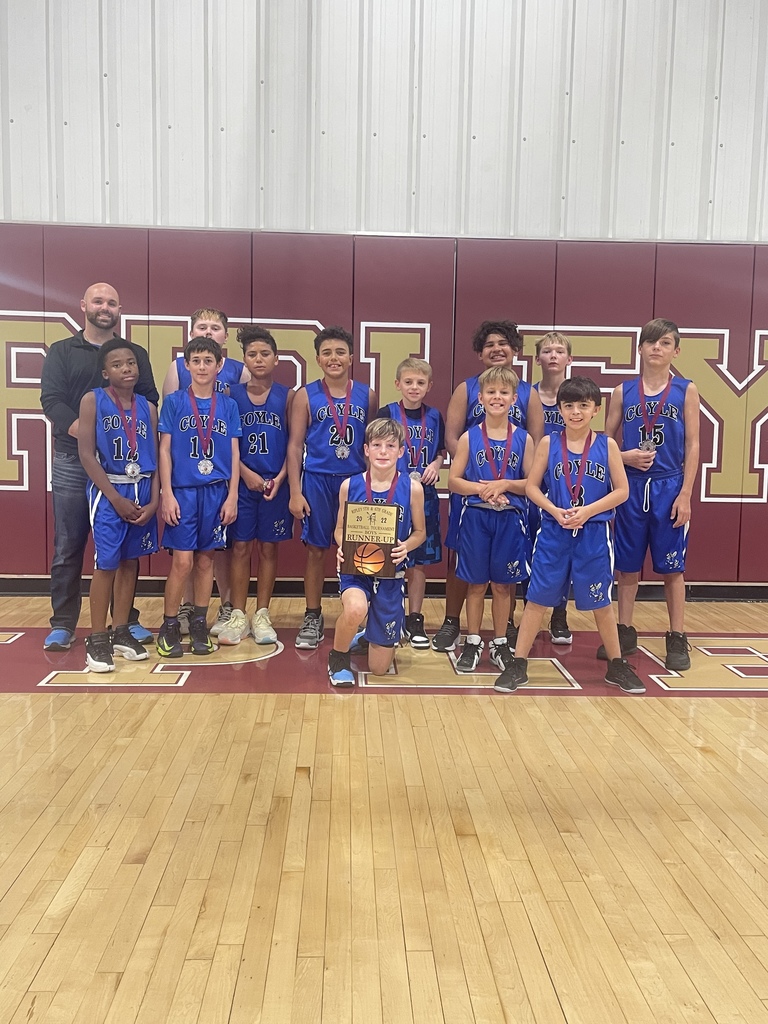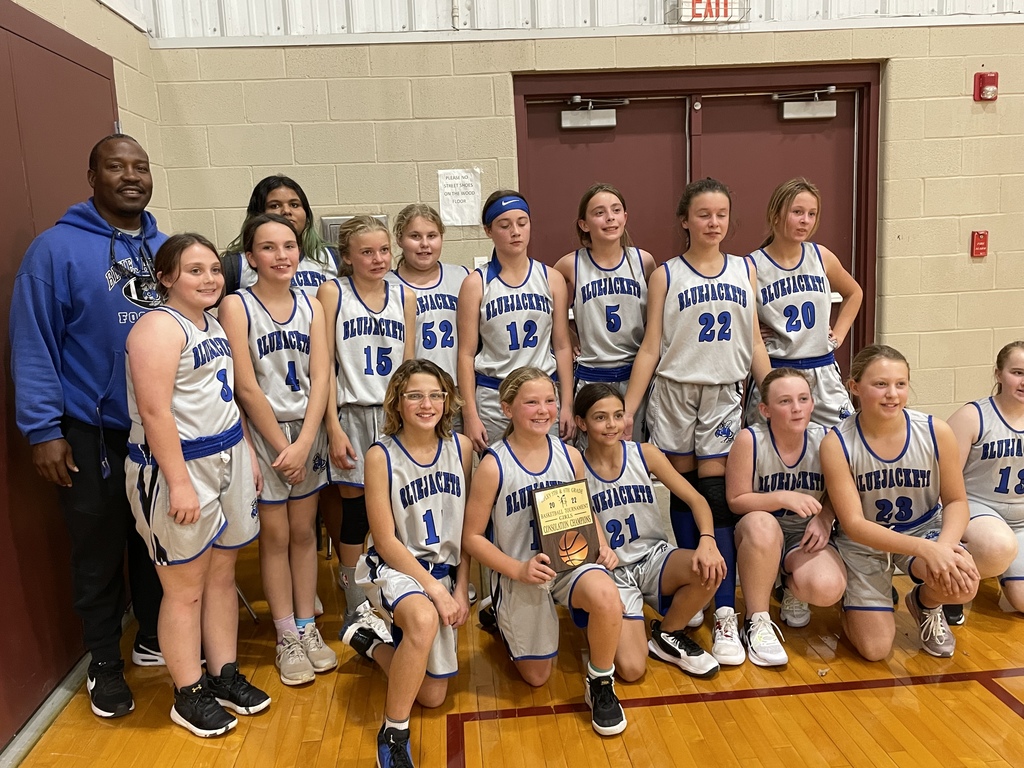 Athletic Director Shane Weathers was honored at the beginning of the football game Friday evening with the presentation of his 8-Man Hall of Fame Ring. Coach Weathers was inducted into the 8-Man Hall of Fame in June. Coach Marcus Cooper recommended Coach Weathers because of all of the hard work he put into developing the football program at Coyle High School. He started the program in 2004. After retiring from football in 2019, he became the Athletic Director for Coyle Public Schools. Congratulations Coach Shane Weathers on receiving this award!!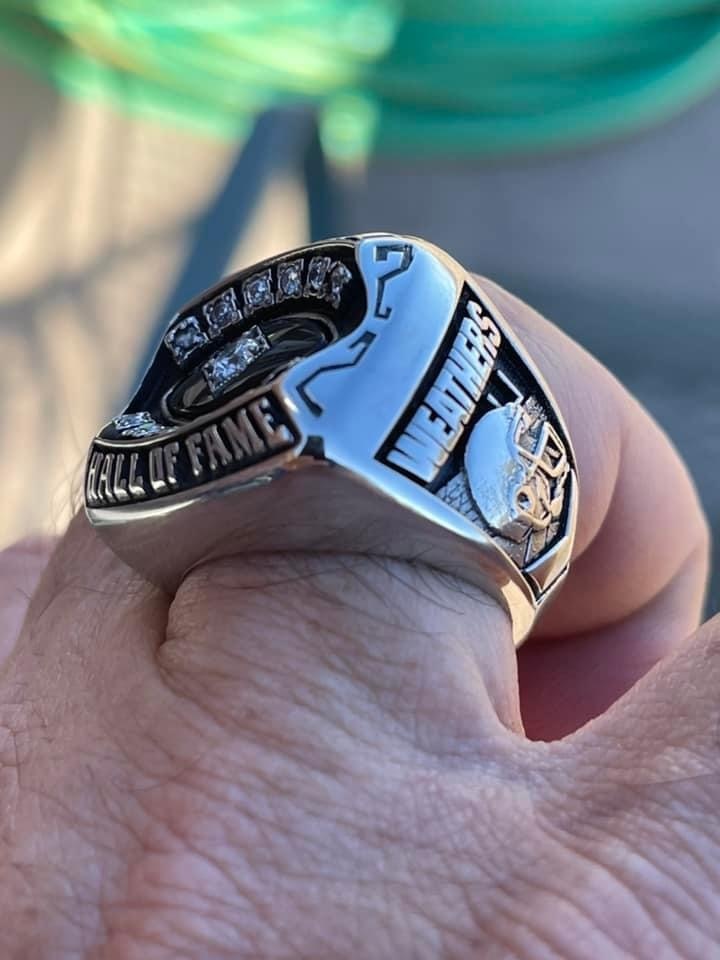 We posted a revised Elementary and Junior High Basketball Schedule. Please look under Athletics/Documents to see the new schedule.

The schedule for the Yale Festival for Junior High Basketball Teams is attached.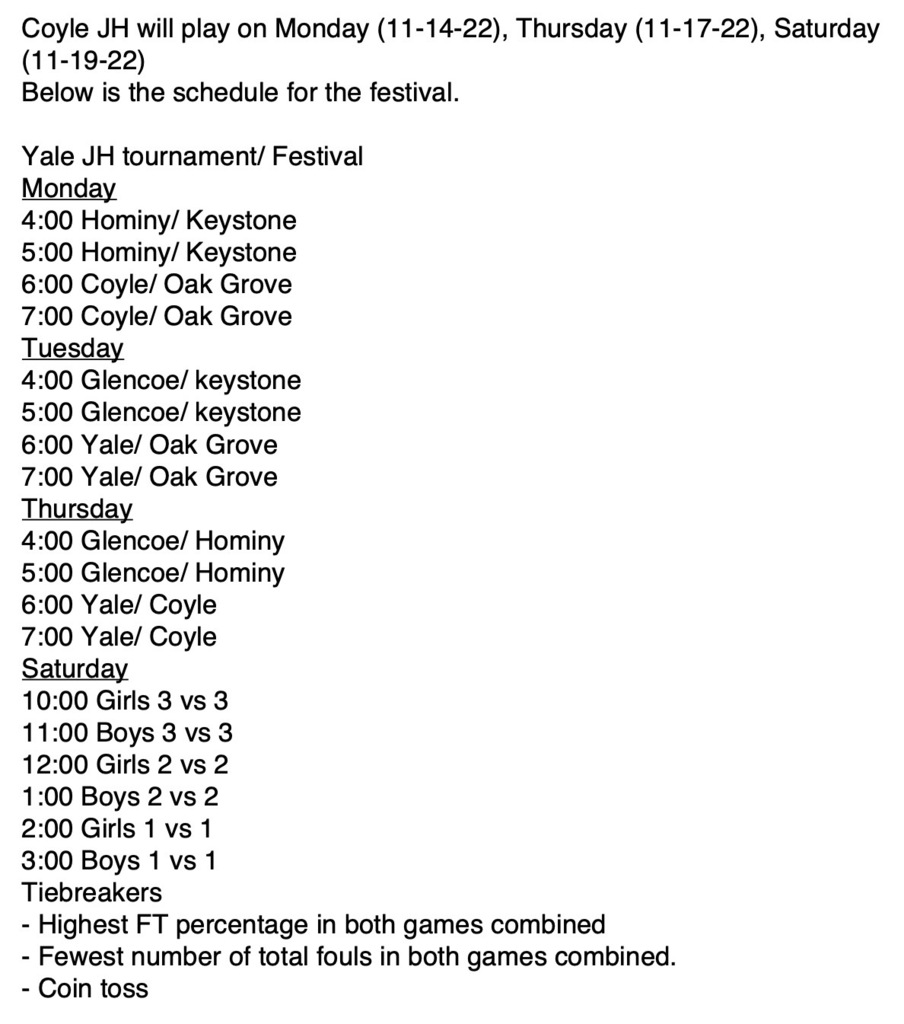 Congratulations to our 5th and 6th Grade Basketball Teams. Both teams won their games at the Ripley Tournament tonight!

School will be in session tomorrow as usual. Please be careful on the roads after the rain. See everyone in the morning.

The PREACT test scheduled for today with the sophomores has been rescheduled for Thursday morning.

From Coach R. Weathers—Tournament games today for 5th and 6th Grades will be played at Ripley. Their gyms have been repaired. We are back to the games as scheduled on the tournament brackets. Times for today are as follows: Girls play at 7pm in gym #2 Boys play at 7:50pm in gym #1 5/6th grade girls and boys basketball players need to be at the Coyle gym at 5:30pm to get on the bus.

THERE WILL BE NO SCHOOL TODAY, TUESDAY, October 25, BECAUSE OF THE POWER BEING OFF.

THE 5TH & GTH GRADE TOURNAMENT SCHEDULED FOR RIPLEY THIS EVENING HAS BEEN MOVED TO MORRISON SCHOOLS EVENT CENTER FOR TODAY. THE BUS WILL LEAVE AT 5:30PM. THEY WILL PLAY AT 7:00PM AND 7:50PM. YOU WILL TURN INTO THE ENTRANCE TO THE FOOTBALL FIELD OFF OF HIGHWAY 64.

HERE ARE THE BRACKETS FOR THE JUNIOR HIGH DOVER TOURNAMENT FOR NOVEMBER 7-12.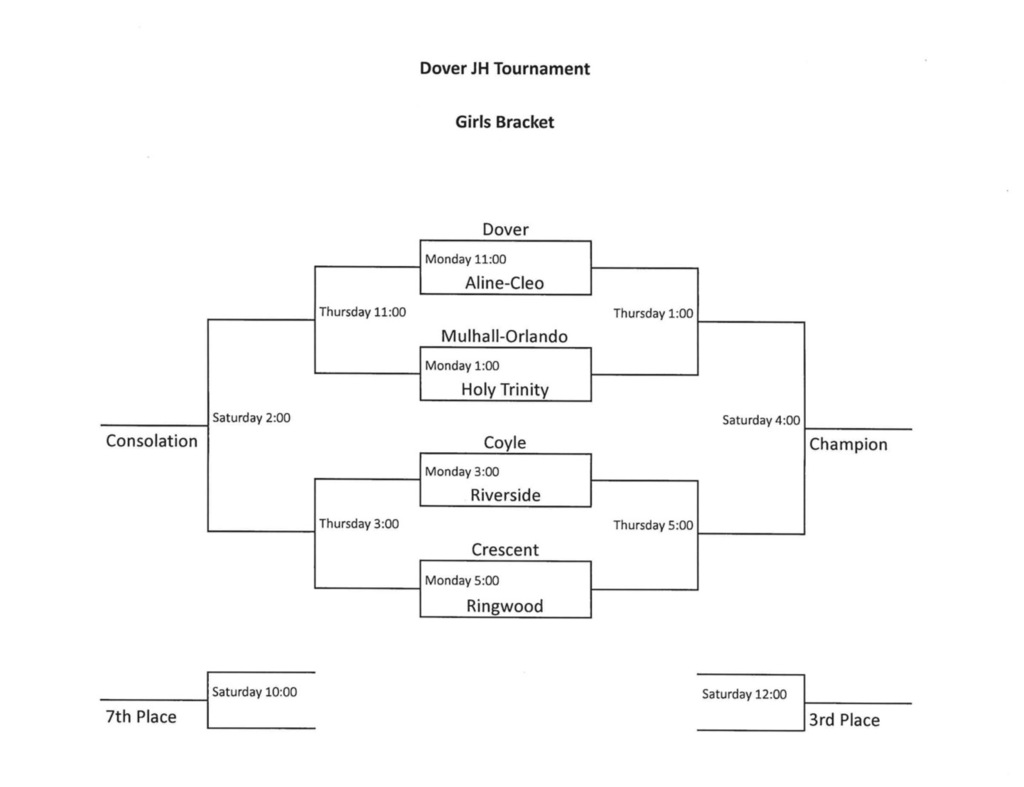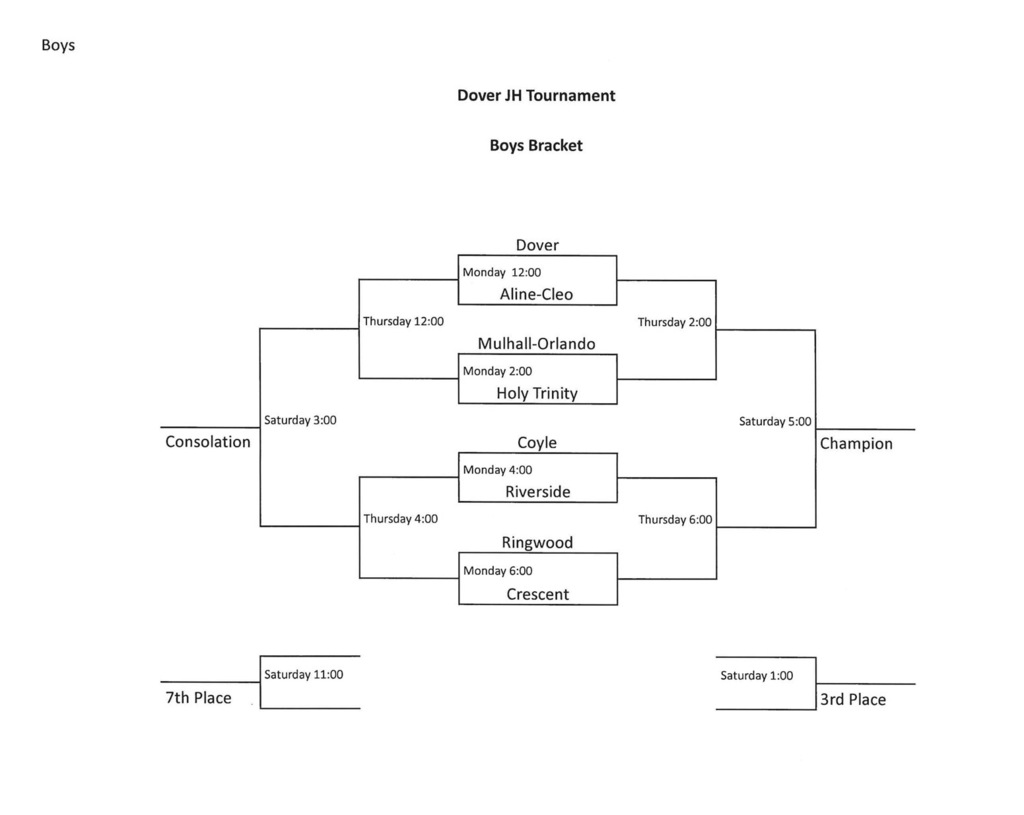 PARENTS PLEASE BE AWARE WITH THE RAIN WE ARE HAVING TODAY, THE BUS ROUTES MAY TAKE LONGER TO RUN THIS AFTERNOON BECAUSE OF THE ROADS. OUR DRIVERS WILL BE TAKING THEIR TIME RUNNING THE ROUTES FOR SAFETY REASONS.

For clarification on next week's Red Ribbon Dress Up days—students may use the days from Middle School STUCO or the High School STUCO. For example, on Monday they can do Camo Day or Mustache Day or they can combine the two. They may follow Middle School one day and High School the next. Our purpose is to make students be a part of the week's drug free celebration and live DRUG FREE!!! My apologies for the confusion. ALL students will still receive their daily prizes during the week that we have scheduled.
MS Student Council is having a dress out week for the Elementary building and Pre K and Kindergarten, see the attached photo for themes for each day.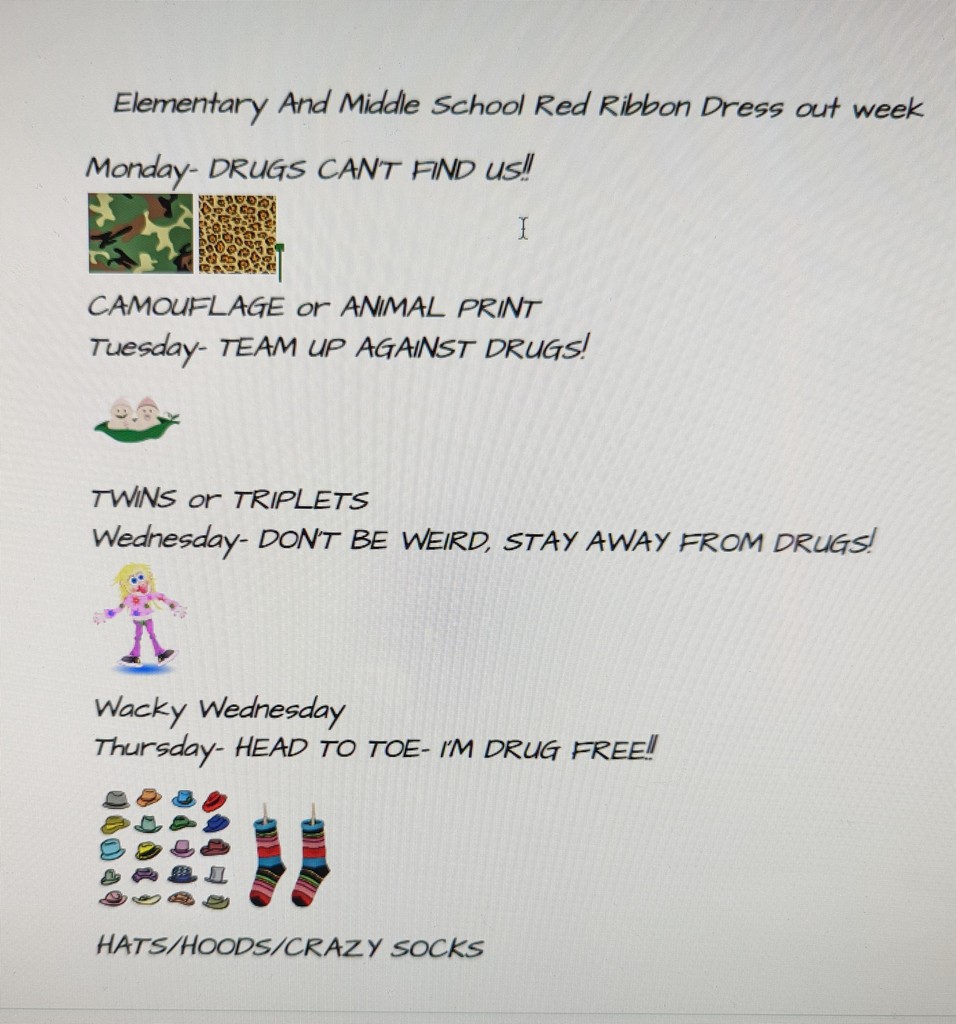 We will be ordering FFA Jackets here shortly, forms will go home today with those who are interested. FOLLOW THE FFA MEASURING GUIDES! Please follow this link for tips and instructions on measuring your FFA member:
https://dev-ffa-dot-org.pantheonsite.io/jacket-measuring-videos-calculator/
Female Jackets tend to be shorter in the torso and longer sleeves. Male Jackets are longer in the torso and shorter sleeves. Costs: Standard Jacket $60.00; Tailored Jacket $85.00; Ties $16.00; Scarves $13.00

Dress Up Days for Red Ribbon Week October 24-27 are attached.