Good Luck to Coach Paul Duncan, Coach Jacey Duncan and the Coyle High School Softball Team at the OSSAA District Tournament tomorrow, September 26th at Oilton. Coyle plays their first game at 11:00am.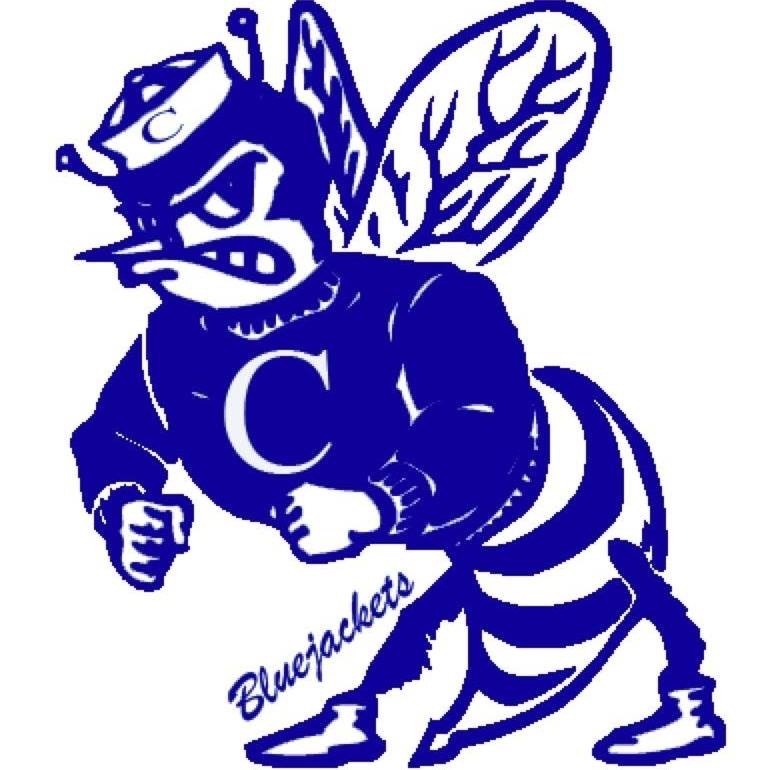 Coyle Elementary will have the first Elementary Bluejacket Buzz Assembly of the year tomorrow, September 26th at 9:00am in the old gymnasium.

Coyle Schools' phone line 405-466-2242 is currently down. AT&T is working on the issue. If you need to call the school, please dial 405-466-2243. Thank you for understanding.

Coyle High School Football Homecoming, Tonight, September 20, 2019! Coyle vs. Garber Homecoming Ceremony at 6:30pm Kickoff at 7:00pm Full Concession Stand! The smoker is loaded and cooking! FYI...Mosquitoes are really bad at the field. Please wear and bring bug repellent!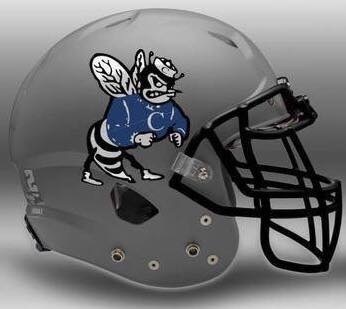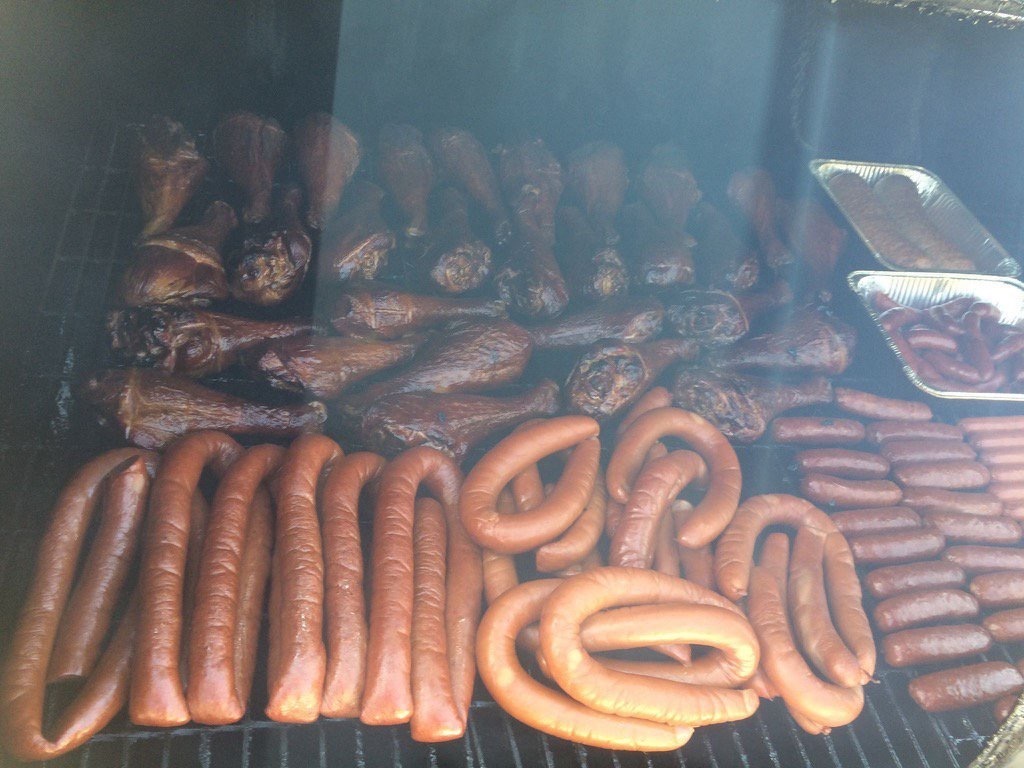 The Coyle High School Football Homecoming Dance is set up and ready for a 7:00pm start! See details on the attached flyer!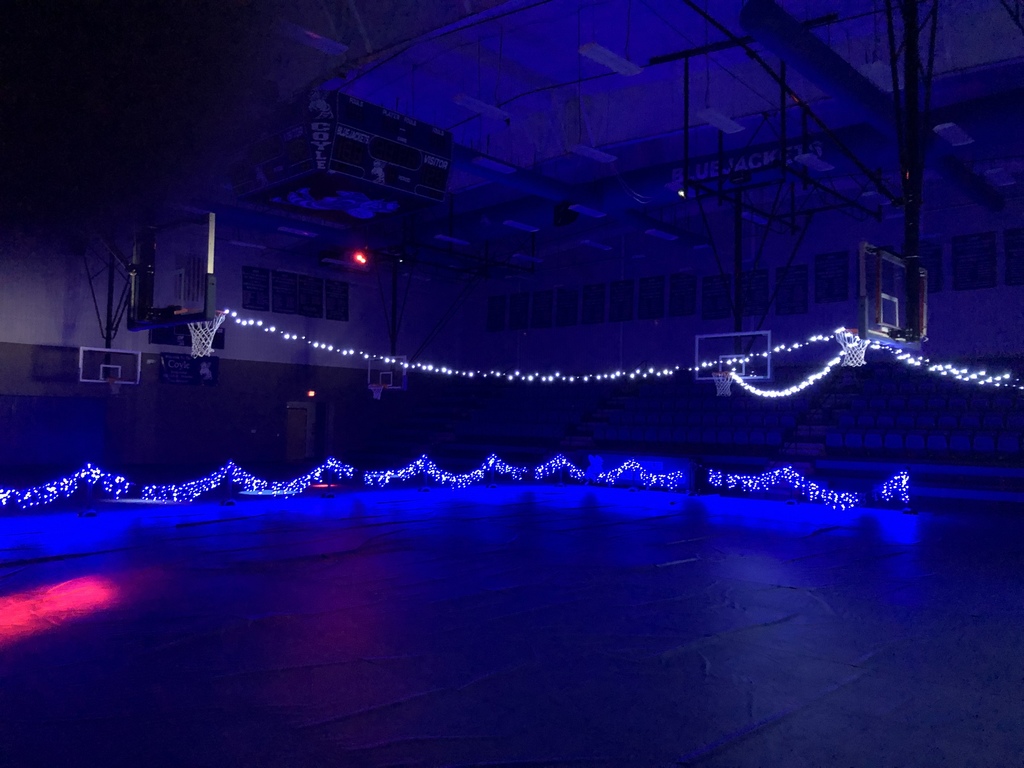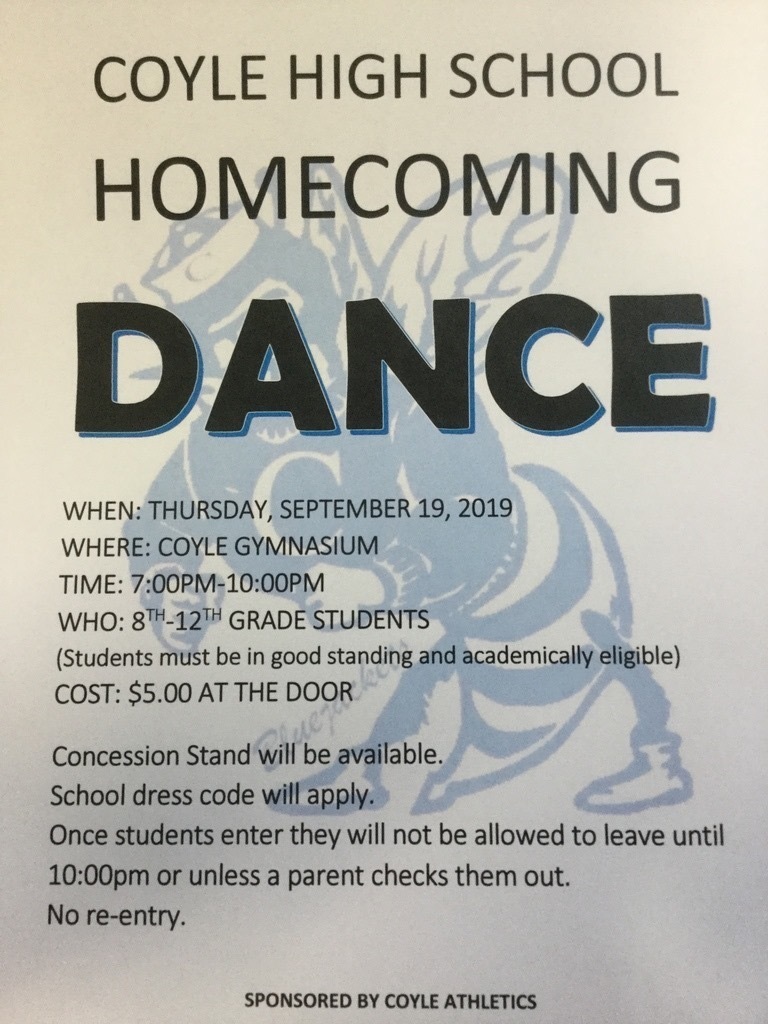 The Coyle High School Softball game scheduled for Thursday, September 19th vs. Carney has been canceled. Therefore, senior night for the senior softball players has been moved to November 1st. This will be senior night for senior football and softball players. We apologize for the inconvenience. The junior high game is still on for Thursday, September 19th at Coyle. They will play two games starting at 3:30pm.

The Coyle High School Senior Class of 2020 took a class trip to the Oklahoma State Fair today! This is a great group of students! A few of them even ran into Representative John Talley! Thank you Representative Talley for the picture and the kind words about our seniors!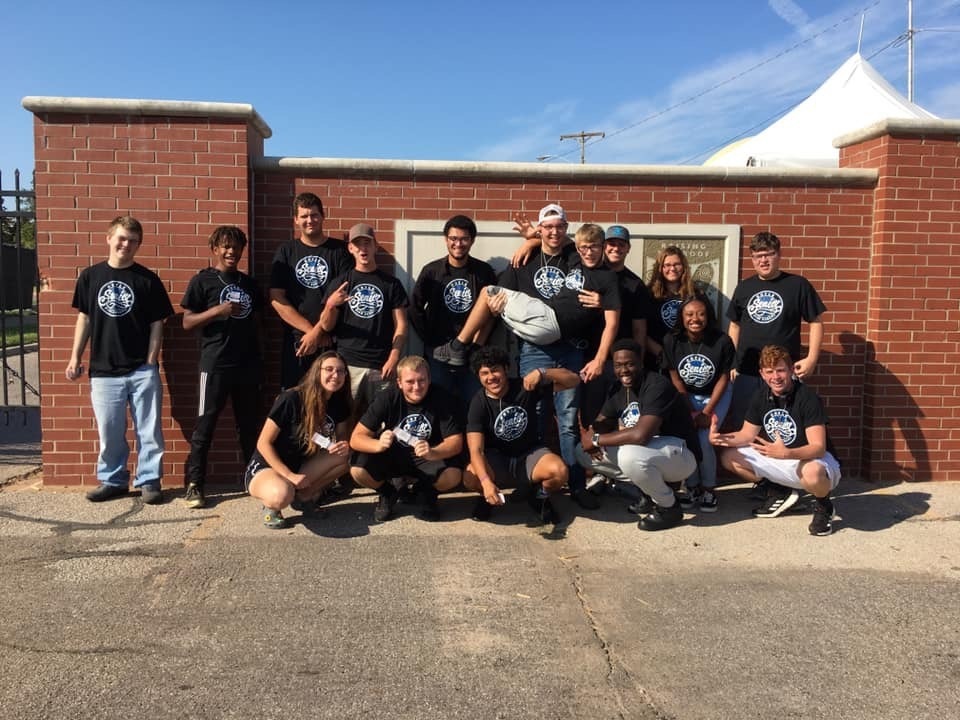 Due to the tragic passing of a Southwest Covenant High School Football player, the Coyle Junior High football game scheduled to be played at Southwest Covenant, tomorrow, September 16th, has been cancelled. Our thoughts and prayers go out to the school, community and family.

Coyle High School Football Game Day! Coyle at Yale tonight, September 13th! 7:00pm Kickoff!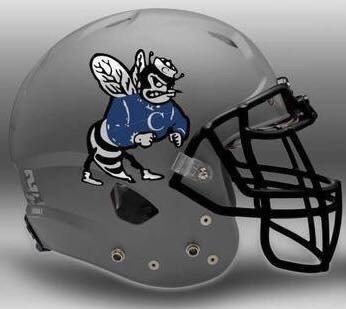 Next week, September 16th-20th, is Football Homecoming Week for Coyle High School! Dress Up Spirit Week, Homecoming Dance, and other information are on the attached flyer! Go Bluejackets!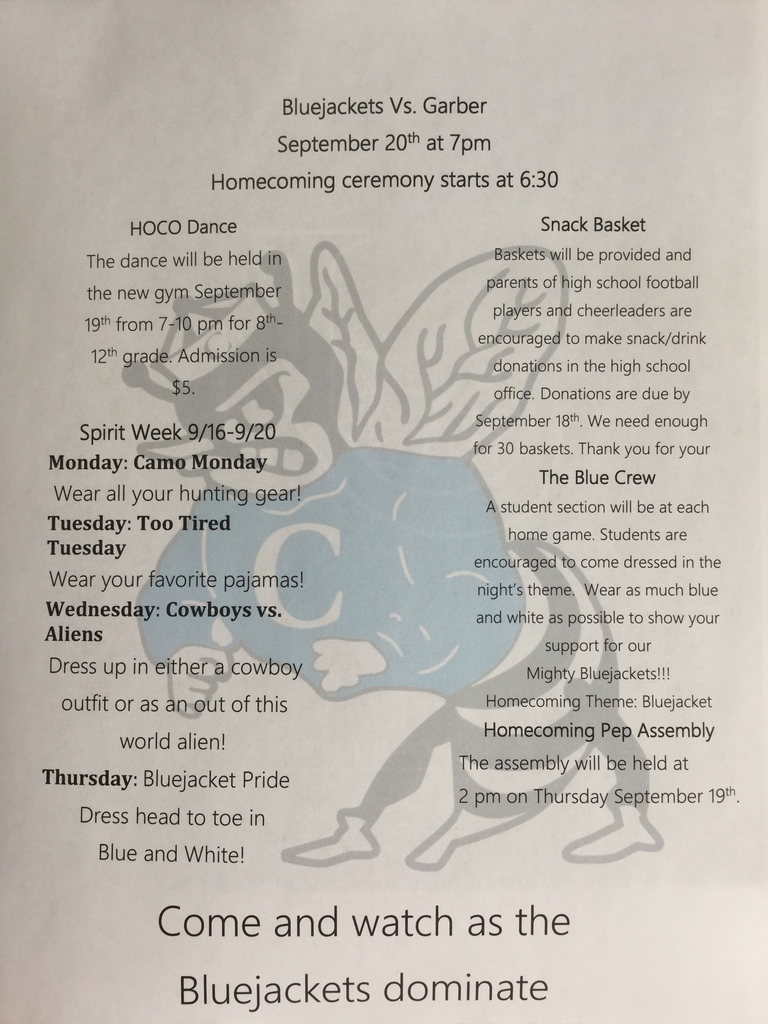 Parents Grades 2-4 We emailed grade book information today if we had an email address. Activation notes will come home with your child today. Students in Grades 5-8 were emailed and activation information sent home with your child. If you did not get it, contact Mrs. Larman.

Congratulations to the Coyle Junior High and High School September Students of the Month! Chivon McLaurin (12th Grade) Duncan Stout (11th Grade) Katelyn Cronister (10th Grade) Sya Ruff (9th Grade) Gracey McBane (8th Grade)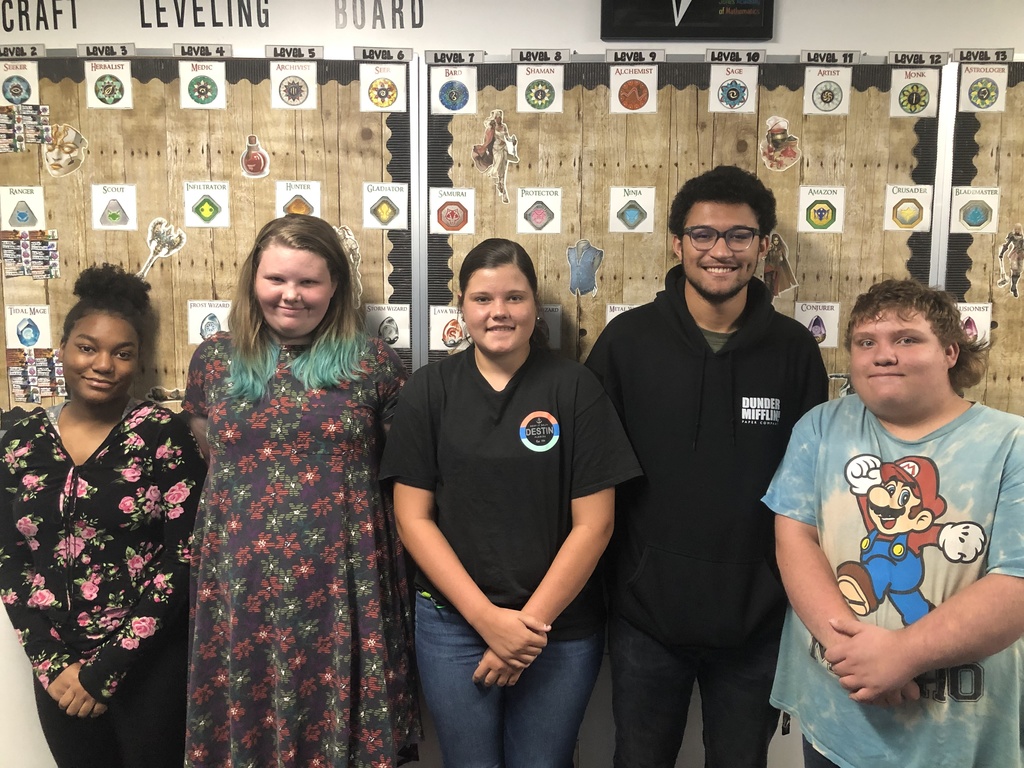 Congratulations to the Coyle Junior High and High School August Students of the Month! Che'leece Caine (12th Grade) Austin Derousha (11th Grade) Emily Sissons (10th Grade) Kiana Rosas (9th Grade) Alex Jennings (8th Grade)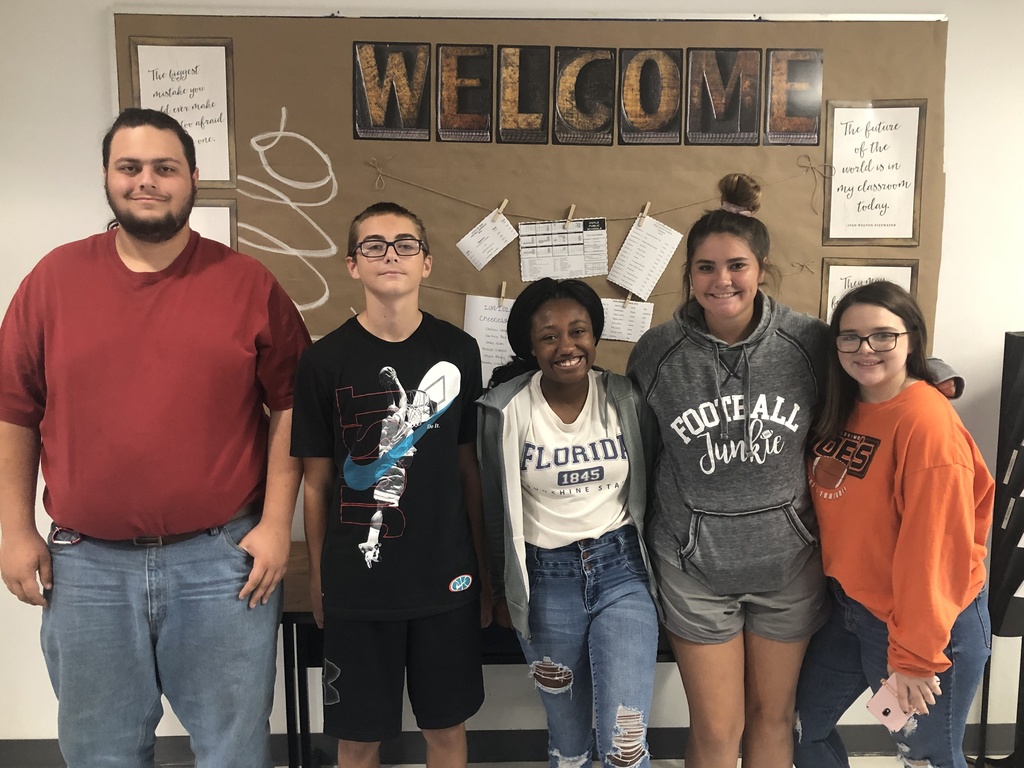 GAME DAY! Coyle High School Football Kick's Off Tonight, September 6th, at Pioneer-Pleasant Vale High School at 7:00pm! Address: Pioneer-Pleasant Vale High School 6520 E Wood Rd Waukomis, Ok. 73773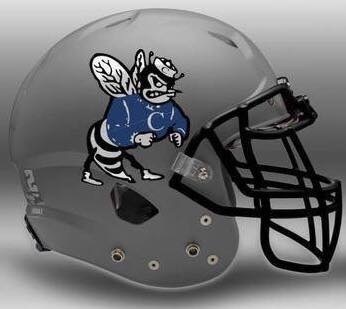 Coyle Softball will play at Mulhall-Orlando on Thursday, September 5th. The High School game will start at 4:00pm followed by a Junior High game. Coyle High School Football will open the season this Friday, September 6th at Pioneer-Pleasant Vale High School. Kickoff is set for 7:00pm.

Update: Representatives from Meridian Technology Center and the Oklahoma Career Tech will be at Coyle Schools on Monday, September 9th at 7:00pm at the regular scheduled School Board Meeting to give a presentation to the board about Meridian Technology Center and the process involved in joining the Career Tech District. This is an informative presentation only. The School Board will not be voting on this issue on September 9th. If this issue is something the School Board wishes to pursue, then it will be placed as an agenda item at a future School Board Meeting. Coyle Public Schools has had several requests for the school to explore a conversation and information pertaining to the school district joining the Meridian Technology Center District in Stillwater, Oklahoma for Career Tech and Vocational type programs. Each Public School District in Oklahoma has the opportunity to join a Career Tech Center by a vote of the people of the School District. When a School District is a member of a Career Tech District, 11th-12th Grade students are able to attend the Technology Center at no cost to the student for several different vocational type programs and trades, along with adults in the district having the same opportunity to attend. The Technology School also provides transportation for those students by picking up and dropping off at the local Public School, which would be Coyle Schools' Campus. Coyle Public Schools is currently not a member of a Career Tech District and never has been. The district's registered voters voted down the proposal 30 plus years ago. Therefore, students who wish to attend Meridian Technology Center must pay tuition, which is currently roughly $8,000-$11,000 a year, plus providing their own transportation. If the Coyle Public Schools Board of Education chooses to put the question on a ballot for a vote of the people, the measure, if passed, would raise the tax millage in the school district. I have been in contact with Dr. Doug Major, Superintendent of Meridian Technology Center, today about gathering information on how much the taxes will increase with a voter approval, along with everything that the membership would provide. As soon as I have more information I will certainly pass it on and share it with our district communities and citizens. After forwarding this information on to the citizens of our School District, I will take comments and feedback to the Coyle Schools Board of Education and they will decide if the measure is put on a ballot for registered voters in the Coyle Public Schools District to vote on. Please keep in mind that holding an election costs the School District about $3,000, so the amount of interest will probably be key in the School Board's decision. Please give me a few weeks to compile the information and I will pass it on. Please also keep in mind that the School Board and I know how sensitive this subject is to both those who support the issue and those that do not support the issue, because of the tax increase. We will do our best to distribute the facts and information and will make a decision that is in the best interest of the School District. Thank you. Josh Sumrall Superintendent Coyle Public Schools

Dear Coyle Public Schools Parents and Stakeholders: In 2015 the federal government signed into law the Every Student Succeeds Act (ESSA). ESSA requires states to test students in reading and math annually in grades 3-8 and once in high school. States must also test kids in science once during elementary school, once in middle school and once in high school. In order to meet the grades 10-12 ESSA testing requirement, the state of Oklahoma gave schools in Oklahoma the option of using either the ACT test or the SAT test to be administered to 11th grade students each year. Both of these tests are national tests. Both of these tests are used as college entrance exams. By using one of these two tests, the Oklahoma State Department of Education, is able to monitor the performance level of Oklahoma high school students to determine how well students are prepared for college and career paths. Because of the ESSA and state requirements, Coyle Public School chose the option of giving the ACT test to 11th grade students. When deciding which test would be most appropriate for Coyle students, counselors and administration considered the following: where students would most likely be attending college, familiarity of tests, and available testing preparation resources. At the time, most colleges in the Midwest were more prevalent to advertise ACT scores as consideration for college entrance and scholarships. Also, most test preparation seminars and trainings were centered around the ACT. Because of these reasons, Coyle Public School currently administers the ACT test once a year to all 11th grade students during the Oklahoma state-testing window. We ask that you fill out this short survey to give us your feedback on the ACT test being given and our assessment options.
https://forms.gle/MaDLjCir6znNu94n8
Thank you. Josh Sumrall Superintendent Shane Weathers High School Dean of Students Tammy Duncan PK-12 Assistant Principal Counselor

Coyle High School will have a Homecoming Dance on Thursday, September 19th from 7:00pm-10:00pm. Please see the attached flyer for more details.

The Coyle High School Football Scrimmage has been moved to Langston University tonight at 7:00pm.

Coyle Softball will host Mulhall-Orlando today, August 29th. Junior High game starts at 4:00pm and the High School game will follow. Coyle High School Football will host a scrimmage tomorrow, Friday, August 30th at 6:00pm vs Hollis High School. Concessions will be available and there will not be an admission charge for the scrimmage.