Thank you to everyone for being patient and understanding during the Flu shut down. Our cleaning crew did an amazing job and we believe the entire school is sanitized and ready to start school again tomorrow. If your student has had Flu like symptoms please keep them home until they are fully recovered or released by a doctor. Please remember we will also have school on Friday to make up one of the days and the other day will be made up at a later determined date. Here are a list of upcoming activities and events: Thursday, January 30th: Elementary Bluejacket Buzz Assembly has been moved to Thursday, Feb. 6th. Elem. & JH Basketball Home vs. Cashion 4:30pm Friday, January 31st: School in Session HS Basketball @ Oilton 6:30pm Saturday, Feb. 1st: FFA Pork Chop Dinner/Auction 5:00pm Monday, Feb. 3rd: Elem. & JH Basketball @ Agra (TIME CHANGE) Due to Agra having a conflict Monday evening, the start time has been moved to 12:00pm noon. Elem. Girls - 12:00pm Elem. Boys - 1:00pm JH Girls - 2:00pm JH Boys - 3:00pm

Please see the attached letter for an update to the Coyle Schools Flu outbreak.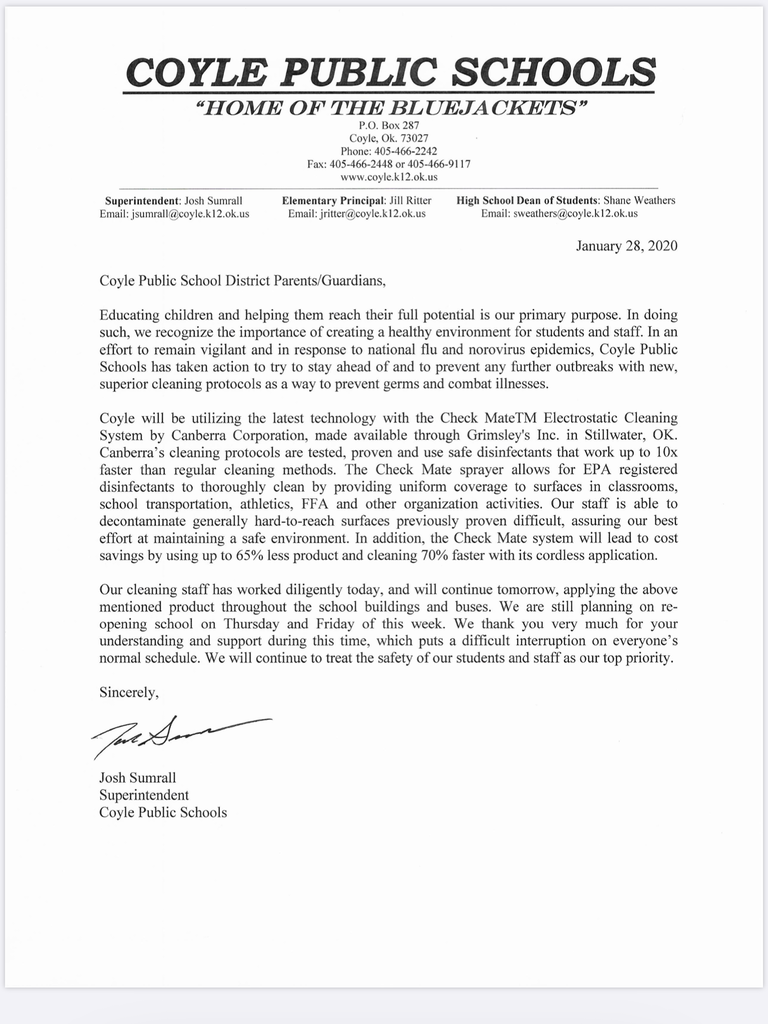 Due to the flu outbreak with students and teachers, Coyle Public Schools will be closed Tuesday (Jan. 28) and Wednesday (Jan. 29). We are using a highly recommended disinfectant from our cleaning supply company to disinfect the entire school. This will give the disinfectant more than 48 hours to work. School will be back in session starting Thursday (Jan. 30) and we will make one of the days up this Friday (Jan. 31). Again, school will be back in session this Thursday and Friday. Josh Sumrall Superintendent Coyle Public Schools

Coyle Public Schools had 55 students either stay home today or went home today with flu like symptoms. Some have went to the doctor and have been confirmed with the flu. We are disinfecting all areas of the school including classrooms, lockers and buses on a daily basis until we are clear of any illness. Please help us with disinfecting things at home. If you have any questions please contact the administration.

High School Students celebrate Moebius Awareness Day for Zayne Herron. They had a lot of fun preparing to celebrate with Zayne today.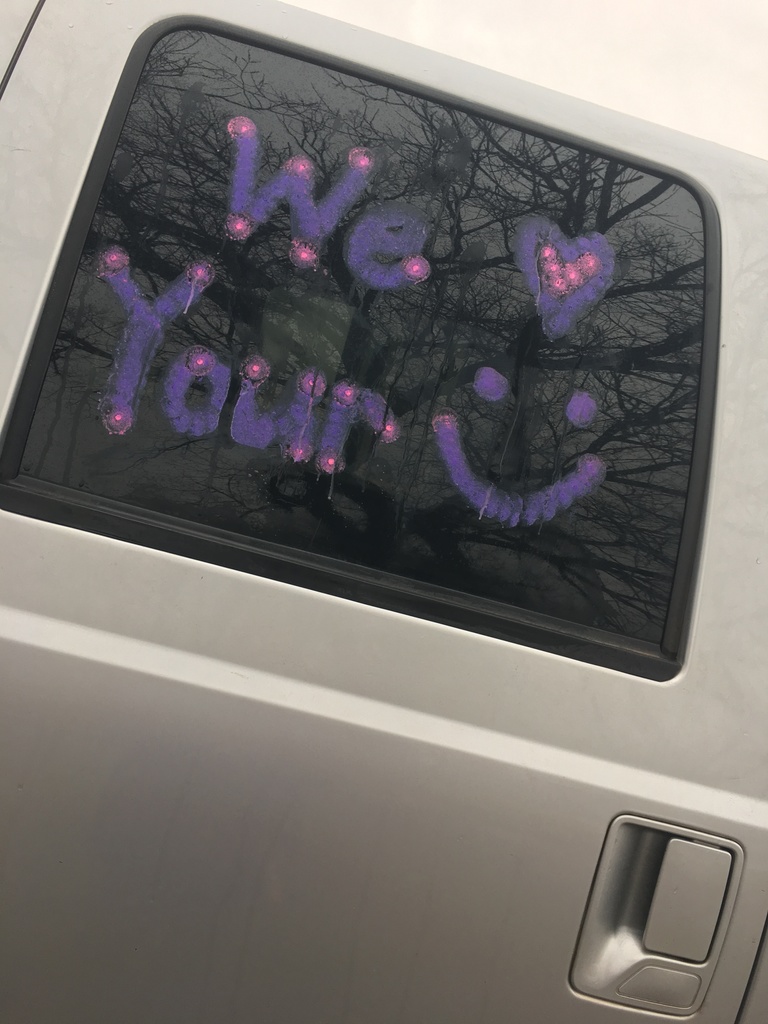 Coyle School District Parents and Community, Attached is a survey that the Coyle Board of Education would like your feedback on. If you can not print the survey, surveys can be picked up in the Superintendent's Office. Surveys will also be sent home with students this week.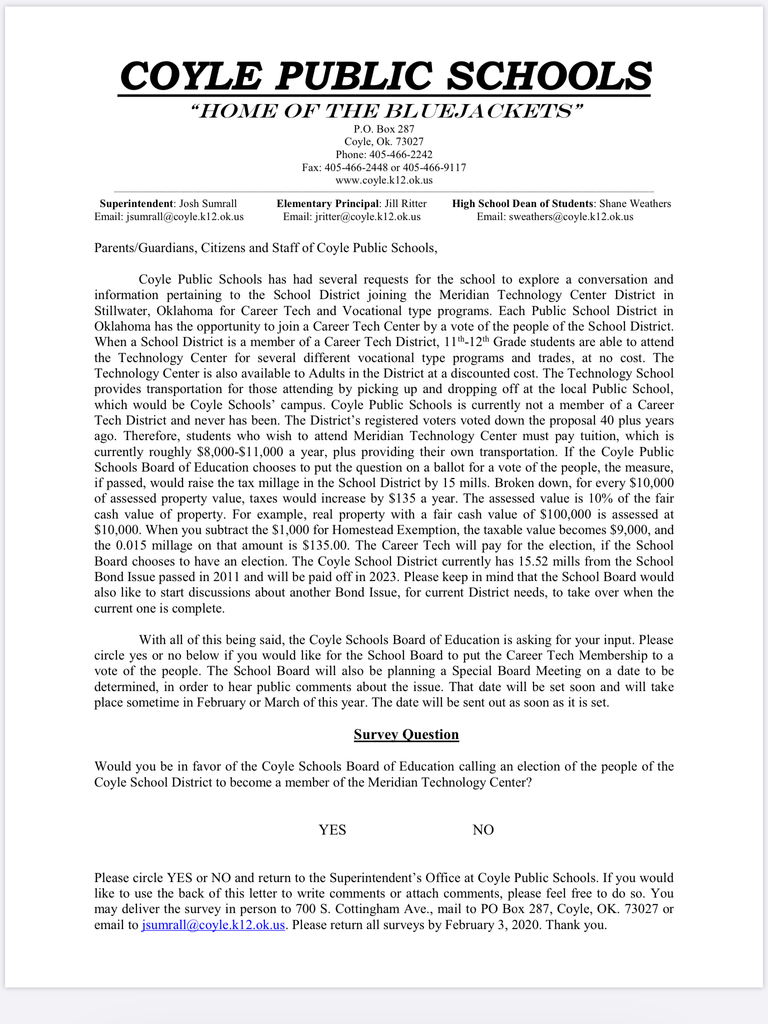 There will be a Basketball Homecoming Pep Rally in the New Gym today, January 16th at 11:00am!

STUCO Homecoming Shirts Have Arrived!! They were delivered today. We have one of each of the following adult sizes still available: S, M, L, XL. Contact Mrs. Larman if you want one. They are $20 each. Thanks so much for everyone's support.

Coyle Invitational High School Basketball Tournament January 23-25, 2020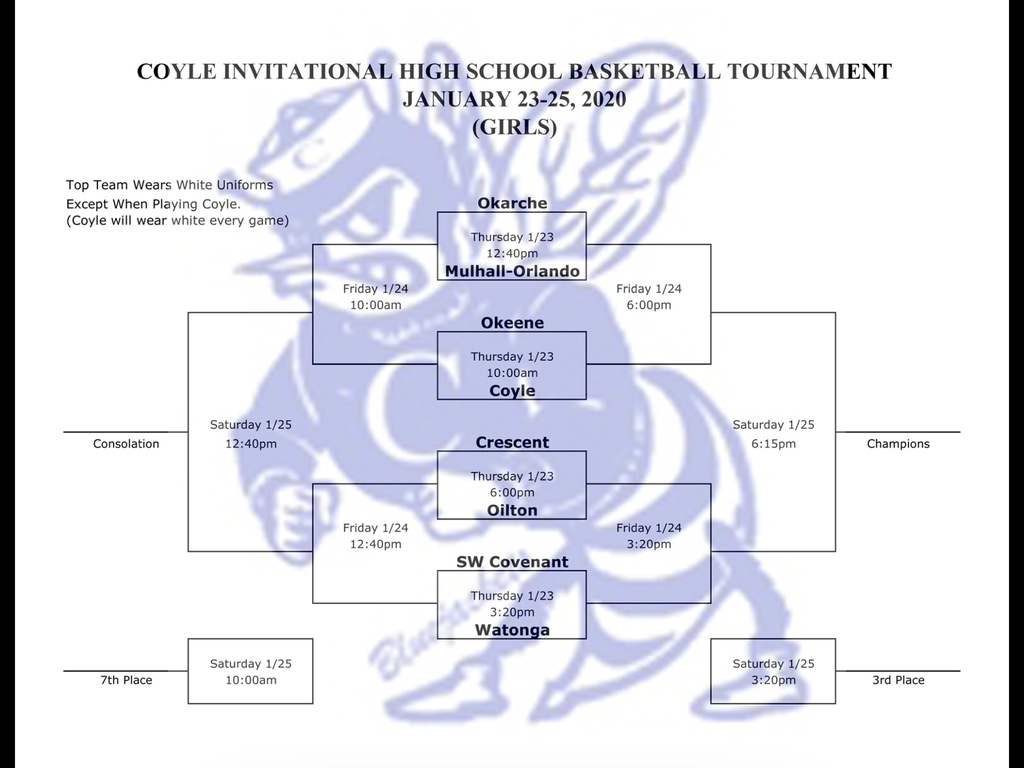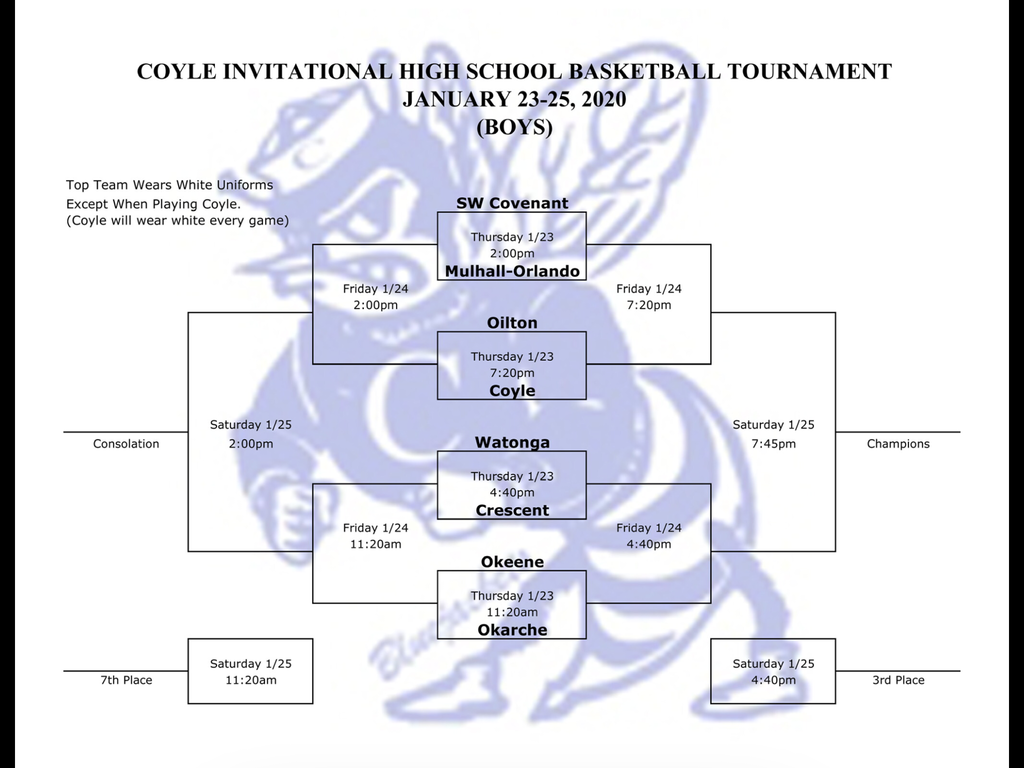 STUCO will furnish empty baskets for the senior athletes for Senior Night. Senior Parents may create a basket and/or ask friends to help with the basket. All items must fit inside the basket. Please limit the expense of the basket to $75. Please contact Mrs. Larman.

ATTENTION PARENTS OF ATHLETES--We are no longer doing homecoming baskets. STUCO is going to do homecoming sacks for all players, managers and coaches. In these sacks will be a drink, candy bar, chips and a cookie. If you have any questions, please contact Mrs. Larman.

Update on activities for this week, January 13th-18th. Monday, January 13th: Elementary & Jr. High Basketball Home vs Carney at 4:30pm. Tuesday, January 14th: High School Basketball at Carney 6:30pm. Thursday, January 16th: Schedule Change Due to Ripley's HS Tournament being rescheduled for Thursday night, the following is the schedule for Elementary and Jr. High. Coyle at Ripley in the Ripley Practice Gym. 7th/8th Grade Girls at 2:30pm 7th/8th Grade Boys at 3:30pm 5th/6th Grade Girls at 4:30pm 5th/6th Grade Boys at 5:30pm Friday, January 17th: High School Basketball Homecoming vs Oilton. Homecoming Ceremony at 6:00pm Games start at 6:30pm Saturday, January 18th: Coyle Winter Formal Contact the High School for more details.

For those who want to pay with a credit card, the STUCO t-shirts may be ordered and paid for in the high school office. See Mrs. Long to make the payment. Thanks for all of the support.

Coyle Schools resumes classes on Monday, January 6th! Activities for January 6th-11th: Monday, January 6th: Elementary & Junior High Basketball at Carney starting at 4:30pm. Tuesday, January 7th: High School Basketball at Agra starting at 6:30pm. January 9th-11th: High School Basketball at the Mulhall-Orlando Tournament. Brackets are attached REMINDER: School will be closed on Monday, January 20th for Martin Luther King Jr. Day. Therefore, school will be in session on Friday, January 24th.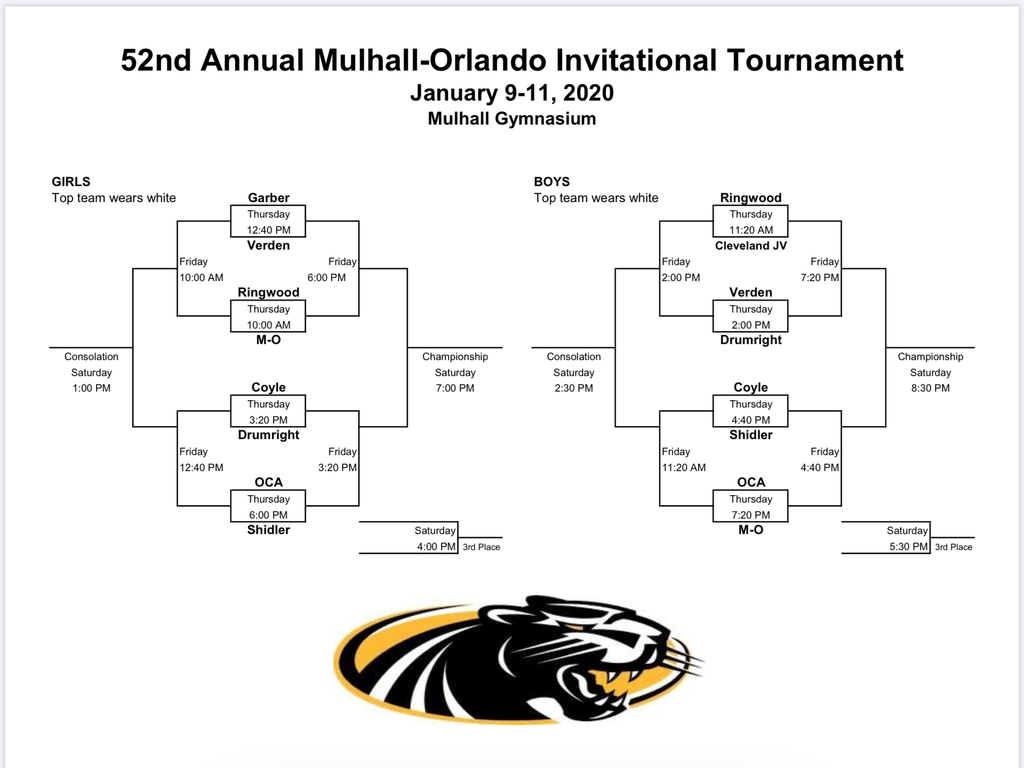 Merry Christmas from everyone at Coyle Public Schools!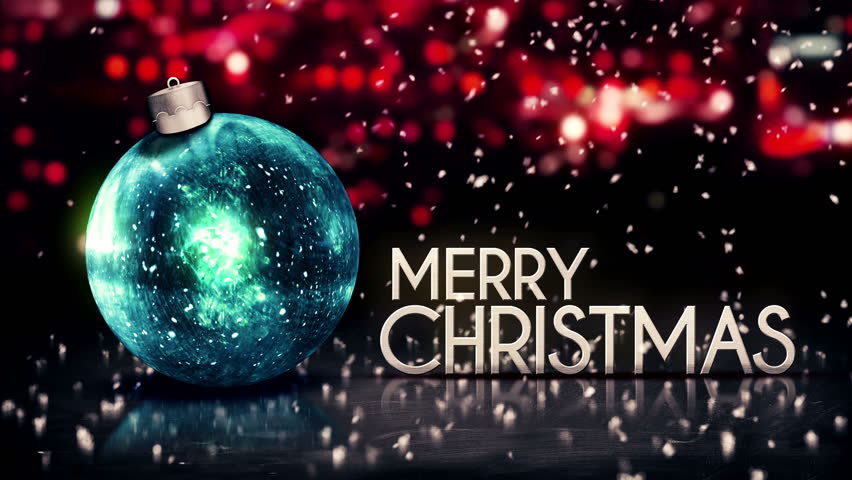 Elementary Bluejacket Buzz Assembly, Thursday, December 19th at 9:00am. High School Basketball Home December 19th and 20th 6:30pm. Christmas Break December 20th - January 5th. Back to School January 6th!

Reminder that the elementary & junior high basketball games at Coyle tomorrow, December 16th will start at 12:00 noon. 5th/6th Girls at 12:00pm, 5th/6th Boys at 1:00pm, 7th/8th Girls at 2:00pm, 7th/8th Boys at 3:00pm.

STUCO Blood Drive is tomorrow from 9:00 am to 2:00 pm. We still have spaces for more people to sign up and give blood. Contact Mrs. Larman at the high school.

Congratulations Coyle Basketball! The High School Boys and Girls teams are both 2-0 to start the season and congratulations to the Junior High boys as they won the Consolation Championship in the Ripley Tournament this morning!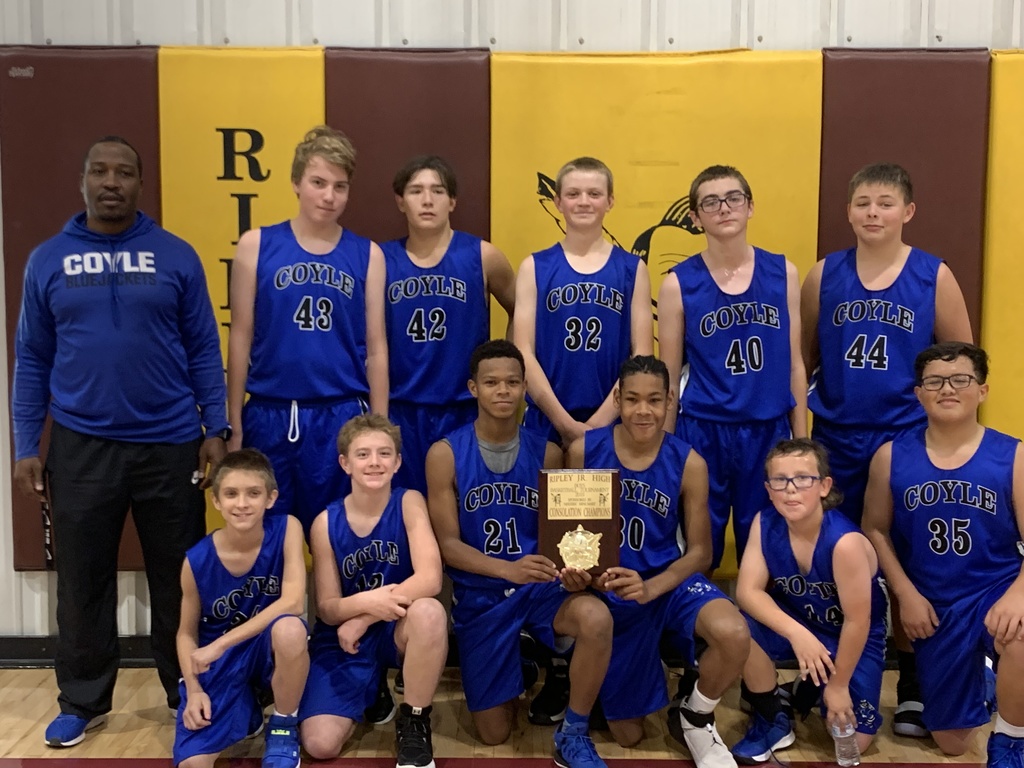 Santa at F&M Bank!!!