Funeral services for the Simpson family will be held at the Coyle Schools Gymnasium on Friday, Nov. 8th at 11:00am.

Congratulations to the Coyle Junior High and High School November Students of the Month! 8th Elana Albertson 9th Naliyah McLaurin 10th Timyra Kinsey 11th Aubrey Taylor 12th Justin Pickard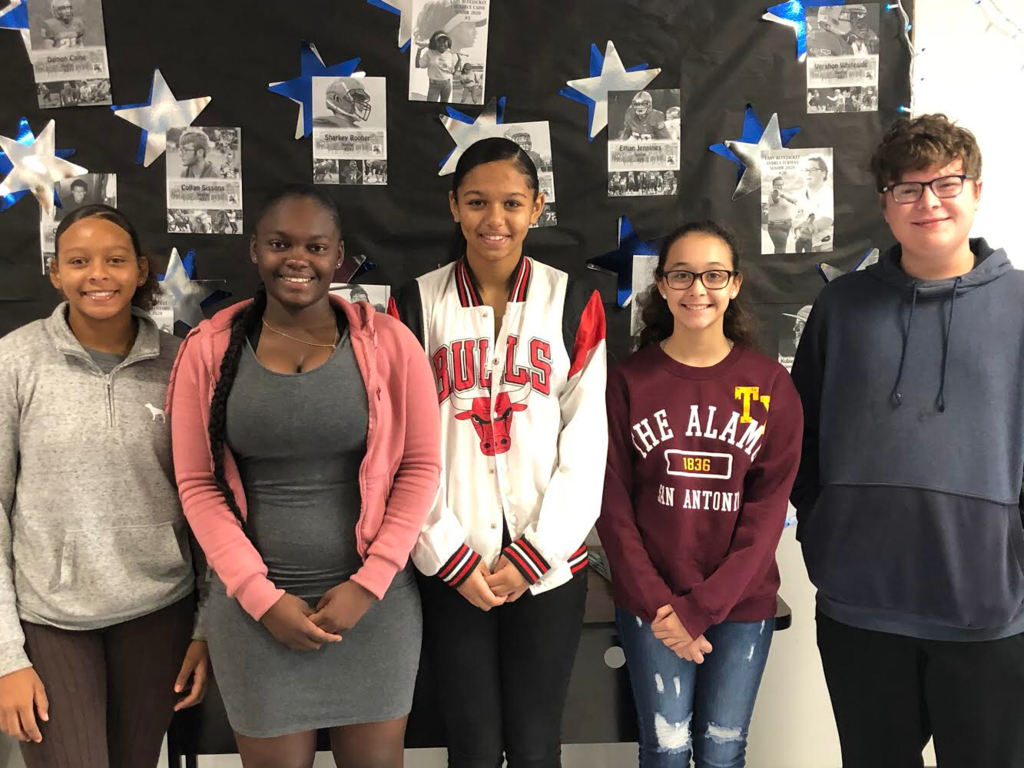 It is with heavy hearts that Coyle Public Schools updates and informs you that the 9th grade student that was in ICU last week, Ryan Keeler, has passed away. Also, this past weekend, the Coyle Schools community lost three recent graduates, Barkley Simpson, Fidel Simpson and Dhariawn Simpson, in a car accident. Our thoughts and prayers are with both families and friends during this time of loss. An account has been set up at Coyle Schools to take donations for both families to help pay for medical and funeral costs. Donations can be made at the Superintendent's Office at Coyle Schools in person at 700 S. Cottingham Avenue or mailed to PO Box 287, Coyle, Ok. 73027. Checks can be made to Coyle Schools and sent to Coyle Schools Attention: Medical & Funeral Expenses. Please designate which family you would like the donation to go to, if you wish, by writing Keeler Family or Simpson Family. If no designation is indicated the donation will be split between families. The funeral service for Ryan Keeler will be on Thursday, November 7th at 1:00 p.m., and will be held in the Coyle Schools Gymnasium at 201 E. Bond. Coyle Schools will close at 12:15 p.m. on November 7th, so teachers, staff and students may attend the service, if desired. Buses will run at 12:15 p.m., after lunch is served to all students. Please make plans to either pick up students from school by 12:15 p.m. or have someone at home, if students ride a bus. If students attend the funeral, parents are strongly encouraged to attend with your student. Coyle Schools will not be responsible for students staying at school after 12:15 p.m. and will not transport students home after the service. Funeral service arrangements for the Simpson family have not yet been made. As soon as those arrangements are made we will pass them along. Josh Sumrall Superintendent Coyle Public Schools

Coyle Football Game Day! Coyle vs Deer Creek-Lamont at Coyle! Kickoff at 7:00pm Senior Night Ceremony for Football, Softball and Cheerleaders at 6:00pm!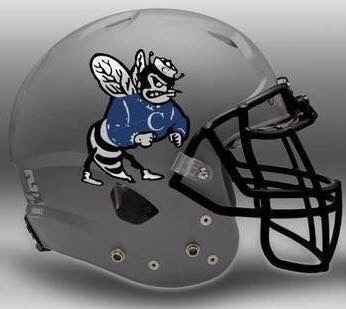 Coyle Elementary (4th-7th Grade) will have a Fall Dance on Thursday, November 7th. More details are on the attached flyer.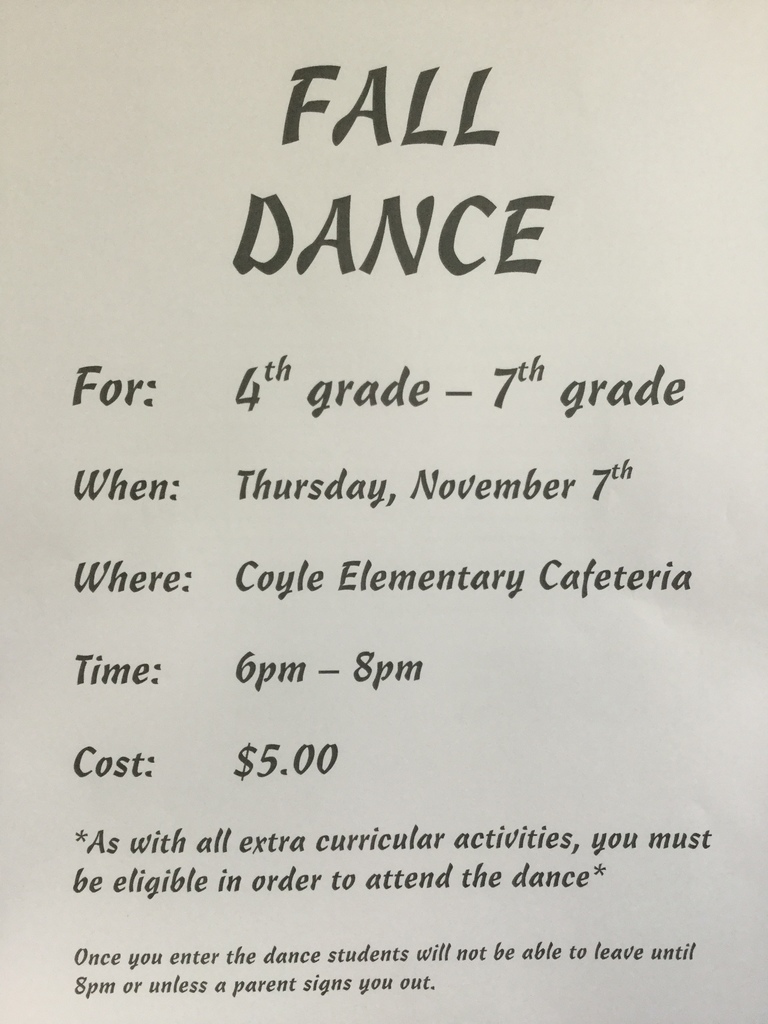 We will recognize our Fall Sports Seniors at 6:00PM prior to the football game this Friday, November 1. Senior parents need to be present by 5:45PM so we can line up for the presentation. It will start promptly at 6:00PM. Come support our Bluejackets against DCLA.

Mrs. Perry's class recognized Danny Moorman for his extra hard work of making sure the buses are ready to transport students to and from school and for making sure the heaters work in the classrooms! Congratulations and thank you, Danny Moorman, for all you do for Coyle Public Schools!

Congratulations to the Coyle Elementary October Students of the Month!

Parents, please dress your children warmly tomorrow as our Fire Safety Presentation will be outside. They will be inside the smoke trailer only with your permission. We will also have fire trucks from the local communities for the children to see and visit with the firemen.

The Coyle App is now calling parents/guardians about students' absences and/or tardies daily. The phone number is out of Little Rock, AR since that is where the company is located. If you see this number, it is from them 1(501)712-2633.

Coyle Public Schools has suffered a tragedy in our school family. A student is in ICU after a tragic event that happened at home after school yesterday. Our thoughts and prayers are with him and his family at this time. Counselors and staff are available at the school today for other students and staff as they are needed.

A filming and production crew will be in Coyle the next few weeks filming a movie called "Stillwater", starring Matt Damon. They will be shooting a few scenes on Main Street in Coyle and using the school bus barn and FFA show barn during the building and filming process. Starting October 31st, Cottingham Avenue between Main Street and Lee Street will be closed to traffic. We are trying to let parents know, so alternative routes to school can be planned. Using the streets to the west and east of Cottingham should be fine. Filming and clean up should be completed by November 15th. The attached flyer should help with more details and thank you in advance for your patience during this event.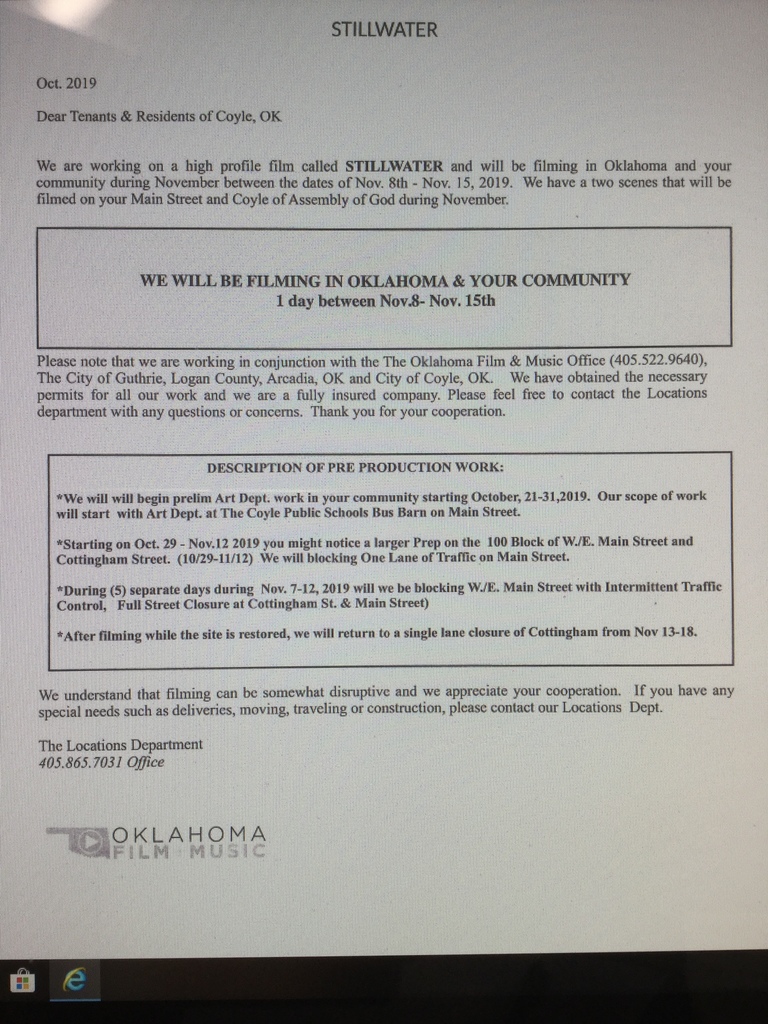 Students and staff at Coyle Schools will be allowed to wear costumes to school on Thursday, October 31st. No blood and guts types of costumes, no masks will be allowed during class time, no pretend or real weapons/accessories, and costumes must meet School dress code.

In honor of Veterans and current members of the United States Military, Coyle and Covington-Douglas football players will be wearing jerseys sponsored by the National Guard during tonight's football game at Coyle. Kickoff at 7:00pm!

Coyle HS Football Game Day! Coyle vs Covington-Douglas at Coyle Kickoff at 7:00pm Bring your poncho! First round playoff home game up for grabs! We'll have a full concession plus plenty of coffee & hot chocolate!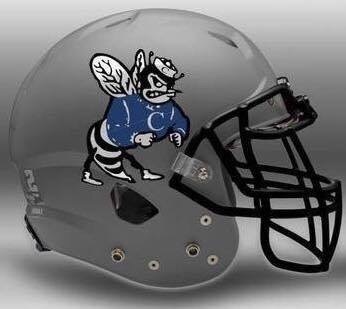 Thursday, Oct. 31 STUCO will be celebrating Fire Safety & Prevention Month with Grades PK-7th Grade. Farm Bureau will be bringing their Fire Safety Trailer for the students to learn about Fire Safety & Prevention. Local fire departments will try to have their trucks there also.

Red Ribbon Week Dress Up Days Oct. 28-31 Monday--Wear Your Red Day Wear Red Tuesday--It's Hip to be Drug Free 60s-70s Wednesday--Lei Off Drugs Hawaiian clothes. Thursday--Teaming UP Against Drugs Favorite team jersey (team colors).

I just received a message from a Welch High School football parent and have attached it to this post. I truly enjoy and take pride in receiving these types of reports. This is the exact character and pride that Coyle Public Schools strives for out of our students and organizations. I want to share this with our community and supporters and publicly thank our football coaches, players and all of our school personnel for their contributions to the high character shown Friday night. Great job Coyle Bluejackets! Josh Sumrall Superintendent Coyle Public Schools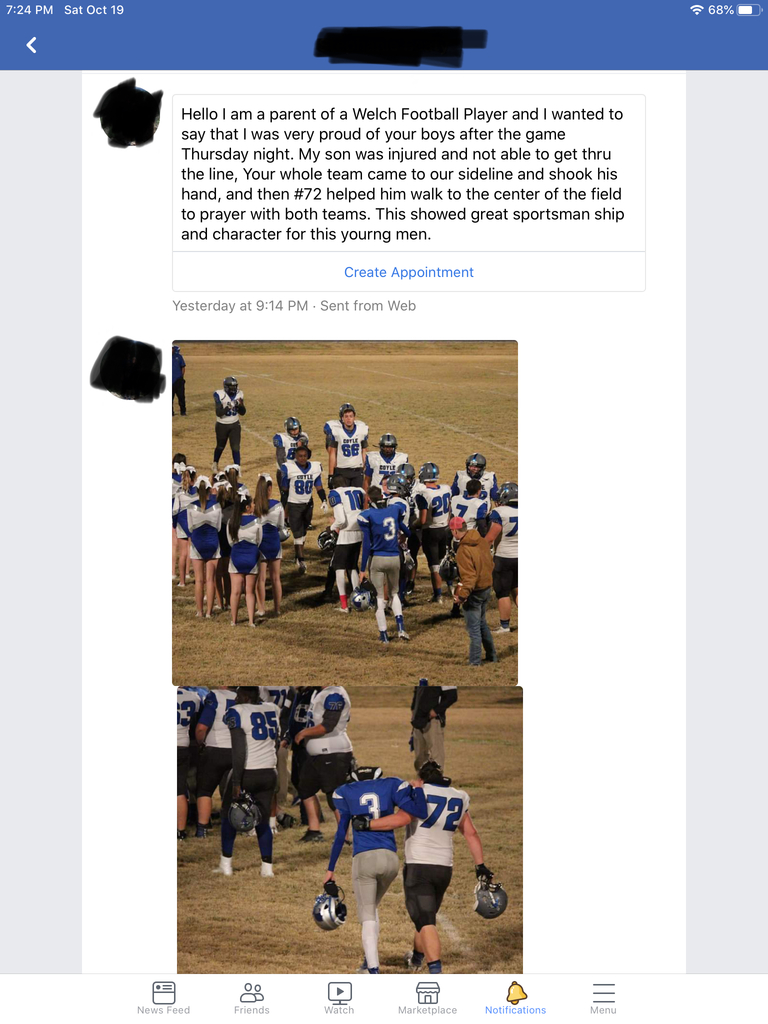 Coyle HS Football Update: Final from Welch Coyle 55 Welch 0 Congratulations Coyle Bluejackets! Have a safe trip home!

Fall Break--No School Thursday, October 17